How to Use the Galaxy Note 5 Camera: What You Need to Know
This guide will tell users everything they need to know about the much improved 16 megapixel camera in the Galaxy Note 5. It will show owners how to use their phone camera to the fullest to take great photos and video. You'll learn all about the Note 5 camera settings, quick launch tips, and advanced controls. We'll even share some of our favorite Galaxy Note 5 camera tips.
Some of the options may slightly differ by carrier, but the same camera and app is included in all Galaxy Note 5 units in the United States and around the globe. Samsung focused more on taking great photos and video, and options people use the most, rather than gimmicks or odd features we've seen in the past.
Read: 45 Galaxy Note 5 Tips & Tricks
Typically, taking a good photo with the Note 5 is as simple as leaving the camera set to auto mode, or changing a few settings with the tap or slide of your finger, as long as you know what everything does. We'll go over all the settings and more below.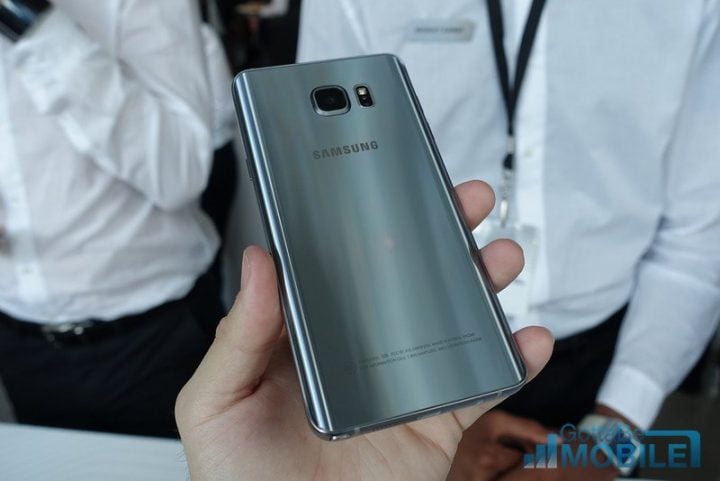 Samsung brought its A-game with the Galaxy Note 5. Improving on the camera from the Note 4 and delivering the same great experience that made the Galaxy S6 the best camera smartphone on the market.
With the Note 5 owners will truly have one of the best and most capable smartphone cameras today. It has an improved 16 megapixel f1.9 lens that shoots great in any situation, optical image stabilization, video stabilization, Auto HDR mode, has a fast auto-focus system, and tons of easy controls to get the best photo in the quickest amount of time. It also has an improved 5 megapixel front camera with HDR, and a wide-angle lens to capture more subject matter while snapping selfies. This all combines into one great camera experience anyone can master after only a few days of owning the device.
Below we'll walk-through all the Note 5 camera settings and advanced controls, list what they all are, and where you can find them (or download more) to improve your experience.
Galaxy Note 5 Camera Tips & Tricks
Samsung's new Note 5 camera launches into auto mode by default which has the usual settings and options to control the flash, timer, HDR, photo size and more settings, as well as the instant toggle for video or switching to the front camera. All the camera controls shown on screen all are specifically for in-the-moment, changing things while taking photos.
Then of course there's a dedicated settings button, and a mode button to easily change modes and much more. This is where everything is hiding and we'll cover in a moment. For now here's a breakdown of many of our favorite Note 5 settings, options or tricks, what most of them do, as well as details about the settings menu.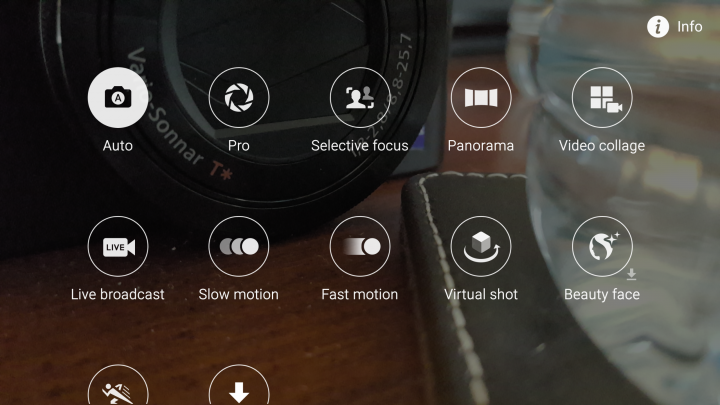 Below is a breakdown of most of the controls users will need to know about on the Galaxy Note 5, rather than just what's shown on the screen or in the mode choices.
Quick Camera – Double tap the home button from anywhere to launch the camera fast, even when locked and the screen is off.

Voice Control – With Voice Control turned on in the settings, you can say "Cheese", "Capture", "Smile" or "Shoot" to take a photo and "Record video" to record a video. I use this daily.

Volume Shutter –  Use the volume button to take a photo, record a video or zoom, depending on your choice in settings. 
Tracking Auto Focus – The Note 5 camera includes a Tracking Auto Focus option that can keep an object in focus as it moves across the screen. You need to enable this in Settings. 
Video Stabilization – Use this option in settings to help prevent shaky video. You cannot use it with Tracking Auto Focus turned on. Video stabilization will be disabled in 4k video (UHD) mode.
Burst Photos –  Press and hold the shutter button, or the volume button if you have that setup, to take burst photos very fast. It will select the best photo of the bunch, tap the preview to see all photos taken during burst fire.
Auto HDR – Previously HDR was an option we could tap to see how photos would turn out, now there's Auto HDR, HDR On (always on) and HDR off. HDR essentially gets the brights and shadows in each spectrum of a photo for the best possible outcome.
Effect – Filters for photos and video in real time, similar to Instagram, only not nearly as powerful.
Timer – Timer allows for a delay before the photo of 2, 5, or 10 seconds. Perfect for group photos.
Pro Mode – Adjust the exposure value, shutter speed, ISO, white balance, focal length, and color tone manually while taking photos like a professional.
Selective Focus – Change the focus of pictures after they've been taken. You can focus on subjects near to the camera, far away, or both.
Panorama – Create one huge panorama photo by taking consecutive pictures in either horizontal or vertical position to capture an entire sunset, park, football stadium and more.
Live Broadcast – New to the Note 5, broadcast video live to YouTube, share the link with friends or family so they can tune in and see real time video.
Slow Motion – Record videos at a higher frame rate for viewing in slow motion. 1/2, 1/4, and 1/8 options, with the latter being best for slow motion effects. Select or play specific sections after recording for the perfect Instagram video. The Note 5 does slow motion at 120 fps, not 240 like the iPhone 6s Plus.
Fast Motion – Record in fast motion to play back specific sections of each video in a very fast motion for a neat effect.
Virtual Shot – Create Multi-directional views of objects, almost 360 degree photos.
Beauty Face – Take portrait pictures with an airbrushed effect for clear faces, there's even an option to make faces "skinny".
Download – In "Modes" owners can hit download to add many previous camera options that were available on older Samsung's. Like dual camera (front and back at same time), rear camera selfie, animated GIF (like iOS 9 Live Photos) and more.
Note 5 Camera Basics & Features
Shown above is the default camera setup on the Galaxy Note 5. Starting from top down, left to right, below is each option.
Hide Settings
Effects
HDR Mode
Timer
Flash on/off
Image Size
Settings (to disable shutter sound, quick launch, grid lines,  stabilization, voice controls, and many of the options mentioned above
Go to Image Gallery (top right)
Record Video
Take Photo
Switch to Front Camera
Modes (for Manual Mode, Panorama, Selective Focus and more we detailed above.
Owners can also head into modes and tap the info button, as mentioned above, for a detailed breakdown of each mode, how it works, and what it does.
There's one helpful feature and trick that most don't know exist, but is right in your face when taking photos. It's one of my favorite features, and is the on-the-fly brightness controls. When taking photos (even in Auto Mode) is a brightness slider perfect for adding more light while indoors or at night, or lowering brightness when a photo is blown out.
Tap anywhere on the screen to focus, and a lightbulb with a slider appears near the camera shutter button mentioned above. Simply slide it up or down and let go, to add or decrease lighting. Too much can ruin photos or make them grainy, but this is one of our favorite Note 5 camera tricks.
Note 5 Camera Settings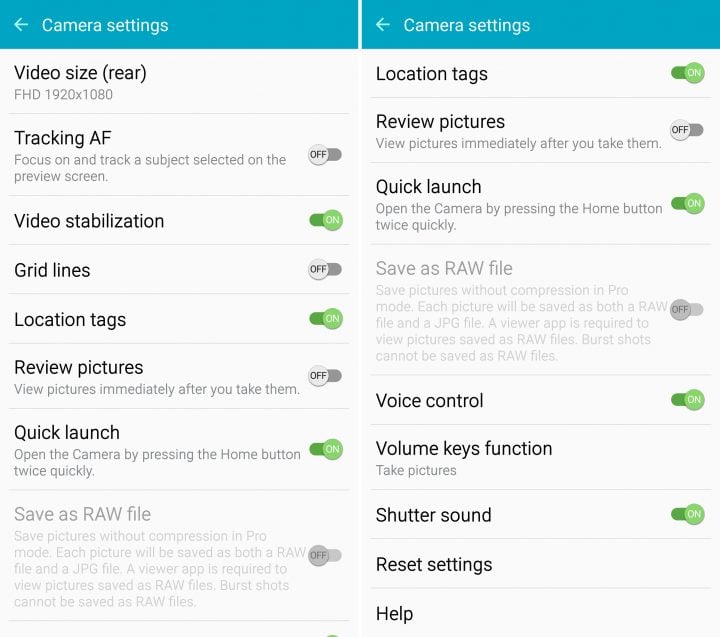 Video Size – FHD is a good enough and 1080p, but if you want more, choose FHD at 60 FPS (most extra features get turned off) 4K or UHD.
Tracking AF – Lock the focus on a subject, and it will stay in focus as it moves across the camera.
Video Stabilization – Avoid the shakiness of handheld video.
Grid Lines – Show grid lines on the screen so you can set up your shot.
Location Tags – Save location information with your photos.
Review Pictures – See your photos right after you take them.
Quick Launch – Turn on or off the double press home button to launch feature.
Save as Raw File – Raw files are uncompressed images perfect for uploading to Photoshop, Lightroom, and other advanced programs to fine-tune images like a professional.
Voice Control – Say Cheese, Smile or Record to take a photo or video.
Volume Keys Function – Choose to take a photo or zoom with the volume buttons.
Shutter Sound – Turn off the Galaxy S6 camera shutter sound.
Reset Settings – If you mess with too many settings or just want to go back to stock, out of the box factory settings for the camera, press this.
The newly improved 5 megapixel front camera also has a settings button, which takes you to the regular settings main. Instead, use the smaller selection of options or settings on-screen to change how the front camera works.
For the most part I shoot with the Galaxy Note 5 camera set to auto, but have used the Pro mode a few times to try and capture (and failed) the blood moon, or had success with beautiful sunsets. Typically I have HDR set to auto, as the camera doesn't always need software help to get great photos, and some instances it will do more harm than good.
The front facing camera is one of the best I've ever used, and the rear camera takes amazing photo and video. Samsung's new camera is very fast, capable, and powerful. All the information provided above should detail what owners need to know, hopefully explain anything you didn't understand, as well as give users a few tips to get the most from their Galaxy Note 5 and its camera.

As an Amazon Associate I earn from qualifying purchases.