How to Use the Handwriting Keyboard in Windows 8.1
Since Microsoft first added the ability for users to interact with Windows machines using their fingers and a stylus, the company has been on a mission to make the process of imputing text as easy as it can possibly be on the platform. In Windows 7 in slightly redesigned the touch keyboard. In Windows 8 and Windows 8.1 it went back to the drawing board and integrated a handwriting keyboard directly into the keyboard for the Desktop and Windows Store apps and the Start Screen.
The handwriting keyboard in Windows 8 is unlike touch keyboards as you may know them. It doesn't come with individual keys for users to tap and add spaces to. It does include auto correct and users can input letters and numbers quickly into whatever app they have open with just a few swipes. The handwriting keyboard in Windows 8.1 is a giant black rectangle with two blank lines running horizontally across it where users can just write what they want to in put.
Here's how to use the handwriting keyboard in Windows 8.1.
Unlike most features, the handwriting keyboard didn't change much in between the first version of Windows 8 and the free Windows 8.1 update that's now available to users through the Windows Store. As such, you don't necessarily need to perform that update before taking advantage of the features seen here. That being said, it's still a good idea to go ahead and download the Windows 8.1 update if you haven't already. It includes tons of new features and going forward the update will be required for any feature upgrades and patches. To figure out if you have Windows 8.1, head to the Windows Store in the Start Screen and look for the banner that says "Update to Windows 8.1." If you don't see that banner on your device than you already have the update.
Read: Windows 8.1 Review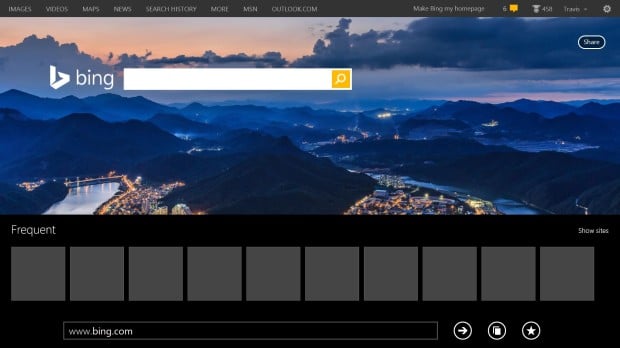 In Windows Store apps, opening the handwriting keyboard is quick and efficient. Mostly that's because those apps automatically open the standard keyboard when users tap on a text field. Go to the Start Screen and open any app that you'd like to input text into. In this example we're writing a web address in Internet Explorer.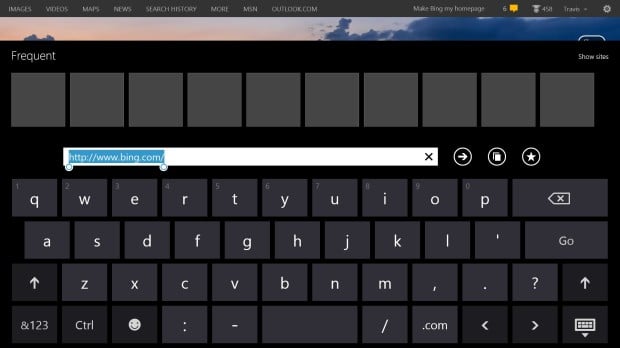 With the keyboard open, tap on the button in the bottom-right corner of the keyboard. From the pop up menu tap on the icon that looks like a Pen and stylus. It's the button second from the right in the pop-up menu.
You've now activated the handwriting Keyboard on your touch Windows 8 device. Going forward this keyboard will be automatically triggered when you try to input text using touch. Input text by literally writing what you want to input on both lines. Your device does need to support a stylus for the keyboard to work, writing with just your finger will work too. Tap on specific words to auto-correct or detect them as you see fit. The keyboard understands manuscript and cursive writing. Numbers, letters and symbols work too. To delete a word simply strike-through it and your Windows 8 device will remove it. You don't have to hand write all characters, users the buttons to the right of the two lines to input symbols and numbers. Tap on insert when you're ready to add that text to whatever app your in.
By setting up the keyboard in Start Screen apps you're also enabling it in the Desktop. It can be accessed by tapping on the keyboard icon in the system tray.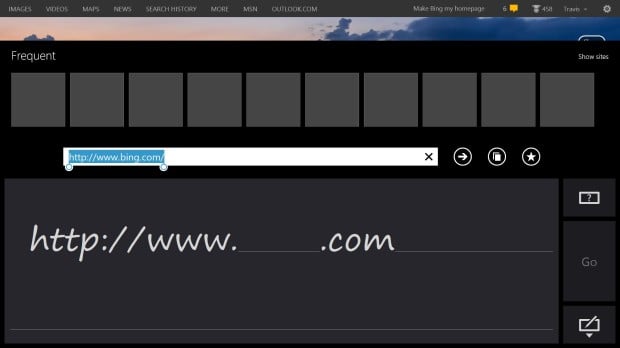 It's important to remember a few things before committing to using Windows 8's handwriting keyboard. The first major thing is that you can switch between it and the standard QWERTY keyboard at any time by simply repeating the first few steps of this process. It's also important to understand the handwriting keyboard's limitations. Users who are pretty fast touch typists will definitely find the handwriting keyboard a bit lacking. Mostly, that's because they'll feel like they are not writing as much as they would be if they just had an actual keyboard at their disposal. That's because they've probably learned how to type faster than they ever could write. Writing long paragraphs might be a bit of a hassle with this keyboard since it does tend to tire out the arm you write with pretty quickly.
Finally, the most important thing to remember is that this is one of those features that's totally restricted to tablets, desktops and convertibles that have touch. Devices without out it won't be able to access this keyboard to say nothing of it being useful.
If you don't have a device that came with a stylus, you may find that purchasing a multi-touch stylus makes your experience with the handwriting keyboard more enjoyable. Usually a decent stylus is around $10. If your device did come with a stylus than use that one and you'll likely find the keyboard a breeze. The handwriting keyboard does support special buttons on user's stylus. For example, Surface Pro users can erase any text they add by running the back of their pen over the keyboard like they would a standard pencil eraser.