How to Use the iPhone Calendar
Here is a guide on how to use the Calendar app on your iPhone to keep track of important events.
The iPhone has become a constant daily planner for many users and its Calendar app especially is an essential for setting a good schedule.
There are many third party iPhone calendar apps, yet Apple's app has grown quite a bit over the various IOS upgrades and is now quite versatile in views and application despite its simplicity.
How to Use the iPhone Calendar
Here is a guide on best uses for the Calendar app on the iPhone.
Watch the video above for steps on how to streamline your use of the iOS Calendar.
Using Different Views in Calendar
The iPhone Calendar app allows you to view your day or month in a few different views.
There is the more traditional Monthly view that showcases Events by putting dots on the days they are scheduled.
There is the List view which squishes the calendar put to the top of the screen and then includes a list of Events when tapping on each day.
There is lastly a Daily List view which is selected by tapping a given day and then tapping the List view icon in the top right corner next to the search magnifying glass. This view showcases your monthly appointments by listing them in order they are scheduled.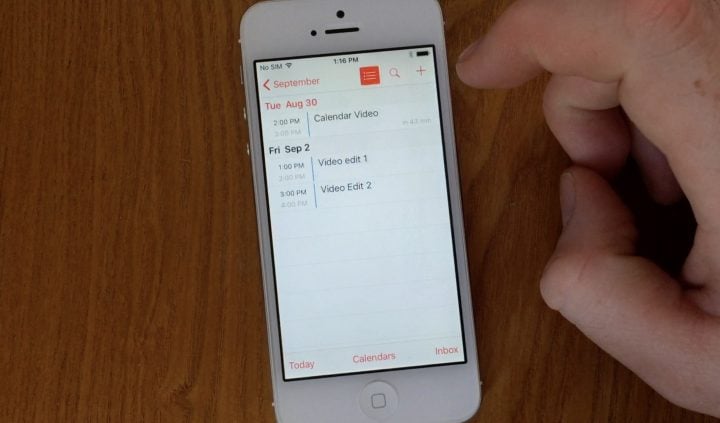 Creating and Sharing Calendars and Events
One of my favorite and most used features is sharing Calendars and Events with others. To create an event, Tap the plus icon in the very top right corner of the screen. From here you will be able to choose all the details of the event including time, location and more.
There are ways to share whole Calendars with people or just invite them to specific events. To invite someone to share a calendar with you, Tap Calendars at the bottom of the screen and then tap the Info icon.
You will be able to add recipients here to share and be able to edit the calendar with you. This is a perfect solution for couples, work groups, families and friends to be able to be on the same page and see and book new events for their given group.
To send someone an invite to an event, Tap the event in question and then tap Edit on the top right of the screen. This will reveal input fields for all the data for the event but also will show Invitees under the Calendar setting.
Tapping will allow you to search your contacts and add people to receive an invite to place on their calendar. This is different than sharing the whole calendar and is a read-only calendar invite.
Alerts and Repeating Events
The Calendar app also has the ability to alert and remind you about events that are coming up. This can also be accomplished by asking Siri to remind you yet can save you this step when setting up your event in the first place.
When you are at the Event Edit screen, you will see the options for Alert midway down the screen. You can enable multiple alerts for your Event so that you can get a reminder perhaps two days before and then two hours before, to ensure your Calendar will remind you of your event.
You can also add repeating options to Events so that it will re-occur at the intervals you designate. An example would be taking your medication at a certain time every day. You can set a reminder for your Event Take Medicine and then have it repeat every day.
You could also put anniversaries or quarterly meetings by using the parameters for every week, every year and so on. There are plenty of options to ensure you are reminded to stick to your schedule with a minimal amount of setup.
As stated, the iOS Calendar app is very useful despite its simplistic design and options. It is most beneficial when working in concordance with your other apps such as Mail, Contacts, Notes and other apps that utilize your contacts and sharing information. The Calendar app is a great essential app in iOS and has more potential than meets the eye.

As an Amazon Associate I earn from qualifying purchases.