How to Use the LG G4 Remote Control App
The LG G4 features an infrared sensor on the top that turns the smartphone into a remote control for almost any device in your living room. Our guide below will explain how to quickly setup and use the LG G4 remote control app to control your home theater.
LG's new G4 smartphone has a big and bright 5.5-inch HD display, genuine leather build materials, a powerful 6-core processor, and one of the best cameras of any smartphone coming in at 16 megapixels. Lost in all the excitement is the built-in remote control sensor and app, and here's what owners need to know.
Read: 30 LG G4 Tips & Tricks
Like most traditional TV remotes, there is an IR blaster on the top of the LG G4 that will control your HDTV, DVD player, Air Conditioner, Cable box and other home theater equipment with ease. The built-in app works wonderfully, rather than a 3rd party download like what's available on the Galaxy S6. Read on to learn how to set it all up, and use the LG G4 as a remote control for all your needs.
The LG G3 and a few of LG's other recent smartphones and tablets all have this feature, and it's better than ever on the new G4. Not only can you setup your LG G4 as a remote, but you can make custom options for each room based on the equipment you have, as well as a quick access panel right in the notification pulldown bar to easily toggle the remote on and off in a matter of seconds. No searching for and opening the app or anything.
It's extremely easy to setup and use, and below are a few screenshots and instructions to help you get the most out of the LG G4.
Instructions
To use the LG G4 as a remote control users will start by opening the built-in "QRemote" app, which should be right on your first page of apps in the application tray. There is some initial setup, but it's extremely simply and straightforward.
Go to Apps > QRemote > Pick a room > Tap on + > Add a remote control. From here you'll see the same as we're showing below, which lets you choose between a TV, Cable Box, Audio equipment, AC, Projector or even a universal remote option. Choose which room you'd like to use, and get started.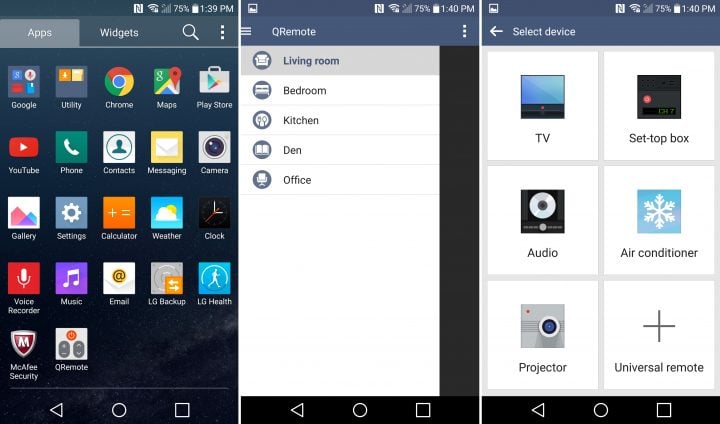 The app has a huge selection of codes for most devices, and I've started by setting up the remote to control my TV in the bedroom. You can do a search if you have an off-brand name too. Once you've selected your TV of choice it will start with powering on the device. You'll get on-screen instructions for everything, and if the first code doesn't work just click no, and try another until it works. Mine worked on the first try for all my TVs, our Denon receiver, and more.
The same steps can be followed for your Cable Box from DirecTV, Cox, or Comcast, DVD players, and even fine-tuned universal remotes. The how to video below is from the LG G3 last year, but the steps are almost identical. The only changes are some new device options, and a few more controls.
Once all the devices you'll want to control have been setup and rooms named, there's a few other options owners should be aware of. The best feature is being able to have the QRemote in the quick settings list at the top of the notification pulldown bar. This allows owners to toggle on the remote app to quickly turn up the volume, then hide the remote in a matter of seconds.
Pull down the notification bar and swipe from right to left on the quick setting circles, as there's actually 10 quick settings available. If QRemote isn't one of them, select "Edit" and add it to the top 10 settings on the LG G4. Now, all users need to do is tap QRemote in the quick settings pulldown bar to instantly access volume and channel controls, make a change, and tap the quick settings circle again to hide the app. Making it extremely quick and easy to access.
From here users are all setup to use the LG G4 as a remote control for almost any device in any room of the house. Our only complaint would be the lack of a lockscreen option. You can add the app to the lockscreen shortcuts, but there's no option to enable direct lockscreen controls, something we've seen from Samsung and HTC. That said, QRemote is one of the easiest and best remote control smartphone apps, so set it all up and enjoy all it has to offer.

As an Amazon Associate I earn from qualifying purchases.