How to Use the Nexus 5 as a Personal Hotspot
If you're one of the millions of Americans with a device like the iPad or Nexus 7, or even a laptop and personal gaming device, you can have internet anywhere and everywhere on any device just by sharing your smartphones connection.
Our smartphones internet and data signal can become a portable sharable internet connection for all of our devices, and it's called a personal hotspot. Anywhere you have an internet connection and signal on your smartphone, you can also have and share to your tablet or laptop.
Read: Best Nexus 5 Cases
It's a concept many still don't understand, like my parents, so below we'll explain a few easy ways to make any Android smartphone (but we're focusing on the Nexus 5) into a personal hotspot.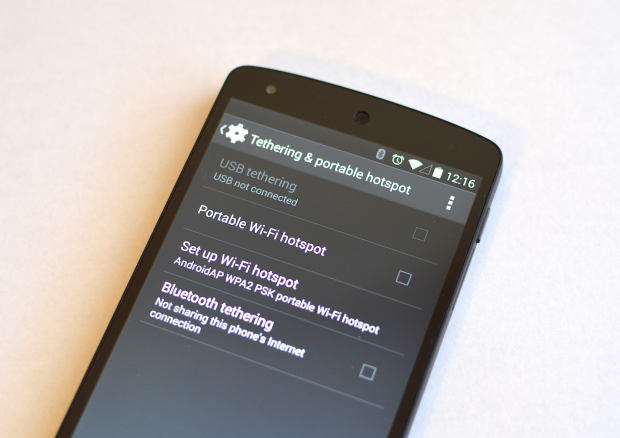 The most common and preferred method is to use WiFi tethering. Essentially sharing your phones connection over WiFi to multiple devices. Whether this be your laptop at the park, or sharing it with tablets in the car for your kids. Alternatively there's also wired USB tethering, so your Nexus 5 can charge while it shares that connection to your Macbook, or laptop of choice.
The easiest option, like most easy things in life, will most likely cost you. The image above is the stock Tethering & portable hotspot settings and feature in Android. You can set a password and share the connection with multiple devices, and access it just like any regular WiFi connection (like the internet at Starbucks). However, most carriers charge $10, and sometimes an extra $20 a month for hotspot access. Nexus devices seem to bypass that so go ahead and give it a try on your Nexus 4 or 5.
Instructions:
To enable a wireless personal hotspot you'll start by heading into settings by tapping the gear-shaped settings icon, or swiping down and hitting settings in the notification pulldown shade. From here the image below will guide you.
Settings > More (under wireless & networks) > Tethering & portable hotspot and hit enable
Once you enter this settings menu you'll be able to enable USB tethering to share the internet connection, enable Portable WiFi hotspot, and even setup the hotspot with a name and password to keep it secure if you're in a public location. It defaults to AndroidAP, but tap set up and change it to whatever you'd like, and a password you can remember.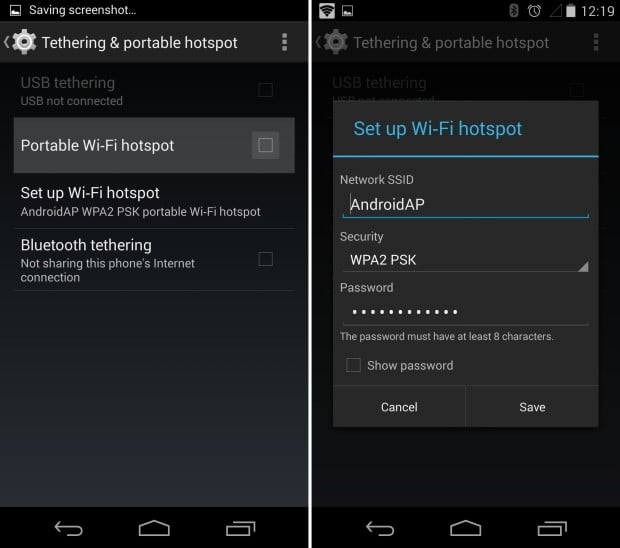 Once you've set it up properly, go ahead and tap the checkbox to enable the portable WiFi hotspot, or turn on USB tethering and plug your phone into a laptop via USB. Both options work wonderfully for sharing your phones internet connection with a laptop or desktop PC. Remember though, if you go over your data the carrier may charge you huge overages, so use caution, or make sure you have unlimited data.
Read: How to Make a WiFi Hotspot Widget on Android
Alternatively if your carrier wants to charge you $10 or $20 for the hotspot features, there's plenty of "Tether without root" apps on the Google Play Store, that once setup, will enable USB tethering to share the internet connection all for free. My favorite is Klink, but there's plenty of options widely available from the Play Store.

As an Amazon Associate I earn from qualifying purchases.