How to Use the Samsung Galaxy S4 as a Flashlight
The Samsung Galaxy S4 has an impressive 13 megapixel camera and a bright LED flash, one that is useful for more things than just taking pictures.
Earlier this week we explained how to use the Galaxy S4 flash for alerts and notifications, but today we're focusing on using it as a dedicated flashlight. This is a feature many smartphone owners use, but if you've ever wondered how to simply and quickly enable the LED flash for a flashlight on the Galaxy S4, read on for the easy instructions and a one-tap solution.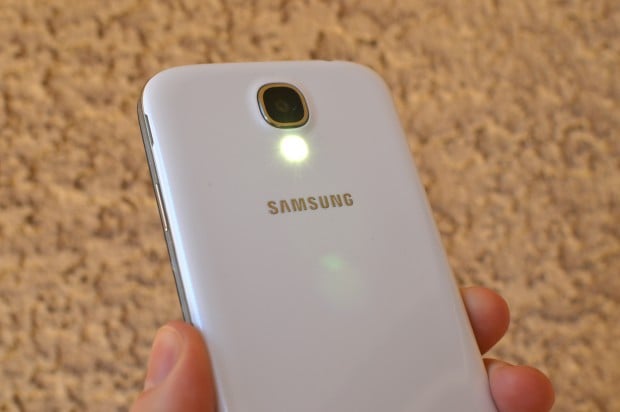 The Samsung Galaxy S4 camera flash is powerful enough that it can easily double as a bright flashlight for finding your keys on a dark night, looking under the couch or in a dark closet, or even while out camping and need a light. Samsung Galaxy devices have a easy toggle to enable this in seconds, rather than launching the camera and turning it on, and here's how to use it.
Instructions:
You'll have to add a widget to your homescreen to enable this awesome feature with a single tap, but it's really easy. Widgets act as shortcuts or one-click solutions to instantly launch apps or services on our Android devices from the homescreen. Rather than finding the app in a list or thumbing through settings.
Users will need to head into the App Tray by tapping the apps icon on the bottom right of the screen, select the "Widgets" tab at the top of the display, then flip through your widgets until you find the "Assistive Light widget" from Samsung.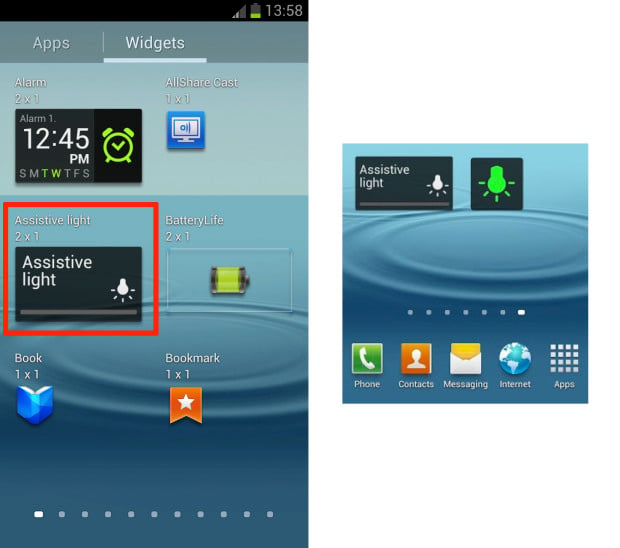 Simply select this and add it to your homescreen of choice, as shown in the photo to the right, and you've now made a flashlight widget. A single tap on this will instantly fire up your camera flash for those moments where a flashlight is needed, and all you have is your trusty Samsung Galaxy S4.
There's also tons and tons of additional options from the Google Play Store that offer different functionality, auto shut-off timers so you don't drain your battery, and even SOS flashing and more. Our personal favorite is Tiny Flashlight + LED which is free from the Google Play Store. Once you add this widget you have tons of options to choose from, not to mention it's smaller and prettier than the big square icon Samsung uses above.
Read: How to Close Apps on the Samsung Galaxy S4
Flashlight HD LED is another awesome option from the Google Play Store. All of these can be added to your homescreen as a quick widget to toggle the camera flash with one tap, using the same instructions detailed above.
Next time you need a flashlight handy and all you have is your Samsung Galaxy S4, fire up any of the apps or widgets mentioned above and you'll instantly have plenty of light as long as you need it. Just remember this could drain your battery, so use sparingly.

As an Amazon Associate I earn from qualifying purchases.