How to Use the Samsung Galaxy S5 with One Hand
Over the past few years we've seen most Android smartphones continue to get bigger and bigger, especially with the Samsung Galaxy S series, and the popular Samsung Galaxy Note lineup. So big in fact, that using these devices with one hand can sometimes be a challenge.
While having a smartphone with a beautiful 5.1-inch 1080p full HD display is excellent for playing games, viewing Facebook, or even watching Netflix, not everyone wants a device so big, or would like to be able to use it with one hand.
Read: 5 Best Wallet Cases for the Samsung Galaxy S5
Thankfully Samsung decided that a "One-handed Operation" mode or setting was needed for their smartphones, and many people don't even know it exists. If you love your new Samsung Galaxy S5 but sometimes find that you wish things were easier to do with one hand, below you'll find a simple video and set of instructions to enable the Galaxy S5 One-handed use features.
Smartphones just keep getting bigger and bigger. So big that Apple has used that in commercials in the past to their advantage, showing off using the entire display with one hand with all apps reachable by the average thumb, and others have mocked Samsung for the large 5.7-inch "phablet" size of the Galaxy Note 3.
While everyone's needs and wants differ, some people love Samsung devices but still would love to occasionally use it with a single hand. We know all the parents out there that often only have one free hand can't use a Galaxy Note 3, simply because it's too big to text and use without having both hands available.
The One-handed operation mode on the Galaxy S5 is extremely easy to turn on, then a quick swipe of your display will let you essentially make your phone as small as you'd like. It looks a bit odd, but you can essentially make 60% of your screen the entire device. Easily texting, checking notifications, or make calls all with a single hand. If you like how this sounds, or the image above, below is how to do it yourself.
Instructions
In order to enable one-handed use on the Galaxy S5 you'll need to head into settings and toggle the option. Then once you've done that a simple gesture swipe on the screen will bring up the one-handed use screen shown in the image above. From there you can resize as you'd like, and even move it to the left side for those left-handed people like myself. Here's a quick video to peek at.
To start head into settings by pulling down the notification bar and selecting the round gear-shaped settings icon near the top right. Then proceed to these categories:
Settings > One-Handed operation > and toggle the "On/Off" switch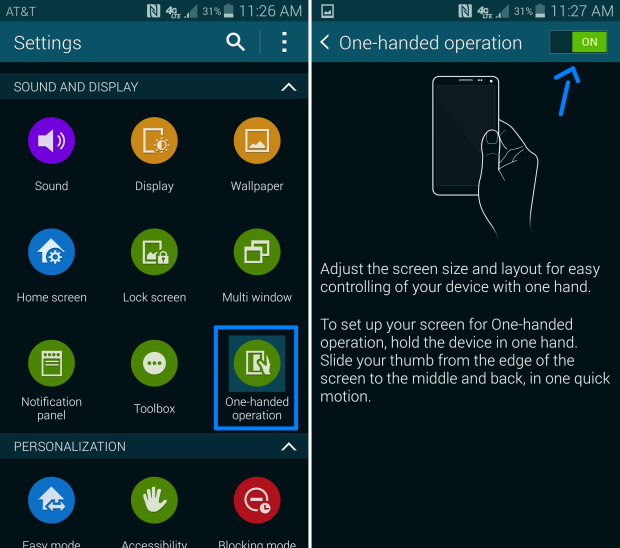 From here as the screen describes, a quick swipe left and right from the edge of the display is all that's needed and you'll instantly see the one-handed mode appear with the white boarders. Hit home, then proceed to enjoy a much smaller display.
The phone continues to function exactly as it always does, only you're using much less screen real estate. It actually looks and feels sort of awkward, but it's extremely easy to navigate the entire device with one hand. Then the top has three buttons to return to full size, toggle quick favorites for calls, and even a multi-tasking option. Pretty neat right?
The bottom row has your usual multitasking, home, and back buttons, but also a volume up/down for easy controls. Rather than fumbling and repositioning the device in your hand before you can reach the volume keys, or using a different hand, simply tap the bottom icons and you're set. It's an odd approach by Samsung, but works for those who truly need it.
Should You Use This Feature?
Everyone is different in how they use a device. There's no right or wrong way to enjoy a smartphone, and Samsung's Galaxy S5 has a wide array of options, controls, customization and features to make each users experience as custom and tailored as possible.
Read: 50 Galaxy S5 Tips, Tricks & Hidden Features
This is just one feature of many, and if you love the Galaxy S5 but sometimes feel like the screen is just too big, but don't want something smaller, consider trying the One-handed operation features outlined above.

As an Amazon Associate I earn from qualifying purchases.