How To Use the Share Charm in Windows 8
As part of Microsoft's revamp of the Windows user interface in Windows 8 the company introduced a lot of changes that were designed to make the lives of users easier. Among these things were universal ways of performing everyday tasks like Search and finding the settings in all Metro-style applications.
In theory the switch to relying on these universal functions — Microsoft calls these Charms — would have made it easier to perform the functions. Unfortunately, developers actually omitted any of these functions from the interface of their applications, and for its part it's widely believed that Microsoft dropped the ball when it came to educating users about the new interface. Because of this — Charms chief among them — the Share Charm is simply undiscoverable and possible just not useful.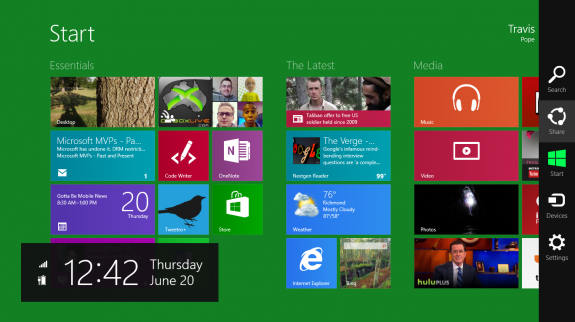 Read: How to Search Apps in Windows 8
That's a shame since the Share Charm makes posting links and getting your favorite photos online absolutely easy, as long as each individual application supports it. Here's how to use it.
Though Charms are accessible inside when looking at the Start Menu and in the Desktop interface, from both places the Share is useless: it'll only tell you that "sharing isn't available."
To use the Share Charm, open the application you'd like to share from and then activate the Share Charm. You can do so by swiping from the right on your laptop's touchpad. You can also find the Share Charm by moving the mouse pointer into the right hand corner of your screen.  
Once you see the Charms Bar, click on the word Share. It's the second Charm from the bottom with the circular icon.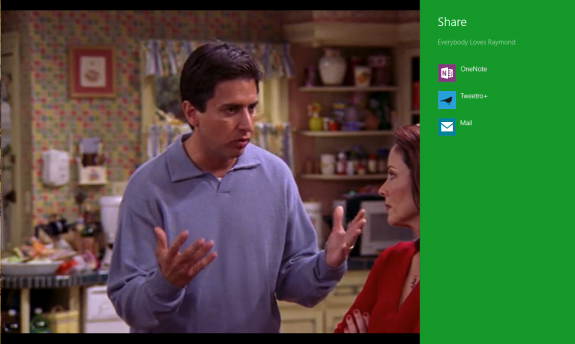 For the purposes of this article we're using the Netflix application to share our favorite episode of Everybody Loves Raymond. Most applications don't explicitly say that they support using the Share Charm. However, the vast majority of Windows 8 Apps do support the Share Charm.
Once you've activated the Share Charm every application that's installed that can be used to share content will be viewable from inside every application. In our example, OneNote we can share the description of the episode of the show we're watching in an OneNote notebook, post it to our Twitter account or email it to a friend.
From there you're home free and can share almost anything. So far we've tested the Share Charm inside Xbox Music, Xbox Video, the Windows Store, Hulu Plus, and even the most popular YouTube applications.

As an Amazon Associate I earn from qualifying purchases.