How to Use The Windows 8.1 Start Screen On a Tablet
The Start Screen in Microsoft's Windows 8.1 operating system is meant to help first-time Windows 8 tablet users. It's full of swipes and gestures to make tasks that would otherwise take a lot of time, instantly available. Still, it can be very confusing – especially if you have a long history with older versions of Windows like Windows 7. Here's how to use the Windows 8.1 Start Screen on a tablet.
Understanding the Motions
When you first turned on your Windows 8.1 tablet you might have noticed a small video tutorial that tried to educate you on the intricacies of Windows 8. Don't worry if you didn't pay attention to it; hardly anyone does and there's no in-your-face way to trigger it again.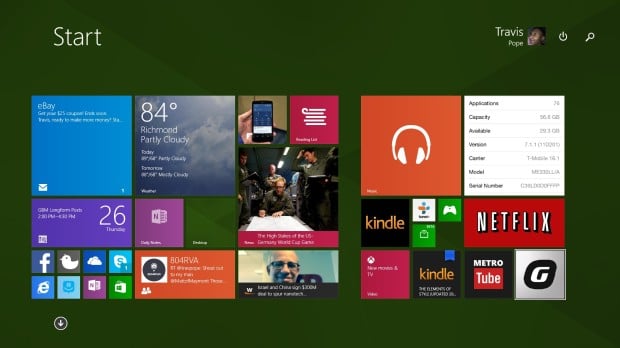 To master Windows 8.1 on a touch screen you have to master the art of gestures and swipes. That is, most basic Windows 8 menus and commands don't have an on-screen element. Instead, users have to instinctively know what to do in each situation.
The Charms Bar
Swiping from the right edge to the left on your Windows 8.1 tablet's screen will reveal what's called the Charms Bar. The Charms Bar is where you'll need to go to do almost anything on your Windows 8.1 tablet. The Charms Bar has five options. Let's break them down.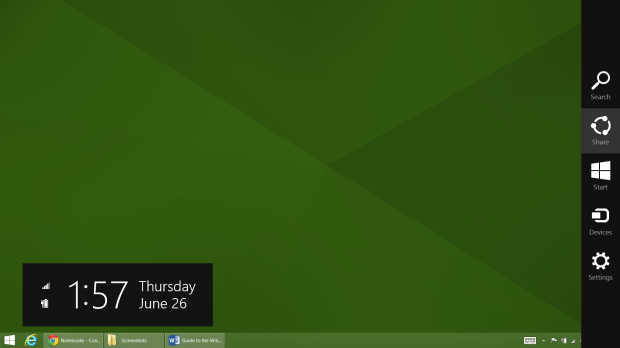 Search is the first Charm at the top. By clicking it users can search just about every single place on their device. By default it'll search everything on your tablet, but you can narrow searches down to apps, settings, files, web videos and web images. Built in to the Charm is Bing integration so that when you search using the Charms Bar it immediately goes out to the web and presents you with local and online search results. Many apps also integrate with the Search Charm for internal searches. So for example, searching Netflix's catalog of television shows and movies is as convenient as swiping to open the Charms bar, tapping on Search and then selecting Netflix from the drop down menu.
The Share Charm
The Share Charm integrates directly with the built-in People app. This allows you to quickly share status updates and pictures with friends and family without having a web browser. In some cases you can share information with apps that aren't built-into Windows 8.1 at all. For example, news readers will let you use the Share Charm to tweet out links to interesting stories.
The Start Charm always takes you to the Start Screen.
The Devices Charm
The Devices Charm is the most complicated of the bunch because its functions aren't always straight forward. If you want to stream anything to a smart TV or the Xbox One, project anything to a display or print a document, the Devices Charm is where you go. The catch is that these functions will only reveal themselves if there's a compatible device.
Settings Charm
Finally, there's the Settings Charm. It does exactly what its name suggests. Tapping this charm will instantly open the settings for every Windows Store app. additionally, it allows you to change settings on your device. For example, if you wanted to adjust the screen brightness on your tablet that's where you would do it.
Apps & Multitasking
Placing our finger on the right side of your Windows 8.1 tablet's screen and dragging it over slightly reveals the multitasking bar. Whenever you open a Windows Store app it'll show up here. From here you can switch between different apps or drag apps to each side of your screen to get a little multitasking going.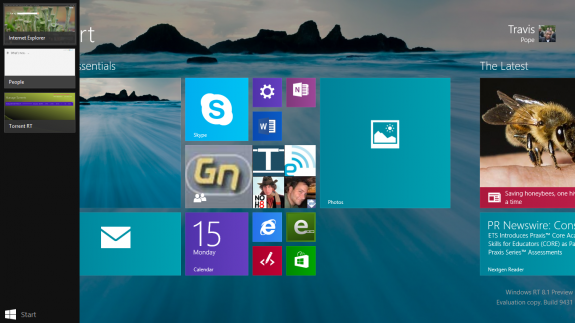 Be careful with this left edge because it'll also take you back to the last app you had open, and there's nothing more confusing than that.
While we're on the subject of apps, placing your finger at the top of your screen and dragging downward closes apps. Dragging the top of apps to the left edge of your screen will close it and open a previous app.
App Bars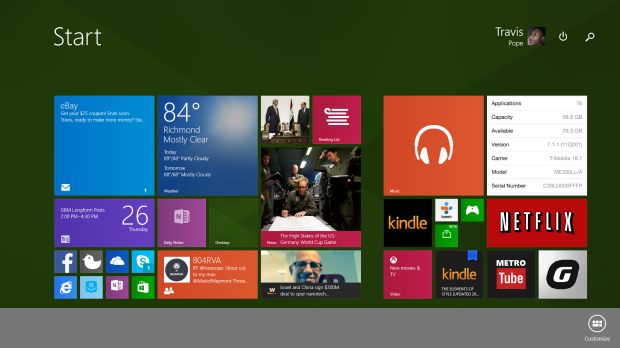 In addition to those other hidden bars we've talked about, there's a third bar that's just as inconspicuous. Swipe up from the bottom edge of your screen and in some apps and the Start Screen you'll find the app bar. These vary depending on app – some apps use them extensively and others don't. Usually it hides a few more options than what you're seeing on your screen. For example, there's a customize option that surfaces when you open the app bar on the Start Screen.
Start Screen
The Start Screen itself is pretty basic. Think of each tile as a shortcut. By default Windows 8 includes a ton of Live Tiles for you to start out with. Whenever you add more apps you add a new potential Live Tile that you can pin to the Start Screen for more updates.
Desktop apps can be pinned to the Start Screen alongside Windows Store apps, but it's the last one that will get you neat Live Tiles that show you the current weather forecast or your next appointment. Pinning something to the Start Screen is as simple as swiping up on the Start Screen and tapping and holding on the app you'd like to pin.
Placing two fingers on the Start Screening then moving your fingers toward each other will allow you to zoom out on your live tiles. There you can break them down into groups and rearrange them.
There you have it. Those are the basics of the Start Screen if you have a tablet running Windows 8.1. It's going to be a bit confusing at first, but the more you practice with it the easier it'll get. If you're going to frequently use your tablet with a mouse and keyboard you'll also want to read GottaBeMobile's Guide to Using the Start Screen in Windows 8.1 with a Mouse and Keyboard too.

This article may contain affiliate links. Click here for more details.