How to Use Your iPhone as a Trackpad
If you need to put your iPhone to good use when you're not using it, a great way to do that is by using your iPhone as a trackpad.
You may not think that using your iPhone as a trackpad is particularly useful, since your laptop already has a trackpad and such, but it can be extremely useful in certain situations.
Of course, if you're already at your desk there's no need for it, since your mouse is already right there. Same goes for a laptop, where the trackpad is right in front of you if you're using your MacBook.
However, one big need for an iPhone trackpad that I use quite often is when I have my MacBook plugged into the TV to watch movies and TV shows while I'm lounging on the couch. I do this a lot when we're visiting my wife's parents or watching a movie at a friend's house.
It's a pain the butt to have to get up every time to pause a movie or pick out a new one, which is why having a trackpad right at your fingertips is much more convenient and allows you to control your computer right from the couch without much fuss.
Here's how to use your iPhone as a trackpad on your Mac or Windows PC.
Using Your iPhone as a Trackpad
Basically, in order to use your iPhone as a trackpad for your computer, you'll need to download an app from the iTunes App Store. Luckily, there are many apps available that can turn your iPhone into a trackpad, but unfortunately, most of them aren't that great.
However, there's one app called Mobile Mouse that does a pretty decent job. It's a free app that you can install on your iPhone (although there's a paid version for $1.99 that comes with more features).
Once you install the app, you'll also need to install the computer client, which can be downloaded from the Mobile Mouse website. It works with Mac and Windows computers, and there's even an app for Android if you want to control your computer with an Android device.
Once you have the computer client up and running, you can open up the iPhone app and connect to your computer from there.
At that point, the app will be ready to go and you can begin using the iPhone trackpad right away.
The awesome thing about Mobile Mouse is that it does way more than just act as a trackpad. You can also use it as a keyboard and there's even a virtual scroll wheel to scroll through pages.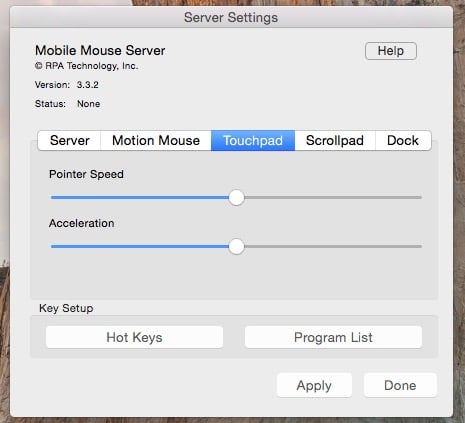 There are also a handful of settings and options that you can mess with, both on the iPhone and on your computer. The settings on your computer can adjust the scroll speed and tracking speed of the Mobile Mouse app, and the settings that you can adjust on your iPhone within the app include things like enabling Tap Click, switching around the left and right click buttons, pinch to zoom, and enabling natural scroll.
In the Pro version of the app, which costs $1.99, you can unlock features like the media remote (giving you specialized music controls), web browser remote (includes important buttons for web browsing), and even a PowerPoint clicker. You can also use the app to switch applications on your Mac and there's even a widget for the app that you can put in your iPhone's notification center.
I'd highly recommend getting the Pro version of Mobile Mouse anyway, even though the free version provides the basics that most users will want. This is because after you use the app for a while, you'll yearn for those extra features pretty quickly, and $1.99 isn't a lot to spend on such a useful app.

This article may contain affiliate links. Click here for more details.