How to Use Your Music as an Alarm on the Galaxy S5
If you're like me, the subtle and calming tones of the Samsung Galaxy S5 alarm clock app just don't cut it. If you're wanting to add a bit of your own style or customize to the alarm, below we'll explain how you can set any song you own as the Galaxy S5 wake up tone.
With the Samsung Galaxy S5 users actually have a rather large selection of alarm tones available to choose from, many of which are quite obnoxious and should wake you from that deathly deep REM sleep. However, some of us need a bit more encouragement (or irritation) than others, so here's how to change it.
Read: How to Take a Screenshot on the Galaxy S5
Of course there are plenty of apps from the Google Play Store specific to alarm clocks, some that will even slowly wake you up, but rather than pay for an app read on to learn how to select any song from your own personal library as your morning wake up call.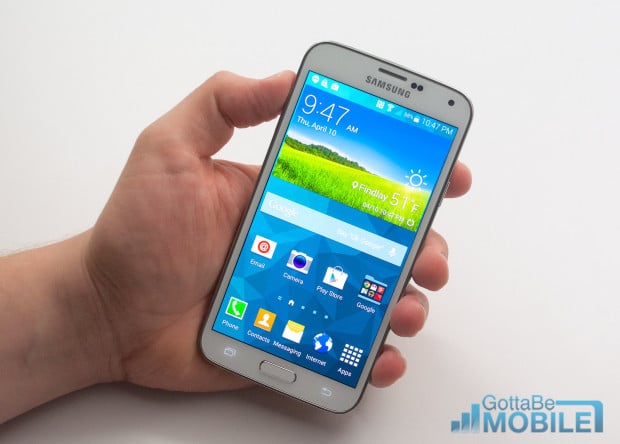 On most Android devices using a custom or personal ringtone or song as the alarm isn't as easy as you'd think. Users have to manually copy over a song to a specific ringtones folder, and often times that still doesn't work and you'll need to find the media folder on the root of your device storage.
That's all probably a bit confusing to the average consumer, and lucky for you guys Samsung made this extremely easy on the Galaxy S5. As long as you have music stored on the Galaxy S5's internal storage (or micro-SD slot) you'll be able to select any song you want in a matter of seconds.
Read: 5 Best Wallet Cases for the Samsung Galaxy S5
Many users don't know how easy this is, but it's a question we've received enough times that a quick how to was in order. So below are the screenshots and few extremely simple steps needed to use any obnoxious (or peaceful Enya) song you'd like for the alarm clock on the Galaxy S5.
Instructions
The first step of course, is to make sure you have music stored on your phone. If they're on the cloud in Google Music that won't work, they need to be stored locally on your device. This can easily be achieved by plugging in your Galaxy S5 to a computer and adding what you'd like.
On a PC simply go to My Computer, open up your Galaxy S5 and click and drag any and all music you'd like into the "Music" folder that's already on the Galaxy S5. Mac users will need the Android File Transfer tool, and then click-drag in the same fashion. Once you'd added some music you think will be up to the task of getting you out of bed, do the following steps:
Head into the app tray and select the Clock app, then select the alarm of choice (or create a new one) and proceed to the alarm editing screen. From here you'll see the time, days you can tap to have the alarm go off, alarm type, and then the important one is "Alarm tone". See below.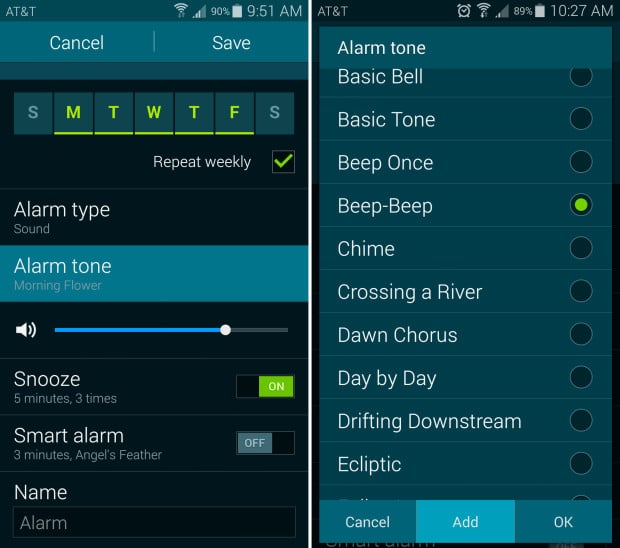 Select "Alarm tone" and then scroll through all the options as shown on the right of the image above. Here is where you'll simply go to "Add" (highlighted in blue) on the bottom and easily add your own music. Samsung's made it so Galaxy S5 users can simply head here and look through every file on the device to find the perfect sound. And by perfect we mean "Who let the dogs out" obnoxious. Because no one wants to listen to that, and it requires you to get up and turn it off, and wake up!
Scroll through the list of Tracks, Albums, Artists, or even by Folder and find just the song you'd like. Once you've selected all the songs you'd like to add to the alarm tone list, tap done on the top right as shown below, and you're all set.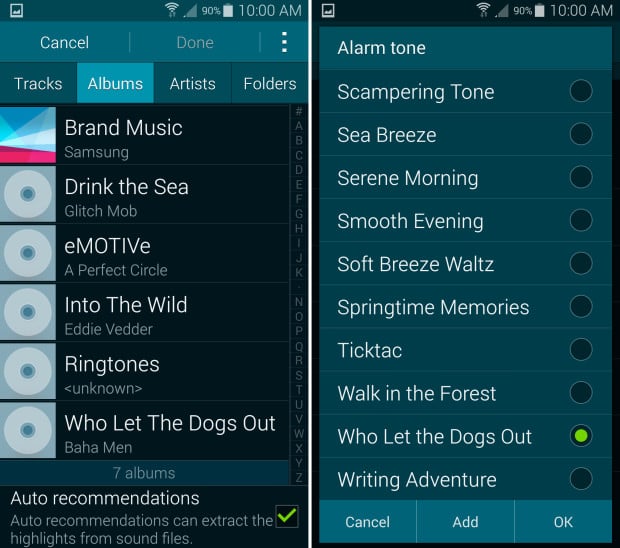 That's it! You've now successfully added any song from your own personal collection (or annoying South Park clip) to wake you up whenever you need that extra push in the morning. As shown in the right screenshot above "Who Let the Dogs Out" is now sadly in my list, and I'll be prepared to throw my phone in the morning next time that wakes me up at 6:00 AM.
Also, make sure the "Auto recommendations" option is selected as shown above while choosing the music of choice. This feature will extract what is likely the highlight of the song, or the loudest part, rather than just playing the intro or beginning of the song. Who Let the Dogs Out starts off just awful, so that works perfect, but others may need a bit of Samsung's auto fine-tuning.
Read: How to Close Apps on the Galaxy S5
You're all done, and users now can hopefully enjoy some peaceful music in the morning they'll actually enjoy, or something a bit more aggressive to get you up and moving.