How to View and Download Great Art from the Met
Art is one form of expression of the human soul. Through great art we have the opportunity to see both the world around us and within us has it has changed throughout history. And often how much it hasn't changed. Throughout history art has been kept in collections by individuals and museums. To enjoy and view it you had to travel to its location. While it will always be a magnificent experience to view great artworks in person, the digital age has the potential to make it possible to see more than most could travel to see in a lifetime. With most fields of human endeavor the Internet makes access to access to information and content more democratic and the same can be said of art.
The New York Metropolitan Museum of Art has just launched an initiative that, if nothing else, shows how this can be done. Called Open Access for Scholarly Content (OASC), the program allows users to view and download for non-commercial use more than 400,000 pieces of art from its collection that the Metropolitan believes is in the public domain. The Metropolitan Museum of Art is not the first to place such a large collection available on the Internet. Other museums make various collections available.  The Rijksmuseum (Museum of the Netherlands) in Amsterdam has had downloads available for just over a year as one example. And of course there is a least one App for that as well. Art Authority for the iPad creates a small gallery on your iPad with works from over 1000 of the western world's greatest artists.
The Open Access of Scholarly Content initiative is intended as a resource for "students, educators, researchers, curators, academic publishers, non-commercial documentary filmmakers, and others involved in scholarly or cultural work." According to the press release, "Prior to the establishment of OASC, the Metropolitan Museum provided images upon request, for a fee, and authorization was subject to terms and conditions." For the work in this collection that is no longer the case.
The idea here is to make the artwork available for non-commercial use and spread the enjoyment of viewing great artworks from the likes of such greats as Picasso, Rembrandt, Manet, Copley, Watteau, El Greco, and many others. The collection can be browsed by artist/maker/culture, date/era, geographical location, and methods/materials.
Here's how to view and download great art from the Met.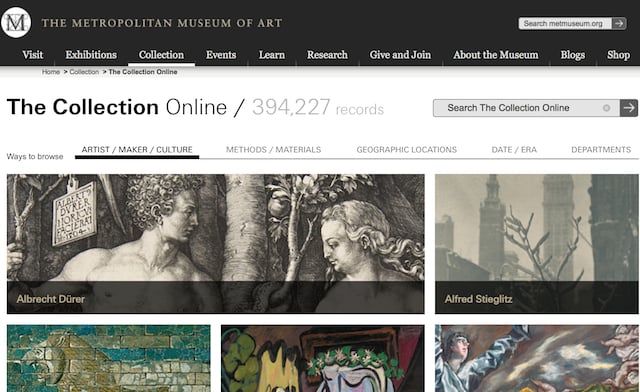 You can choose to browse through the collection online via any web browser by going to this link. Browsing works well on a regular computer and reasonably well on a touch tablet, such as an iPad. If you choose to download any of the art the method is slightly different depending on whether or not you are using a computer or a tablet.
On a computer, you browse through a collection of art from an artist (or another category). You'll see thumbnails of the artwork along with information that includes the date, the medium, and what gallery the artwork may be on physical display in, if it is on display. If not, you're told that too.
Once you click on a thumbnail you're presented with a larger image. In some cases, you can click on the image again and you'll see an even larger image that you can zoom in and around to see detail. On that larger image in the lower right corner will be a download arrow. Click on the arrow and you will be presented with another view that you can right-click on to download to your computer. In some instances you'll also see a control to expand the artwork to full screen in the lower right hand corner. Not every image is available to enlarge.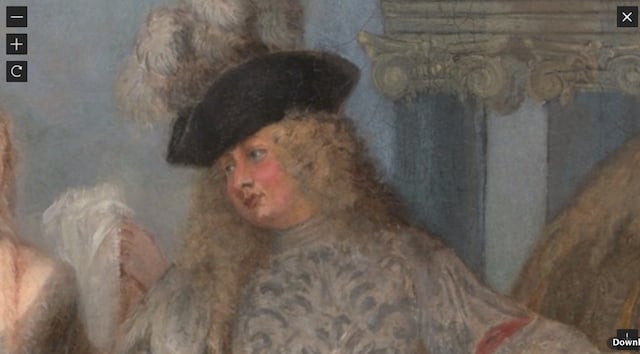 On a tablet you'll still enter the collection via your browser and the process as described above will work reasonably well. To download an image on your tablet, tap and hold until a menu that allows you to Save Image appears. At times it can be tricky to navigate the zooming features on a touch tablet, but the idea is the same.
The process is tricker on a smartphone as it appears the site is detecting the use of a mobile browser differently that on a tablet. If you request a desktop version of the site, the enlarging and zooming process doesn't work very smoothly. But to be honest, I don't think the initiative was designed to work with smartphones.
Some bemoan the fact that each succeeding generation takes less and less of an interest in art and art history. One of the reasons that may be the case is that for much of our history great art has been cloistered away in museums with often limited access. Art museums and galleries that are using the Internet to increase exposure to their collections certainly won't reverse what many see as a downward trend overnight, but they will at least offer an opportunity for younger generations to experience great art via tools that are very familiar to them. And if our recent history with music and film is any indication, it could lead to more interest in visiting museums and galleries to see some of the artwork that someone stumbled across online.
By the way, if you ever visit New York City, the Metropolitan Museum of Art should be on your itinerary. It is a wonderful place to visit and take in great art.

As an Amazon Associate I earn from qualifying purchases.