How to Watch 2012 Election Results Online, on the iPhone and Android
As polls close on November 6th, pundits and news teams will report the presidential election results and users can watch the 2012 election results online, on the iPhone and on Android.
When the polls start to close on the East coast, citizens can tune in for live streaming of network coverage with analysis, whiteboards maps and maybe even a hologram to explain how the 2012 election results are rolling in.
Users can watch the election results from NBC or The Wall Street Journal, listen to NPR's Election night coverage or follow along on constantly updated maps that show which states Obama is projected to win and which states Romney is taking.
How to Watch 2012 Election Results Online
Here are the best ways to watch tonight's election results online and on the iPhone, iPad and Android devices. Users can also watch the election results on the Xbox 360, which is a nice way for cable cutters to keep up on current election results.
2012 Election on YouTube
After streaming the debates, YouTube offers up a live stream of 2012 election results coverage from The Wall Street Journal, The New York Times and ABC, as well as coverage from Larry King and Phil DeFranco. Head over to YouTube.com/Election starting at 7 PM Eastern to watch the results online and on mobile devices like the iPhone, iPad and Android smartphones.
iPad owners should look at the Jasmine iPad app for a better YouTube experience. With YouTube, users should be able to AirPlay the results to an Apple TV for watching on a bigger screen.
How to Listen to the 2012 Election Results
For users that can't watch the election results, download the NPR app to tune in to election coverage. Users can listen to the election night coverage while on the road or working.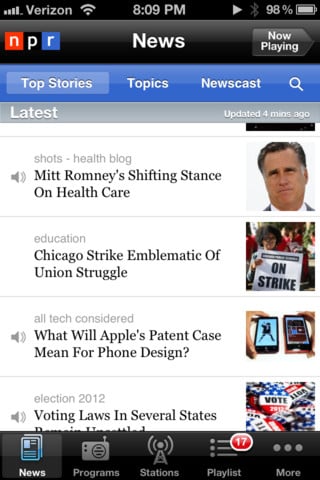 Download the NPR iPhone app or NPR Android app to tune in to the election coverage.
Watch the Election on the Xbox 360
Users with an Xbox 360 and an Xbox Live account can tune in at 7 PM Eastern to see live 2012 Election returns from NBC News. The election coverage includes interactive polling and enhanced SmartGlass Apps on Windows 8 and Android allowing users to see more about what's going on.
At 11 PM Eastern, the coverage switches to Comedy Central's Indecision Election Night Live with Jon Stewart and Stephen Colbert.
How to Follow 2012 Election Maps
For users that want to see the results on a map, check out CNN's election website. On the desktop or the iPad, users should see the current election results on a map, showing which states are going for Obama and which are going for Romney.
On the iPhone or Android, the map changes to a mobile friendly view with results for the major races and reporting from Battleground states.

As an Amazon Associate I earn from qualifying purchases.