How to Watch Any MLB Game Live
It's that time of the year again, when the weather starts to get warmer and the grounds crews begin to prep the fields for the start of the MLB regular season. If you're interested in watching any of the games, here's how to watch them on your computer or mobile device.
It seemed like only yesterday when the MLB season came to a close back in October, but it's starting up once again. Spring training games began about a month ago, but now it's time for the real show, where the regular season begins today with the St. Louis Cardinals taking on the Chicago Cubs.
With spring training officially in the books, all of the MLB teams should be prepared to go, given the fact that spring training was their chance to fine-tune their rosters and improve any last-minute skillsets for players before the season officially got under way. And now, the real season finally begins.
Here's how to watch any MLB game live on television, on your computer, or on your mobile device.
On Television
If you're interested in watching MLB games on your television, your options are extremely limited if you don't have cable.
Most games are aired on cable channels, like ESPN, TBS, and most often on local cable channels, where you can watch your local team play most games. However, there will be one or two games that will air on broadcast television on the weekends, and that's your best bet if you want to catch the most action if you don't have cable.
Unlike football, baseball is a sport where you can't really watch a lot of games without having cable, as only a couple of games out of the 15 or 20 games per day are aired on broadcast television, but you can
On Your Computer
MLB.TV is currently the only official way to watch MLB games away from the televison, whether it's on your computer or on a mobile device.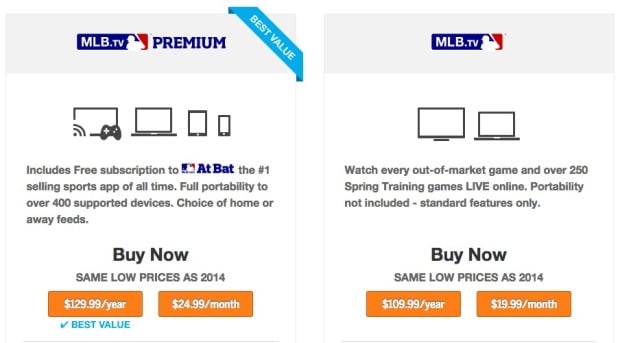 The service allows you to watch baseball games live on your computer, but you will need an MLB.TV subscription in order to stream games. The MLB.TV Premium package will get you full access to the MLB At Bat mobile app for free, as well as give you the option between home and away broadcast feeds. Plus, it's only $20 more for the entire season compared to the non-Premium version, and you'll be paying at least $110 anyway, so it's a bargain upgrade.
You can also use the MLB.TV app on a variety of streaming devices, including the Apple TV, Xbox, PlayStation or Roku, so that you can watch all the action on your television if you don't want to deal with the smaller screen on your laptop.
On Your Mobile Device
MLB At Bat is an app that's available for iOS, Android, BlackBerry and Windows Phone devices, and it allows you to watch live baseball games right on your phone or tablet. The app itself is a free download, and a one-time $19.99 charge will get you access to all sorts of stats, highlights, replays and more during the entire season. However, you'll still need a separate susbcription to MLB.TV in order to stream games (Remember, MLB.TV Premium includes a free version of MLB At Bat).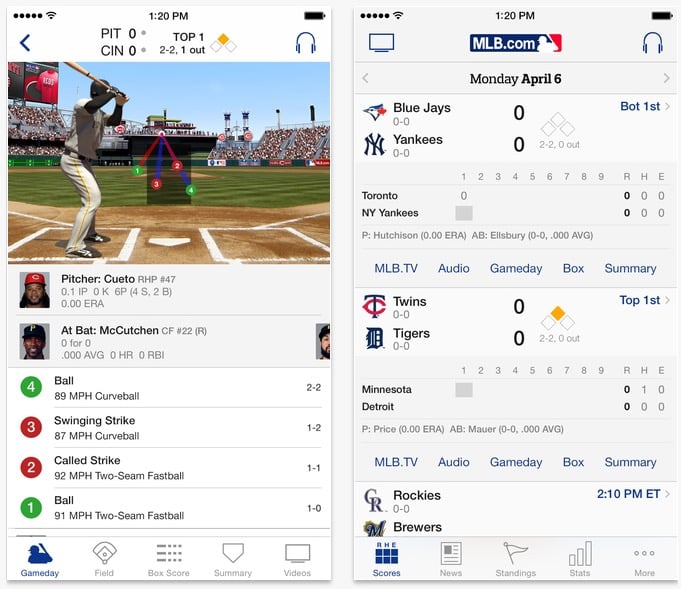 However, one big complaint with MLB.TV and MLB At Bat (as well as other live sports apps) is that there are blackout restrictions, meaning that if you live near the team you're wanting to watch, you won't be able to. This is to get more people to the stadium to watch the game, rather than just stay at home and watch it on the TV, and it also has to do with broadcast licensing rights and a whole bunch of other nonsense. It's a clever move for the parties involved, but it's really annoying for us fans.
There have been easy ways around blackout restrictions if you watch the games on your iOS or Android device, but the recent updates to MLB At Bat seem to block these methods, so your mileage may vary based on how you set up your VPN and what VPN service you use.
There have also been talks about the MLB getting rid of blackout restrictions, but nothing is official just yet. We'll simply just have to wait and see what happens.

As an Amazon Associate I earn from qualifying purchases.