How to Watch Blocked Content from Other Countries
Because of content licenses, streaming services and other video content websites have to put restrictions on who can watch what, but here's how to get around that.
One of the best examples of blocked content comes from Hulu, which blocks other countries besides the US from viewing its content. NBC does this as well with videos on their website, and even YouTube doesn't allow users to watch some videos if they live outside the US.
It's extremely annoying, but not all hope is lost. Barriers were made to be broken, and with just a bit of time and some ever-so-slight elbow grease, you can watch blocked content on your computer with very little knowledge and effort.
There are several ways to get around blocked content, but the most popular method is using a VPN. There are a horde of VPN services to choose from, but we personally like Private Internet Access because it's relatively cheap and it's easy to set up for the most part. It costs only $40 per year, which is a little over $3 per month.
Once you sign up for an account and are good to go, you'll want to configure your VPN service to work on your iPad, or whatever device you'll be using, like a computer or an Android device, but we'll be using an iPad in this how-to. If you're using a different device, Private Internet Access has guides for Android, Windows, OS X and more.
Configure Your VPN Service
On your iPad, open up the Settings app and navigate to General > VPN. Next, tap on Add VPN Configuration… and a pop-up window will appear with various text boxes. This is probably the most difficult part of the setup process, so if you can get through this, you'll be good to go.
Before filling in any of the text boxes, log in to your Private Internet Access account if you haven't already and scroll to the section titled PPTP/L2TP/SOCKS Username and Password. Click on Generate Password and a username and password will pop up. This isn't your new account login information, but merely just supplemental credentials that we'll be using on our iPad. Be sure to jot this info down or keep the browser window open.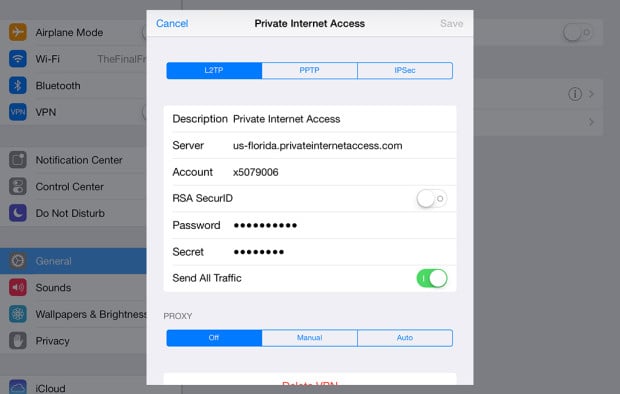 Go back to your iPad and select L2TP at the top of the pop-up window. Now fill in the text boxes with the following information:
Description: Private Internet Access
Server:

us-florida.privateinternetaccess.com

(you can change the region to whatever you want. Refer to this list for servers in different regions)
Account: This where that generated username goes.
RSA SecurID: Leave it alone
Password: Your generated password.
Secret: mysafety
Send All Traffic: On/Enabled
Tap on Save in the upper-right corner and then turn the VPN toggle switch to On. A VPN status logo should now appear in the upper-left corner of your iPad's screen next to the WiFi signal. This means you're good to go.
To make sure that your VPN is working, open up Safari and go to www.whatismyip.com. This will tell you your "location." If it tells you you're in a location that you're actually not in, then it's working properly.
Happy Streaming
Once you have your VPN set up and turned on, you can now start streaking content that's usually blocked in your region. For example, if you live outside of the US, but want to watch stuff on Hulu or another streaming service that doesn't allow outsiders, you can set your VPN to a location somewhere in the US. From there, you'll be able to watch all the content you want.
Of course, you don't have to use Private Internet Access, as there are a ton of other options available. There's Hotspot Shield, Proxmate, Tunnelbear, etc. for VPN options, and you can even get web browser extensions like Mediahint and Hola for your computer.