How to Watch HBO Go on Fire TV with Kindle Fire HDX Mirroring
One of the things we like to do with our small, portable, handheld Tablets is use them to display content that we can view and interact with on our larger screen televisions. Apple made this possible with AirPlay. With AirPlay you can "fling" what's on your screen to your TV. That works for video content, but you can also mirror your Tablet screen to the larger screen in Apps that don't support AirPlay directly.
If you own a Kindle Fire HDX Tablet and Amazon's new Fire TV then you also have the ability to mirror your Fire HDX screen to your large screen television through the Fire TV. It's actually very easy to do and in my experimentation works with all content I've tried.
Read: Amazon Fire TV: Review
Why would you want to mirror your screen to your TV? Gaming is one reason. Although you can download and play games directly from the Fire TV, there is a larger selection of games available on the Kindle Fire HDX Tablets than there is on the new Fire TV. And if your favorite game isn't available on the Fire TV, then you can load it up and mirror it to the larger screen. You'll use the Tablet as your controller.
Another reason is to view content that isn't available on the Fire TV. The perfect example of this is HBO Go. Currently there is no HBO Go App for the Fire TV. Amazon promises it is coming, but for now its not available. But HBO Go is available for the Kindle Fire HDX Tablets. And, you are able to watch HBO Go on Fire TV via mirroring.
Here's how to set up and use mirroring on the Fire TV.
First make sure the Fire TV is up and running and that your Fire TV and Kindle Fire HDX Tablet are on the same WiFi network. Being on the same WiFi network is a requirement for mirroring to work. You also need a Kindle Fire HDX Tablet. This does not work with the Fired HD models.
Read: Kindle Fire HDX 8.9 Review
First, set up your two devices to talk to each other. On the Kindle Fire HDX Tablet, swipe down from the top of the screen and choose Settings.
Then choose Display and Sound.
Then choose Display Mirroring.
A search for devices will commence. Once you see your Fire TV under the list of devices select it.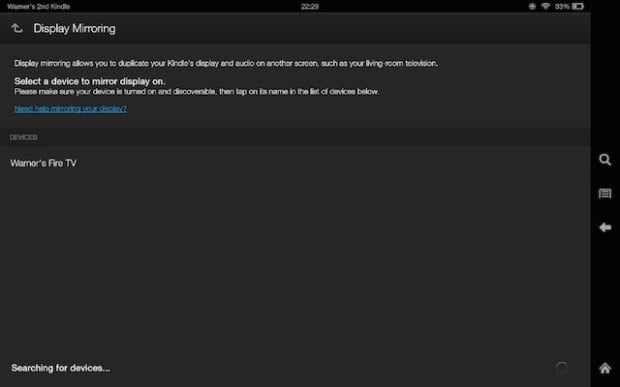 You'll see that your Tablet is in discovery mode and then it will connect to the Fire TV. This can take up to 30 seconds or so. Once you see the same screen on your TV as you do on your Tablet. You're set to go.
Note that attempting to mirror will not wake your Fire TV up consistently. The first time I attempted to mirror it did. But each successive time I had no luck or weird luck. Content would begin on the big screen as if mirrored, but the smaller screen Tablet will report an error that it can't find the Fire TV device and you have no control between the Tablet and the TV. Weird.
Let's assume that you're starting from scratch after setting things up as described above. Follow those same steps to initiate the mirror.
Assuming you have HBO as a part of your cable package and already set up, to get HBO Go content playing, launch the HBO Go App and choose your content. Hit play and you're off and viewing Game of Thrones or whatever content you want to choose. 
Note that in my attempts to do this it worked successfully the way I have described above 3 out of 5 times. The two times it did not work as described I'm not sure if it was an issue with the HBO Go App or the mirroring process.
One of those two times I tried a different sequence. That sequence was to launch HBO Go before I initatited the mirror sequence. I then paused the video and went back to the Home Screen and followed the sequence described above. Once I had a successful mirror I returned to the HBO Go app by swiping in from the side of the screen and selecting it from the bar with recently launched Apps that appears. Things worked fine in that sequence.
To mirror a game from your Tablet to the TV, the procedure is the same as described above.
Once you're up and running there is sometimes a slight lag from one device to another but not enough to kill game most game play. But if crucial reactions are a part of your game of choice this might not be a great way to go. I was able to play Real Racing 3 quite comfortably and felt like the controls were responsive enough between the Tablet and the TV.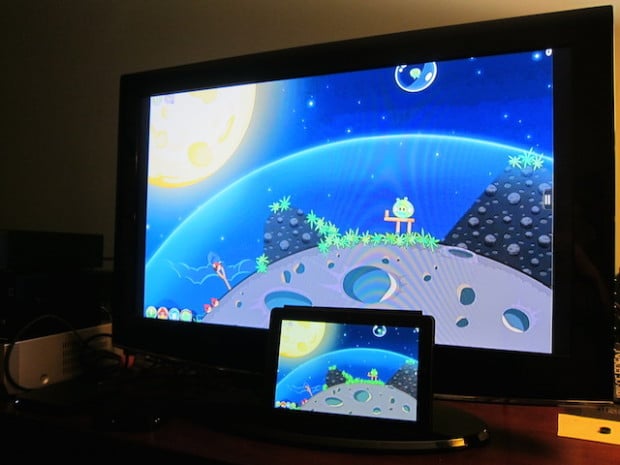 Read: Amazon Fire TV: Gaming Good Enough for Non Xbox or Playstation Owners?
You can also mirror other content like your browser to the TV if you choose. Assuming you were using third party presentation software like Office Suite Professional (you can download it from the Amazon App Store for $14.99) you could also mirror a presentation to show to a larger audience.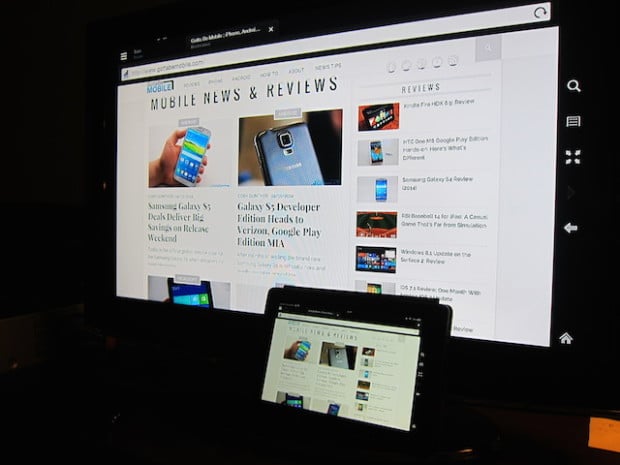 If your'e done mirroring simply close the App or content you have on your screen. Swipe down to bring in the Settings bar and tap the Stop Mirroring button.

As an Amazon Associate I earn from qualifying purchases.