How to Watch Live TV on Xbox One
When the Xbox One was first announced, Microsoft made bold promises about its plans for the living room. The company wanted to change how people interacted with their console and television set for the better. Three years later, the company hasn't had any major victories, but it's starting to get a better feel for what people want and don't want.
Things for Live TV lovers in the Xbox One ecosystem have improved in important ways. Microsoft still sells the Xbox One with a built-in HDMI pass-through port so that users can connect it to their cable box or other video equipment. In addition to that, the Xbox One is the only video game console that boasts support for Dish Network's streaming cable service Sling TV.
Here's what you need to know about watching Live TV on Xbox One now.
How to Watch Live TV on Xbox One: Xbox One Digital TV Adapters
One of the early additions to the Live TV on Xbox One lineup, the Xbox One Digital TV Tuners are great examples of Microsoft taking advantage of how close the Xbox One is to a PC. The Digital TV Tuners are an add-on USB accessory, one of them isn't even made by the company itself. It was originally designed for Windows PCs.
Plug both tuners in and they add broadcast channels to the Xbox OneGuide. Television channels come in crystal clear, depending on the strength of the antenna users have attached. When users need to step away from their Xbox One, they can. Shows can be paused for a full 30 minutes. The OneGuide lets users livestream from the Xbox to their iPhone, Windows Phone and Android device.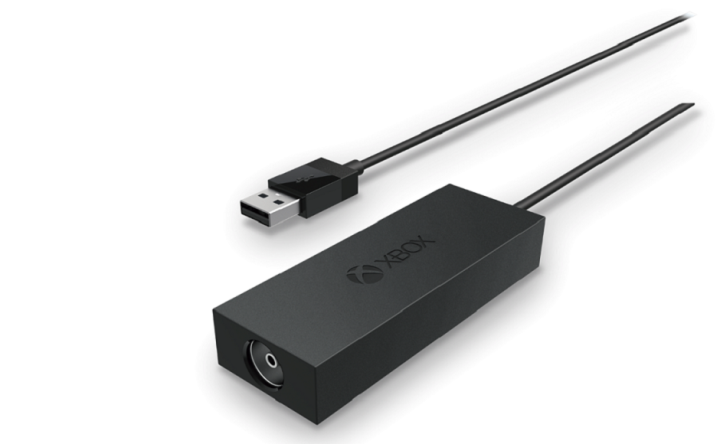 In the United States, the Hauppauge Digital TV Tuner for Xbox One picks up live broadcast channels that are usually reserved for digital televisions with an antenna. The Digital TV Tuner comes with a USB extender and a very, very basic antenna for picking up signals. At the Microsoft Store, the Hauppauge Digital TV Tuner for Xbox One is $59.99. Users can replace the rather basic antenna for one that gets better reception.
Available everywhere but the United States, The Xbox One Digital TV Tuner does the same job that the Hauppauge Digital TV Tuner does for U.S. Xbox One owners. It's £24.99 from Amazon UK.
Both Live TV on Xbox One tuners improve when you have Microsoft's Kinect sensor. With the sensor, users can change channels with just their voice, or navigate the OneGuide with ease.
How to Watch Live TV on Xbox One: Sling TV
Sling TV is how those with a decent internet connection and no wish to pick up the Xbox One TV Tuners get Live TV on Xbox One. Starting at $19.99 a month, Sling TV subscribers get access to a growing line-up of livestreaming cable channels for a flat monthly fee. What's not included in the basic package can be added at will with $4.99 bundles that are based on interests. For example, There's a lifestyle bundle that includes HGTV and DIY Network. Right now, Sling TV is only available in the United States.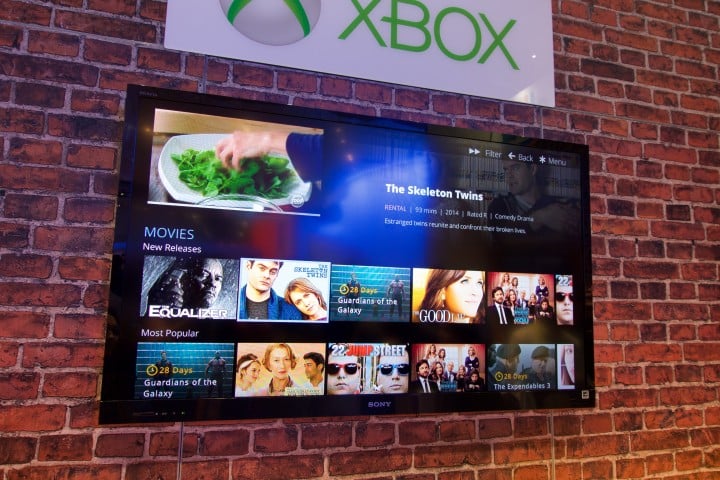 To get Sling TV on Xbox One, users need only look for it in the Xbox Store. It's not integrated directly into the console. Sling TV also has Windows, iPhone and Android apps so that Xbox One users can watch away from their living room.
Read: Sling TV Review: Is $20 a Month Worth It?
How to Watch Live TV on Xbox One: OneGuide & Cable
Microsoft hoped to ride the success of cable operators to dominance in entertainment early on. The HDMI pass through port on the back of the Xbox One allows cable boxes to pass their signal into the Xbox One. What's more, the Kinect communicates with the cable box in question, insuring that users never have to pick up their cable remote.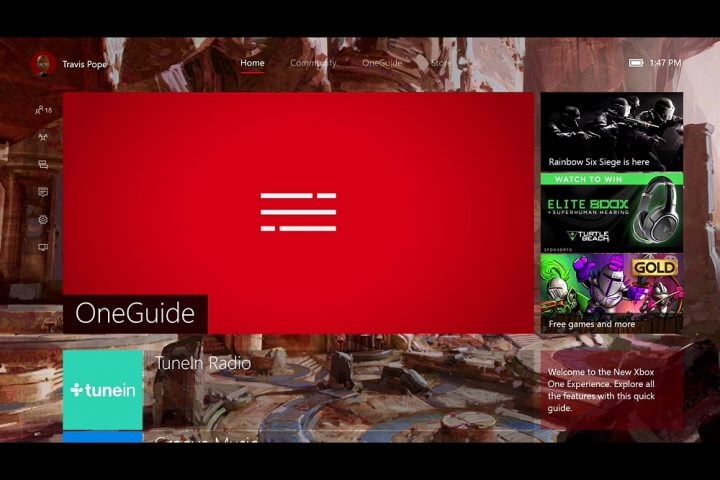 All of that still works, just as it did the day the Xbox One arrived on store shelves. There's been some improvements though. Mainly OneGuide has gotten easier to use. Voice commands have gotten upgrades and the OneGuide supports Picture-in-Picture. The company has also bolstered the console's compatibility with different pieces of equipment video and audio equipment.
Of course, watching Live TV on Xbox One this way is only great if you're already signed up for a cable subscription or plan to in the future. That makes it the most expensive way to get live streaming channels on the Xbox One.
How to Watch Live TV on Xbox One: What's Coming Next
For now, Microsoft is staying relatively quiet on what it has planned for the future of digital entertainment on Xbox One. It wasn't always that way though. Engineers revealed that Sling TV would get integrated directly into the Xbox OneGuide at Gamescom 2015. The company also revealed that it would allow broadcast television recording through the OneGuide in the near future.
Neither feature has materialized though, and Microsoft isn't expected to upgrade the console in a big way until this summer. That's when the company is expected to launch the Windows 10 Anniversary Update for Xbox One.
How to Watch Live TV on Xbox One: Quick Tips
Go into the Xbox One's Settings and configure it to interact with your cable box, television set and audio equipment. If you do, you can say "Xbox On" instead of picking up a remote.
If using the Digital TV Tuners, you should absolutely ditch the included antenna and go for an antenna that has the most range for a reasonable price. Amazon Basics has a great roster of affordable, well-working antennas.
The Xbox One Media Remote makes interacting silently with the Live TV on Xbox One options less awkward than a controller. The media remote is $24.99 from the Microsoft Store.
If you choose to get Live TV on Xbox One using Sling TV, be sure to monitor your internet data usage. Streaming TV can eat through your plan. Some internet companies have data caps, just like your mobile data provider.
Good luck watching Live TV on Xbox One.

As an Amazon Associate I earn from qualifying purchases.