How to Watch Monday Night Football on the iPhone and iPad
One of the activities I most look forward to during the fall season is Monday Night Football. I imagine there are a few others out there that enjoy this Monday night ritual as well. Often times though, I am without a bar to go to or a television to watch the game on. Fortunately, a television is not necessary these days with inventions like the iPad and iPhone. Here, I'll show you the easiest way to watch Monday Night Football on either of those.
iPhone have a couple of Monday Night Football viewing options should a television or public forum not be in the cards. iPad owners unfortunately only have one. The first option is free provided you or a family member or friend subscriber to a specific cable company and the other option, which is iPhone only, is a paid subscription using an application available to Verizon customers.
Let's start with the "free" option.
How to Watch Monday Night Football on the iPhone or iPad for Free
First, you'll want to take out your iPhone or iPad and fire up the App Store. Search for an application called "Watch ESPN." You can also download it directly from Apple's website.
Next, you're going to want to download the application. Don't worry, it's free to download.
Fire up Watch ESPN by tapping on it. You should be brought to a menu where there is a list of options to watch. Not so fast. While some of it is free to watch, other premium content like Monday Night Football is not. In fact, you're going to need one of five supported cable providers in order to watch the action. The list includes Bright House Networks, Comcast XFINITY, Midcontinent Communicatons, Time Warner Cable and Verizon FiOS TV.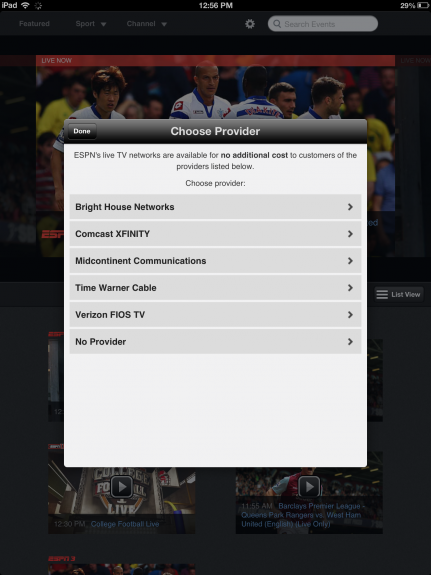 To select your cable provider, tap the wheel towards the top of the screen.
There, you'll select your appropriate provider. If you don't have an account of your own, you can also enter the information for a family member or a willing friend. Because I don't use any of these service providers, I used my parents account. At the moment, this is not frowned upon and it's perfect for a kid in college who wants to catch the game in his or her dorm room.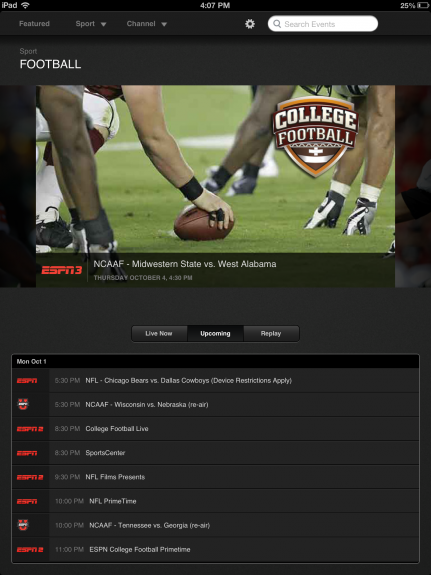 To find the game, simply click Upcoming. Once the game goes live, it will be found in the Live Now tab on the main screen.
How to Watch Monday Night Football on the iPhone for $5 a Month
If you don't like Watch ESPN or don't subscribe to one of those cable providers, there is another way to watch Monday Night Football on your iPhone provided you pay a little cash and subscribe to Verizon.
The NFL Mobile 12 application, which is found on the App Store, is a nifty little app that allows you to watch live NFL games on the iPhone. When paired with the 4G LTE speeds of the iPhone 5, it makes for a perfect companion on the way home.
https://www.youtube.com/watch?feature=player_embedded&v=myxyeBlq46g
It will cost you $5 per month but it also allows you to watch games on Sundays and gives you access to NFL RedZone where you can watch all of the highlights on Sunday.
For tonight only, Verizon customers can watch Monday Night Football for free but after tonight, it will require a subscription.
The app unfortunately does not work with the iPad at all so iPad owners are stuck with Watch ESPN.