How to Watch NCAA March Madness and Pick Brackets on iPad
With the NCAA March Madness ready to kick off, many college basketball fans will want to keep track of the NCAA basketball tournament. With the official CBS NCAA March Madness app users can also watch their favorite teams live while away from a TV on the beautiful iPad Retina Display.
Thanks to the official March Madness Live app and bracket apps from ESPN and Yahoo!, users can fill out a set of brackets to pick their choices for the Final Four. They can also compete with others for bragging rights on their basketball knowledge.
Android users should check out How To Watch March Madness Live on Android.
NCAA March Madness Live App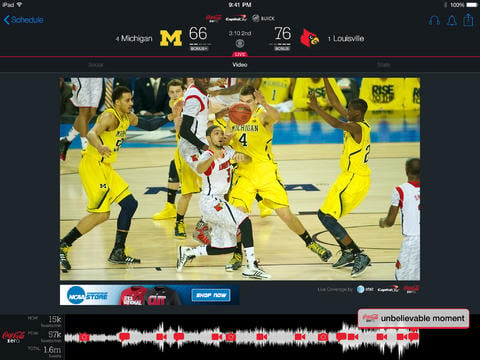 The NCAA March Madness Selection Show starts Sunday at 6:00 p.m. EDT on CBS. With the NCAA March Madness Live app for iPad people watch the show live and find out if their favorite teams made the NCAA Tournament, learn what region they'll play in, which team they play against and what seed they received. Until the show, the app looks bare, but after the show fans can fill out their brackets and master NCAA Bracketology.
The app includes a schedule of games, results afterwards and news about the teams. It also lets a user fill out a set of brackets and challenge friends or see how they fare against the rest of the app's users. The app will notify users when games start, when the game reaches halftime or when games finishes. Users can customize which of these settings they receive and for which teams or games. It also lets users know about potential upsets or close games. That's a good reason to also install the app on the iPhone also, even if the user doesn't watch on their phone. They'll get the notice about the end of a close game and the person can get to a TV or fire up the phone or iPad to watch.
Use the app to find channels where CBS will broadcast games. The app offers some other fun and helpful functions as well. Get it free in the Apple App Store.
There's one horrible drawback this year. In previous years anyone could watch all the games using this app without restrictions. Now, only subscribers of a limited number of TV providers can watch. Like most other streaming TV show apps, the user must sign in with a TV provider.
ESPN Tournament Challenge
Lots of sports sites offer bracket challenges and one of the best comes from ESPN. The ESPN Tournament Challenge app lets college basketball fans compete with others to see how well they can predict winners and losers. The app puts fans into groups and they compete with others for accuracy. Some featured groups center around ESPN personalities or shows, but fans can create their own groups. Challenge friends, family members or co-workers.
The app also lets users receive notifications like the CBS March Madness Live app above. We recommend that users watch the games in the app above, since it's the only one that shows them, but create brackets on this app. For hardcore fans who like to fill out a bunch of different brackets, use both.
Yahoo Sports with Tourney Pickem Bracket Challenge
The second best bracket app comes from Yahoo! Sports. The Yahoo! Sports with Tourney Pickem Bracket Challenge app not only offers general sports news and highlights, but now also includes the site's Bracket Challenge game which offers a prize of $1 Million dollars to one lucky winner who can predict every single game winner for the entire tournament. That's pretty unlikely, but give it a go and see how you do and how you fare versus others.
SlingPlayer for iPad
Since the NCAA March Madness Live app (first in this list) only lets users watch live if they subscribe to included TV providers watch, we include another viewing app. We always recommend SlingPlayer as the best way to watch live TV content on an iPad while away from a TV.
Get a SlingBox and buy the $15 app and load it on the iPad to watch. The app connects to the SlingBox connected to the user's home network and their TV provider box or to an antenna. The box sends the video out over the Internet through the Sling servers and to the app on the iPad. Users will need a good home connection and a good Internet connection on their iPad.

This article may contain affiliate links. Click here for more details.