How to Watch the NFL Playoffs on iPhone
The NFL playoffs begin today, and here's how you can watch all of the action on your iPhone.
The NFL Playoffs start tonight when the Baltimore Ravens will face off against the Pittsburgh Steelers at 8:15pm ET in a Wild Card match. Then on Sunday, there will be three games: Arizona Cardinals vs Carolina Panthers, Cincinnati Bengals vs Indianapolis Colts, and the Detroit Lions vs Dallas Cowboys.
Playoff time is the biggest time of the football season, where teams who made it this far are now rolling up their sleeves and getting their hands dirty as they face a one-game elimination, and winning all of the games in the playoffs will take them to the Super Bowl, which is arguably the biggest sporting event in the world.
Watching NFL games on iPhone is a bit easier than past years, but it's still not where it should be, as blackouts are still one of the biggest downsides of streaming live sports. However, if you'll be out and about can't be around a television to watch the playoff games this weekend and weekends following, here's how you can catch all of the action on your iPhone without skipping a beat.
NFL Mobile
Perhaps the most popular method for watching NFL games on the iPhone is by downloading the NFL Mobile app, which is available exclusively to Verizon customers. It's a free download, but the premium access to NFL Mobile costs $4.99 per month, and it allows you to live stream NFL games right on their devices.
The app also features news, alerts, on-demand video highlights, and a section called Game Center, where you can get a comprehensive breakdown of every game.
And obviously, you can check team standings, stats, rosters and schedules, as well as browse the NFL.com shop, find game tickets, or read expert analysis.
NFL Sunday Ticket
NFL Sunday Ticket is now available to anyone without the need for a DirecTV satellite subscription, but pay attention to the fine print, as there may be a catch.
Previously, NFL Sunday Ticket was only available to those who subscribed to DirecTV, and even then you still had to pay for the NFL streaming, which didn't make much sense as far as its exclusivity with DirecTV, but that's changing now, as DirecTV has announced that NFL Sunday Ticket will be available to anyone willing to shell out at least $200 for the privilege of streaming any game all season long.
Packages start at $199, and the entry-level package allows you to stream any NFL game on your computer or mobile device. This is all sounds great, but be aware of the fine print. Most notably, blackout restrictions apply, so if you live near your home team (which you most likely due), you'll be blacked out from streaming it.
WatchESPN
This is an obvious choice because it's a fairly popular amongst sports fans. WatchESPN lets you view all sorts of sports content from ESPN's various channels, including ESPN 2, ESPN 3, ESPNU and ESPN Classic. Of course live football games can be had as well.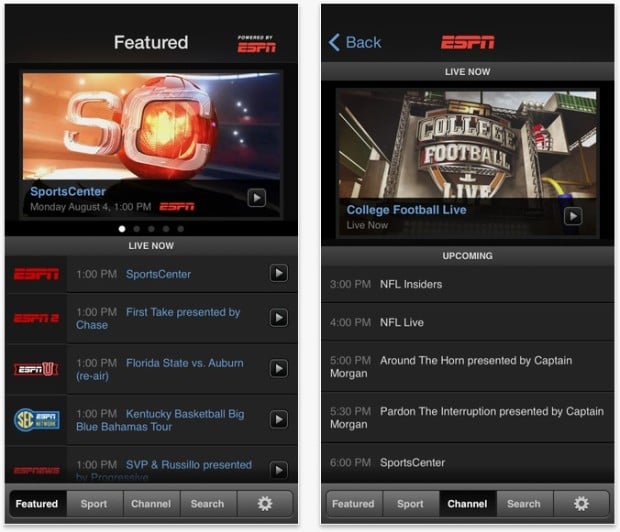 The big caveat here is that you'll need to be a cable subscriber for a provider that WatchESPN supports, so if you're looking into getting WatchESPN as an effort to quit cable, you might be sorely disappointed.
However, if you have an Apple TV, you can use AirPlay to beam WatchESPN content to your living room television, allowing you to watch football games on the big screen.
NBC Sports Live Extra
NBC Sports Live Extra streams thousands of live sporting events that air on NBC and NBCSN, including football games, but it seems it's only limited to Sunday games at the moment.
However, the app also features video clips, previews of upcoming events, and highlights from past events. Plus, you can even browse the schedule for when the app will stream its live content.
As with WatchESPN, NBC Sports Live Extra is better when the user has a cable subscription, which will allow you to watch all of the live sporting events, but it can still be a handy app otherwise.

As an Amazon Associate I earn from qualifying purchases.