How to Watch NFL Playoffs on Android or iPhone
The NFL Playoffs officially kick off on Saturday, January 4th this year, and surely millions of eager fans will be watching on their mobile devices, or trying. Honestly though, the Playoffs really start when my Packers play the 49ers in Lambeau.
For all those who will be away from the TV, working, or otherwise out and about will likely catch a few plays or the entire game on a mobile device of choice. Everything from Android smartphones and tablets, to the iPhone and iPad. While this has been a relatively easy task in previous seasons, all the wildcard and playoff games this year will be easier to watch on mobile than any year in the past.
Of course the usual methods of subscriptions still work, which we'll talk about below, but here we'll explain a few quick and easy (and some free) ways to enjoy the NFL postseason this year on mobile.
Streaming NFL games online is nothing new, especially for CBS when it comes to Playoffs or the SuperBowl, but this year marks the first year mobile devices will be able to head to the website and stream the games for free. They don't have a neat little mobile app, but you can still watch every play. Well, of the AFC Playoffs at least.
NFC Playoffs and FOX games will be behind what many call a "paywall" which limits free streaming. As long as you're a subscriber to Comcast, Cox, Time Warner and many others you'll be able to sign in through that, and enjoy video. Similar to how the WatchESPN app works.
CBS Sports
CBSSports.com will be live streaming the AFC Playoffs, like the Chargers vs Cinci, and all other CBS games from the web. And all you Android smartphone or iOS users can simply head to that page from your mobile browser and watch it too. Finally. The CBSSports Android app says it streams popular games, but we're not yet sure if the app will support the full stream, but the website will.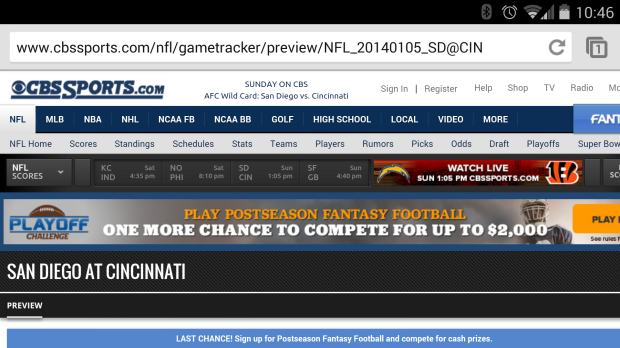 NFL Mobile
This is one of the best options for those NFL fans looking to get a piece of the action, but sadly it's limited to Verizon users. Well, the good parts. You can download NFL Mobile and enjoy scores, alerts, and highlights, but for the live NFL games you'll have to be a Verizon Wireless customer and a paid NFL Mobile subscriber that's $5.99 a month. It's a shame NFL Network customers (like myself) can't get better access on mobile, but at least Verizon users can enjoy some better live feeds.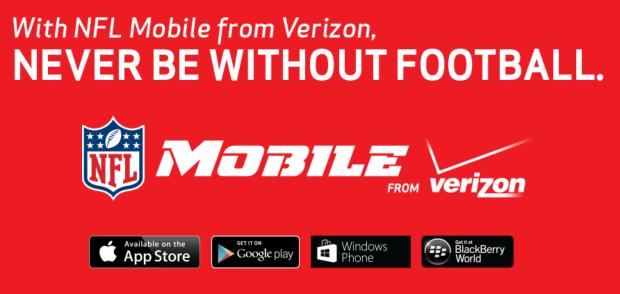 Then if you also manage to have a Windows Phone or Blackberry device NFL Mobile is available there too, so you have options folks. Although again, this is Verizon users, and it'll cost ya to actually stream video.
NBC Sports Live Extra
Then for all those Eagles fans looking to watch that high-octane offense take on the Saints you can do so with NBC Sports Live Extra. Which will be streaming free on the web, and they also have an Android app which requires you to sign into your cable provider, as long as the app supports it. The app isn't the best either, so we'd recommend just going to the website in your mobile browser on your Android or iOS device of choice.
Aereo
Aereo is another excellent option for those on a mobile device. This little service is the future of TV. No hardware required (aside from a compatible smartphone or tablet) and once you're signed up, which is free, everything gets recorded or streamed right from the cloud. This only works with what's local to you, but with only a few games this weekend, surely it will stream the Playoffs. As long as the NFL and a few courtrooms don't get in the way. They've been under attack for the awesome service since launching, and we don't see that stopping anytime soon. Get the app here.
Slingbox
Of course the Slingbox and Slingplayer is an excellent option for those who've already paid for and enjoy it. A device which connects to the users TV service at home, work, or anywhere with an internet connection and then streams it over the Slingbox servers. The mobile app is $15, but if you already have this setup, you'll be able to stream all the NFL games with ease to a mobile device or browser. So watch it from work if you need it.
Here's a few more details on the Slingplayer and apps. It's an expensive setup that we wouldn't recommend just for playoff, buy you can watch anything with it, so get caught up on those Breaking Bad episodes or Homeland while you're at it.
NFL Game Rewind
The NFL has Game Rewind, Preseason Live, and Season Plus which allows some games to be seen live, and all to be watched AFTER the fact, commercial and interruption free. These also have accompanying apps for smartphones and tablets, but most likely you can't watch the game live. However, you can catch up on what you missed from Saturdays games on Sunday while you're busy at work, if needed.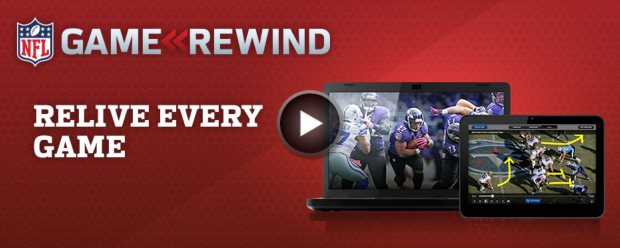 They also offer a Playoffs Only package for $19.99, which again is replays only, so not worth it if you ask me, but to each his own. Hopefully next year the NFL smartens up and offers these live instead of only as a replay. I'd pay $99 a season for that.
Illegal Streams
Of course we'd never condone illegal activities, nor are the quality of such streams ever good enough to truly enjoy Aaron Rodgers throwing a 48 yard touchdown to Randall Cobb, but you have the option if you'd like. Justin.TV or UStream are both usually full of links (and popups) which you can use to enjoy the playoffs this year.
Apps
While this post was all about watching the NFL Playoffs live from your mobile or Android device, you'll also want apps to keep up to date. My personal favorite for all sports is Yahoo! Sports, formerly Sportacular, simply for the wide array of coverage, notifications, and coverage. NFL Mobile is a good one, and of course Team Stream by BleacherReport.
Hopefully a few of these options helps you enjoy the NFL Playoffs this year even while on the go. I'll be staying warm while I watch the Packers take on the 49ers in the cold cold weather. Go Pack Go!