With millions of users talking about Sharknado 2 on Twitter and Facebook last night, it's pretty clear that the sequel to the Syfy original movie took the television world by storm. Now the storm that's spawned more than a few Twitter hashtags and strange looks is poised to touchdown somewhere new: SyFy Now, the television network's streaming service for the iPad, iPhone, Windows and Windows Phone.
Syfy made Sharknado 2, along with the first edition of the movie, through the SyFy Now service this morning. That's just a single day after Sharknado 2 premiered on the network's traditional cable channel. To be clear, this isn't some special limited-time offering. Many of the networks owned by NBC Universal have applications that allow users to watch television shows after they air.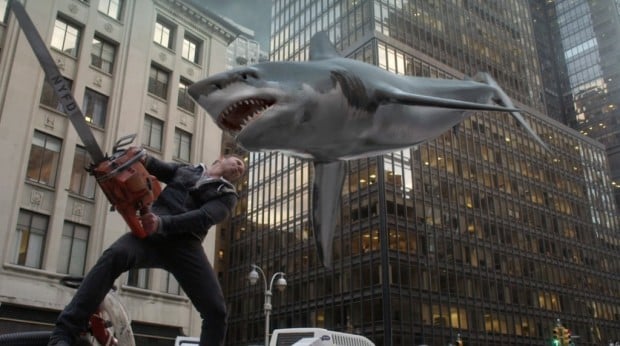 For users trying to watch Sharknado 2, the news is both good and bad. Sharknado 2 is available today, but users will need to jump through a few hopes first. Everyone can watch free clips and previews through the Syfy Now apps, but to enjoy entire episodes and movies a cable or satellite subscription is required. User's cable or satellite company also need to be a participating member in the Syfy Now service. As of today that list of providers consists of DirecTV, Comcast, Dish Network, Verizon FiOS, AT&T U-Verse, Optimum, Charter, RCN, Wide Open West, SuddenLink, Mediacom and Armstrong.
Users will also need a device with a Syfy Now app or a web browser. Syfy Now is already available on Apple's iPhone and iPad. Microsoft Windows Phone and Windows 8 users can also watch Sharknado 2 on their devices. Interestingly enough, it's actually users of Google's Android operating system that are being left out in the cold. Thankfully, Syfy now is now available on the network's website too.
Microsoft is celebrating Sharknado 2's arrival with an app for one of its platforms too. Today, the company revealed on its Xbox Wire news blog that users can finally watch full episodes of television shows and entire movies through a native Syfy Now app for the Xbox One. That's great considering Xbox 360 users could already watch Sharknado 2 and more through the Syfy Now app for the Xbox 360. Unfortunately, both of these apps also require users to have an active cable or satellite subscription.
In both of the Sharknado movies, viewers watch as killer sharks seemingly take flight. Rising water levels and giant water spouts aid sharks as they terrorize large cities and devour everyday people who wouldn't have normally been in danger. Really, Sharknado became a sensation because of how illogical and seemingly ridiculous its plot is. In the first movie sharks actually burst from waves and smash through windows trying to snatch up pray. In one part of the movie a large tornado, which doesn't appear to have any water at all, actually carries around sharks in mid-air, easily allowing them to devour city residents. A group of humans fight back with chain saw.
Sharknado 2 isn't available through the iTunes Store yet. That being said, Sharknado is available for iPhone or iPad users to purchase. It costs $12.99. Unfortunately, it isn't available for users to rent. Joining Sharknado in the iTunes Store is Sharknado: Go Shark Yourself. It doesn't provide extended footage form either of the movies or include behind the scenes commentary with the movie series' cast. Instead, it's an endless runner game in the same vein as Temple Run. In the game iPhone users are stuck in a subway tunnel with a shark. Sharknado: Go Shark Yourself is $3 in the iTunes Store and also includes more than a few in-app purchases.