How to Watch Super Bowl 50 on iPhone
The NFL season is coming to a close tonight, but not without one final game. Here's how to watch Super Bowl 50 on iPhone.
12 teams entered the playoffs early last month, but now only two teams remain. The Denver Broncos and the Carolina Panthers will face off to see who takes home the NFL championship this year starting at 6:30pm ET tonight.
The Denver Broncos have been to the Super Bowl seven times before, and this will be Peyton Manning's second Super Bowl with the Broncos, but fourth Super Bowl appearance overall, so the veteran quarterback certainly knows what to expect.
Read: Super Bowl 50 Date, Time & Halftime: 5 Things to Know
The Carolina Panthers have only been to the Super Bowl once before, but that's mostly because they're a fairly new team, joining the league in the early 90s. Their lone Super Bowl appearance ended in a loss to the New England Patriots in 2004. However, the team is looking to get their first Super Bowl championship tonight.
It's a big game for both teams, but this could possibly be Peyton Manning's last game ever and be the end of his 17-year career. Manning has won a Super Bowl before, but he's also a 14-time Pro Bowler and he also holds the all-time record for the most career touchdown passes and passing yards.
In any case, if you're wanting to catch Peyton Manning and the Broncos take on Cam Newton and the Panthers, here's how to watch Super Bowl 50 on iPhone.
How to Watch Super Bowl 50 Live on iPhone
It's perhaps easier than ever to watch the Super Bowl this year without a television, so if you won't be home and can't get yourself to a bar or other place that has a television, then watching the game on your iPhone is the next best option.
Streaming the NFL playoffs this year has been really great. There were several live streaming sports apps that offered live playoff games that users could watch on their iPhones, including apps like WatchESPN, FOX Sports GO, NBC Sports Live Extra, and NFL Mobile.
For Super Bowl 50, CBS is the exclusive broadcaster, which also makes CBS the exclusive live streaming provider as well (with an exception, which I'll detail below).
The CBS Sports iPhone app will be streaming Super Bowl 50 live on the mobile device, allowing you to watch the game completely free without needing a cable subscription. Many live streaming sports apps require that you have cable first, and to prove that, you usually have to login using your cable subscription credentials.
However, that's not the case with Super Bowl 50 and the CBS Sports app. Furthermore, there's another app that will also be streaming Super Bowl 50 live on the iPhone.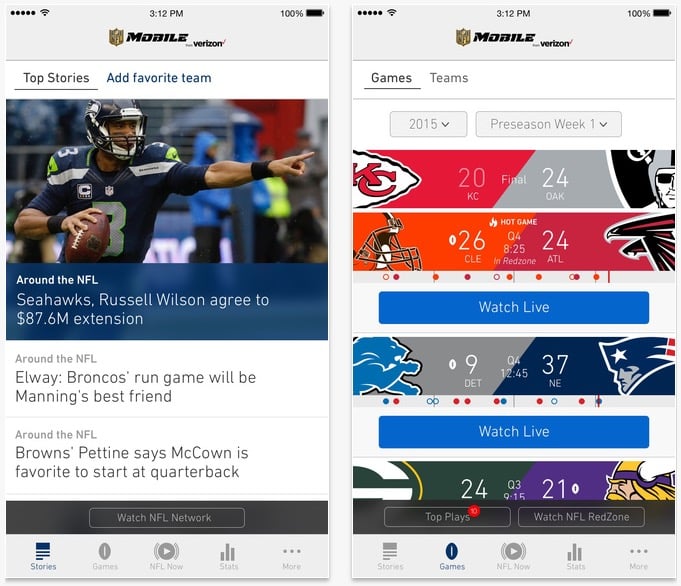 If you're a Verizon customer, then you can download the NFL app and watch Super Bowl 50 for free. The NFL app live streamed every playoff game this year, including the Pro Bowl, and it's an exclusive feature that Verizon customers get to enjoy for free.
While both of these apps are available on iPhone, they're also available on Android devices and the iPad. The CBS Sports app is also available on the new Apple TV, where you can watch the Super Bowl on your big screen if you don't have an over-the-air antenna to get the broadcast. Be aware, though, that it will use up your internet's bandwidth.