How to Watch the 2013 GRAMMYs on the iPhone and iPad
The 2013 GRAMMYs kick off on Sunday at 8PM Eastern and users who can't watch the 55th GRAMMY Awards at home can use the GRAMMY iPhone and iPad app to watch LL Cool J host the awards show.
Some of the main performers at the 2013 GRAMMY Awards will be Mumford & Sons, Bruno Mars, Maroon 5, and Fun. The GRAMMYs apps can be a good companion if you want to follow along while watching on TV. With all of these live performances viewers can see who is up next and also guess who will win what award by using the app.
How to Watch the 2013 GRAMMYs on the iPhone
Go to the App Store and download the GRAMMY app on your iPhone or iPad.
After the GRAMMY app has been downloaded open the app.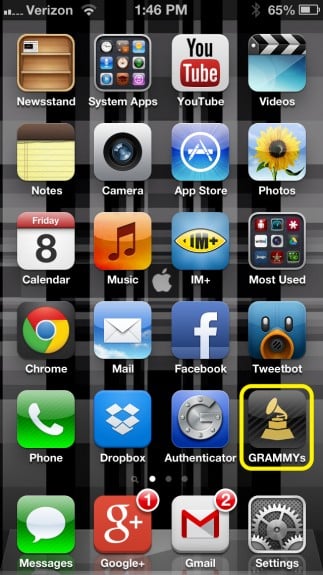 The app has a lot of functionality and the home page looks like the image below.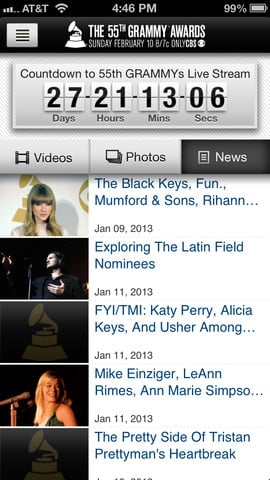 By tapping in the top left a menu will be revealed that shows all of the features of the app. Tap on GRAMMY Live to watch the GRAMMYs live on the iPhone or iPad.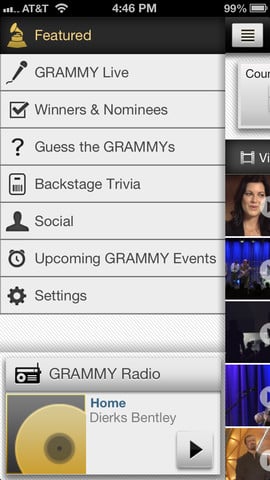 There are a lot of different options that you can do with this app. Some of the coolest of these are the Social, Upcoming Events, and Winners & Nominees categories. The Social tab allows users to view the #GRAMMYs tag on twitter. This is great for keeping up with what other viewers are saying about the performances.
The upcoming events option is also a great to make sure that you don't miss performances by your favorite artists. One of the most interactive options is the Winners & Nominees part of the app. This part of the app has users vote on who they think will win a certain GRAMMY category.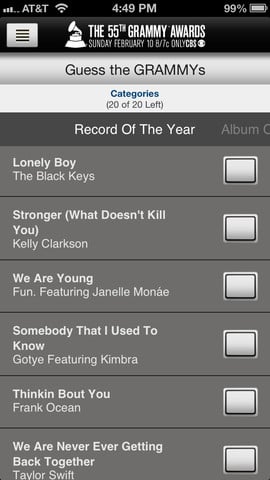 The main purpose of the app is to stream the video of the event for those who are not around a TV. This feature can be accessed from the GRAMMY Live tab. Starting today the GRAMMYs app is now streaming content of behind the scenes content and other live streams leading up to the event on Sunday. This is the best way to capture all of the moments that occur at the 2013 GRAMMYs.
You can also visit the GRAMMY channel on YouTube for clips after they happen live in case you want to see something again.

As an Amazon Associate I earn from qualifying purchases.