How to Watch the 2016 Olympics on Windows
Every two years, denizens of nations around the world sit in front of televisions full of national pride. They discuss their favorite summer or winter sports with their friends. They hold parties and add apps to their smartphones that allow them to track medal counts and get up-to-the-minute updates on every competition's standings. Every two years an Olympic Games is held somewhere in the world. The 2016 Olympics are almost here.
During the 2016 Olympic Games, athletes from around the world will descend on Rio De Janeiro, Brazil. There, they'll compete in contests of skill and agility. They'll forge new friendships with rival Olympians who know their struggle all too well. We can't all be at the 2016 Olympics, but we can all watch. Through a mix of apps, subscription services and broadcast channels, NBC will make it incredibly easy to see the 2016 Olympics.
NBC and the cable networks that NBC Universal owns will broadcast over 6,000 hours of footage from the 2016 Olympics, NBC confirms. As such, the easiest way to watch the event is to have a cable subscription and a large television set in your living room.
Read: 2016 Olympics Live Stream: Opening Ceremony, Schedule & Events
That's not the only way to watch the 2016 Olympics though. NBC is rolling out coverage on other platforms besides televisions. Owners of devices running Microsoft's Windows operating system will be able to stream much of the same footage from their Windows notebook, desktop or tablet.
Streaming the 2016 Olympics on Windows 10 – NBC Sports App
Newly upgraded, the NBC Sports Live Extra app will offer over 4,000 hours of footage directly from the 2016 Olympics, NBC confirms. You can set reminders for the events that are important to you, plus go back and watch competitions that you weren't able to catch live.
NBC Sports Live Extra is completely free to download, but does require that users have a cable or satellite subscription. Because NBC Sports Live Extra is a universal app, it'll also work on Windows 10 Mobile phones and even Microsoft's Xbox One.
Streaming the 2016 Olympics on Windows 8 & Windows 7 – The Web
Unfortunately, NBC Sports Live Extra getting upgraded for Windows 10 means that the Windows 8 version isn't around anymore. Microsoft stopped offering Windows 10 as a free upgrade too, so there's no easy way for Windows 8 users to get the upgrade now.
Windows 8 and Windows 8.1 users shouldn't fret though. There are alternatives that rely on their web browser. NBCOlympics.com will have highlights and replays from the summer gamers. If they don't work for you, and you have a cable subscription, you could try your cable company's website. Both Comcast and Verizon let users watch cable television on their websites – provided that the owner of the channel allows it, which NBC Universal does. You'll need your cable login information for these websites to work.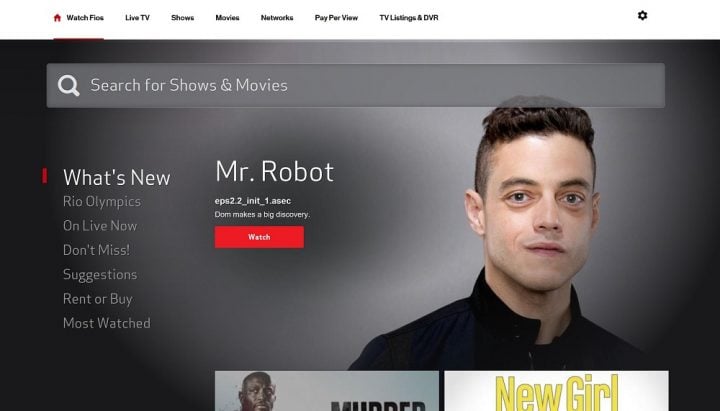 Users also have the option of purchasing access to the 2016 Olympics through digital cable television operating Sling TV. Sling TV's most expensive package, Sling TV Orange+Blue includes access to all of the NBC cable networks that'll air the Olympic games. That package costs $40, but Sling TV also has week-long free trials available for new subscribers.
Read: Sling TV Review: Is $20 a Month Worth it?
Streaming the 2016 Olympics on Windows: When to Watch
Every Olympic Games begins with a massive opening ceremony meant to showcase the local culture of that country and the investments that country has made in infrastructure to handle the games.
Read: 6 Great Ways to Celebrate the 2016 Olympics
NBCSN and USA Network will begin airing competitions even before the traditional opening ceremony. Look for that coverage to start on August 3rd. Competition coverage won't pick up in a big way until two days later on August 5th. That's when NBC will broadcast the 2016 Olympics Opening Ceremony.
Enjoy the 2016 Olympic Games.