How to Watch the Microsoft Windows Phone 8 Event Live
While Google's Android event was cancelled today due to Hurricane Sandy, Microsoft's Windows Phone 8 event will encounter no such issues as it will be taking place at 10AM PST in San Francisco. Fortunately, for those who want to watch the event, there will be several ways of doing that and here, we tell you how to watch the Microsoft Windows Phone 8 event live.
Today is going to be a huge day for Microsoft as, just after it released its Microsoft Surface RT tablet, the company will finally deliver information about its new mobile operating system, Windows Phone 8. At the event, we should see Microsoft not only detail the software itself, but also give Windows Phone 8  a release date, something that consumers have been waiting for for quite some time.
Read: Nokia Announces Lumia 822, Heading To Verizon For $99.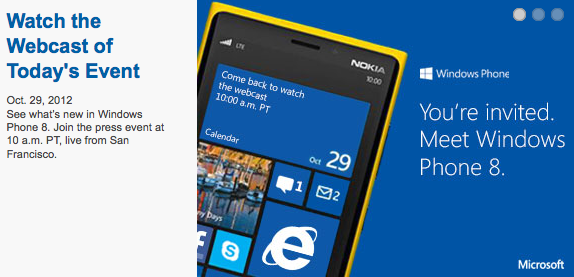 We expect Windows Phone 8 manufacturers to announce some concrete release dates sometime after Microsoft finally makes Windows Phone 8 official and thus far, all signs are pointing to launches in November.
That being said, excitement is at a high for those interested in Microsoft's Windows Phone 8 operating system and today's announcements should deliver most, if not all of the information consumers have been looking for.
And like Apple's iPad Mini event, Microsoft will be providing ways to watch the Windows Phone 8 event live. Here's how to do it.
Watch the Windows Phone 8 Event Live in Video
Microsoft has provided two ways of watching the event live from San Francisco. The first, will be through its own website. The webcast again starts at 1PM EST and 10AM PST and can be found through Microsoft's Newsroom. The webcast will start promptly at that time and we imagine that the event will go on for at least an hour, if not more, given the amount of announcement's Microsoft likely has.
Those who don't wish to view the announcement through Microsoft's webpage can also view it through its Facebook page. It too will start at 10AM PST sharp.
Both methods are going to be where interested consumers will want to turn to to watch the event. There might be unofficial feeds going on but for those that wish to get the best quality, we suggest going through Microsoft itself.
Follow Windows Phone 8 Event Live Blogs
For those who don't wish to sit and watch a video or even leave it on in the background, there are also going to be some live blogs out there that will run down all of the details of the announcements today.
Two live blogs to check out include WPCentral and The Verge which will be providing live coverage of the event complete with details and photos of the event itself.
Of course, we'll have detailed coverage of the announcements as well so be sure to check back in with Gotta Be Mobile at 10AM PST and beyond.