How to Watch the NCAA Final Four Live on iPhone
The NCAA Men's Basketball Final Four takes place tonight, and here's how to watch all of the action on your iPhone.
Michigan State will square off against Duke first, and then undefeated Kentucky will face Wisconsin. The winners from these two games will compete for the national championship title on April 6.
The first game featuring Michigan State and Duke will begin at 6pm ET, while Kentucky and Wisconsin will face off at 8:50pm ET. Both games will be aired on TBS, so if you don't have cable, you're sort of out of luck, but you can easily make your way to a local bar and watch all of the action there.
However, if you have an iPhone or an iPad, you can watch the games while on the go if you can't be home in time to watch it on the big screen.
In any case, here's how to watch the NCAA Final Four games live on your iPhone or iPad.
How to Watch the NCAA Final Four on iPhone
Streaming apps have come a long way and you can pretty much watch anything on your mobile device now. Granted, while there are still some roadblocks to get past (like blackout restrictions and cable subscription requirements), pretty much any big televised event can be watched on the iPhone and iPad now, which is pretty great.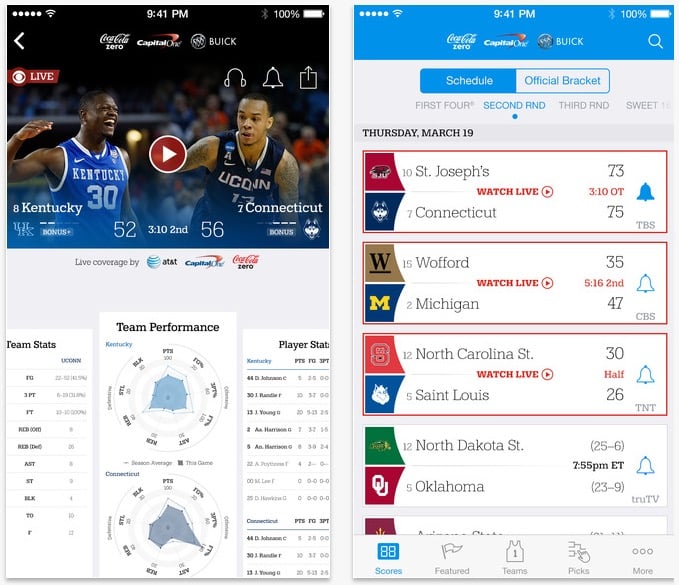 However, the only way to watch the NCAA Men's Basketball Final Four live on your iPhone or iPad is through the official NCAA March Madness Live app, which you can download for free in the iTunes App Store.
The app has a huge list of features, including the ability to follow the latest news and analysis, explore the tournament bracket, and even receive notifications about score changes. You can also watch highlights from past games, as well as photos from recent games.
Of course, the biggest feature of the app is the ability to watch all of the games live right on your iPhone or iPad. However, some games require that you have a cable subscription, and this includes both Final Four games, since they're airing on TBS, which is a cable channel. However, you'll get a "3 hour live video pass" before you have to log in with your cable subscription. Luckily, the national championship game on Monday will be broadcasted on CBS, so you won't need a cable subscription to watch the game on your iPhone or iPad.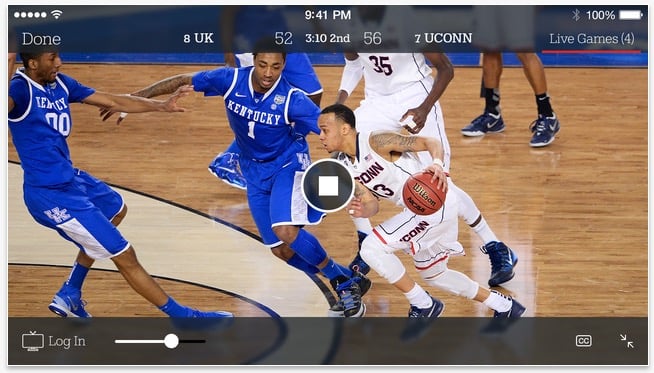 The app will also have live radio broadcasts available if your data plan won't be able to handle the video live stream of the games.
If you'd rather watch the games live on your computer, you can go to NCAA's website to access March Madness Live and watch the games from there, but keep in mind that it still has the same requirements as the iPhone and iPad app, as it requires a cable subscription to watch all the games.