How to Watch the Nokia World Keynote For Nokia's New Windows Phone Announcement
For all those who will still be awake on October 26 at 1 AM Pacific Time, Nokia will be livestreaming its keynote from London's Nokia World event. The venue is speculated to play host to Nokia's announcement of its Windows Phone 7 Mango portfolio, though at this time it's dubious if 2011 will be the year of Nokia phones in the U.S. as earlier speculations have it that Nokia-branded Windows Phone devices won't hit Stateside until 2012.
The link to watch the keynote live is: https://events.nokia.com/nokiaworld/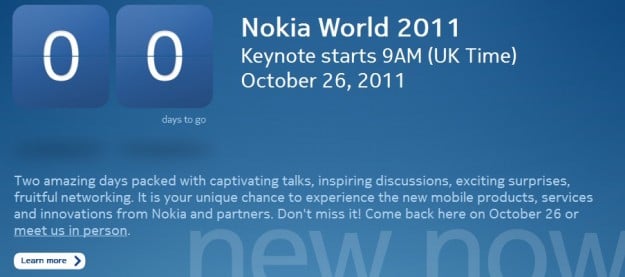 The keynote, which will be delivered by CEO Stephen Elop, is just a few hours away and should be interesting for those who are following the Windows Phone platform, delivered by Microsoft, or Nokia from a hardware and transformation perspective. Both Microsoft and Nokia announced earlier this year in February that Nokia will make a gradual transition away from its Symbian platform to build devices running on Microsoft's still nascent Windows Phone operating system.