How to Watch the Presidential Inauguration on Your iPhone & Android
On Monday, January 21 President Obama's second term will officially begin as he takes the oath of office at the National Mall.
The 57th Presidential Inauguration begins at 11:30 a.m. EST in Washington D.C. The inauguration includes the swearing-in of both Vice President Joe Biden and President Barack Obama and the President's Inaugural Address. The ceremony will also include music performances from artists such as Kelly Clarkson and Brooklyn Tabernacle Choir, a poetry reading and a benediction.
News coverage of the event is already taking place as people fill in the National Mall and pundits discuss what President Obama will talk about in his speech.
Where to Watch the Presidential Inauguration 2013
The inauguration ceremony is largely just a ceremony for swearing-in the president, but the president's address after he's sworn in will give the nation an idea of what he will focus on during his second term.
Watch on Official 57th Presidential Inauguration App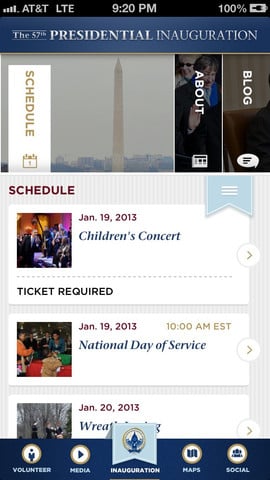 The easiest way to watch the Presidential Inauguration on a mobile device is through the officially app for the ceremony. The app is free and is available now in the App Store for iOS and the Google Play Store for Android. The app gives a full break down of the events of Inauguration weekend and will stream the ceremony as it happens.
Watch the Presidential Inauguration on YouTube
The Presidential Inauguration will also stream live on YouTube. ABC News recently announced it will stream the ceremony on its YouTube channel. President Obama's administration also has an official Inauguration channel on YouTube which will stream the event.
Like previous events such as the presidential debates, other news organizations like New York Times and BuzzFeed will likely stream the ceremony on their YouTube channels.
Watch the 57th Presidential Inauguration ABC News App
ABC News will also stream the Presidential Inauguration on its mobile apps. The free apps are now available for iOS in the App Store and for Android in the Google Play Store.

As an Amazon Associate I earn from qualifying purchases.