How to Watch the Windows 10 Live Stream
Today, is the day. After weeks of teasing and months of letting enthusiasts try features made specifically for businesses, Microsoft plans to unveil more features and information during its Windows 10 live stream. Here's how to watch that Windows 10 live stream later this morning.
Microsoft's Windows 10 live stream starts promptly at 9AM Pacific Standard Time today. Last week the company revealed that users will be able to watch the keynote portion of the event from its website here. According to some insiders, after the live streamed keynote will be breakout sessions specifically for those attending. Microsoft has spent the last three years reorganizing itself into departments that work on similar tasks. The speakers confirmed for the Windows 10 live stream reflect that.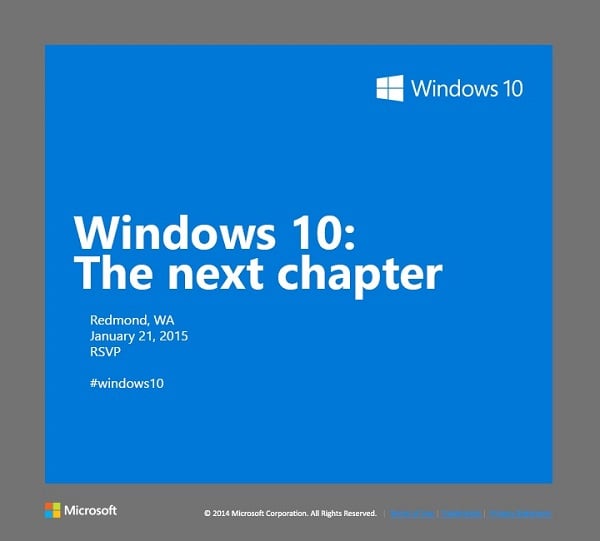 Read: What is Windows 10
Two former Windows Phone executives, Joe Belfiore and Terry Meyerson were tapped to head the combined operating systems group that makes Windows and Windows Phone. Both Belfiore and Meyerson will appear on the Windows 10 live stream to talk about the operating system's unannounced features. Also confirmed for the stage is Phil Spencer, the head of Xbox.
Windows 10 isn't just an operating system upgrade for a single part of Microsoft. It's essential to the company's future, and it's Spencer who's given us a preview of how important Windows 10 really is to the entire company. Since Microsoft sent out invitations to the event Spencer has hinted that he'll be on hand to talk about developments in the PC gaming space. Microsoft seems to be gearing up for a return to PC gaming. What form that will take remains unclear. Some have speculated that Microsoft plans to introduce an Xbox branding PC gaming platform during today's Windows 10 live stream. Others have said that Microsoft could reveal a cloud-gaming service just for PCs. Though it sounds farfetched, a cloud gaming service was found to be among the projects Microsoft is hiring for.
Read: PC Gaming Also on the Agenda at Windows 10 Event
Gaming and entertainment are sure to be highlights of the Windows 10 live stream, but Microsoft should have plenty of other things to show off too. It's been releasing versions of Windows 10 to the public for users to try out since September, but it's saved all the best features for this announcement.
Cortana, the personal assistant only available in devices running Windows Phone 8.1 today, appeared in a leaked version of Windows 10 during the month of December. She's activated in the Desktop by a Search Bar and microphone icon that sits on the far left of the Taskbar. It's hard to imagine that Microsoft won't talk more about the windows version of Cortana during this Windows 10 live stream.
Microsoft already revealed that Windows 10 will run on tablets, notebooks, desktops and smartphones. Instead of spreading one interface that's full of compromises across different devices, Microsoft is using the Windows Store and something called Continuum to link all the different spokes together. Every version of Windows will be able to download apps form the Windows Store. Continuum is a new interface that'll change on demand as it detects different input methods. We haven't seen a working final version yet, but it should be in the version of Windows 10 being shown during the live stream.
The most hotly anticipated announcement besides what's going on in the PC gaming space with Xbox has to be Windows 10 Mobile. Since Microsoft revealed Windows 10 last year we've seen or heard nothing about this version of Windows. Rumor is that it'll effectively replace Windows Phone 8.1 and Windows RT. Windows RT is the operating system that powers ARM iPad-rivals running Windows like the Surface 2.
Most of what's shown during the Windows 10 live stream should be available for users to download within a few weeks. Certainly an update for the Windows 10 Technical Preview will come during or after the event. An app for a possible Windows 10 Mobile preview was spotted in the Windows Store just last week.

This article may contain affiliate links. Click here for more details.