How to Watch the June Apple Event Live: Apple TV, Windows, Mac & Android
This is how you can watch the June Apple Event live stream, which is also what some of you may call the iOS 10 live stream since it is at this event where Apple will show off new software. Officially this is the WWDC 2016 keynote
It's fairly simple to watch the WWDC live stream on the iPhone, iPad, Mac, Apple TV and even on Windows 10. We'll show you the slightly more convoluted, but still free and easy way to watch Apple unveil iOS 10 on Windows 8, Windows 7 and on Android.
There is no YouTube live stream for the June 2016 Apple event, but you can watch on almost any device with an Internet connection.
We've confirmed an official June Apple event live stream, so there is no need to hunt for streaming smartphone video.
At the WWWDC 2016 keynote we expect to see iOS 10, a new version of Apple's computer operating system that may switch from OS X to MacOS, new versions of TVOS and WatchOS.
Reports are mixed on if we will see a 2016 MacBook Pro or 2016 MacBook Air announced at the event. We don't expect to see the iPhone 7 at this event or an Apple Watch 2. This is primarily a developer event, so there will be more of a focus on back-end things and geekier explanations of some parts of the Apple world.
By the end of the day we anticipate Apple will announce an iOS 10 beta that will let developers try the new iPhone software, and within a month a public iOS 10 beta.
June Apple Event Time & Date
The WWDC 2016 live stream starts at 10 AM Pacific, 1 PM Eastern on June 13th. The event takes place in California, but you want watch it from almost anywhere. If you are in a different time zone, use the following list to know when you need to tune in.
10:00AM – Pacific
11:00AM – Mountain
12:00PM – Central
01:00PM – Eastern
02:00PM – São Paulo
06:00PM – London
07:00PM – Paris
09:00PM – Moscow
If you are watching from your office, you may want to make sure you have headphones handy.
How to Watch the June Apple Event Live on Apple TV
The Apple TV is possibly the easiest way to watch the WWDC 2016 keynote live since it is on a big screen already and it's perfect for multiple users watching.
Search for the WWDC Live app on your Apple TV. It should already be on your Apple TV home screen.
Select it shortly before the June Apple Event start time and the live stream should automatically start.
How to Watch the June Apple Event Live on iPhone or iPad
Users with an Apple product running iOS 7 or higher can tune in to watch the June Apple Event live without any hoops.
On your iPad or iPhone simply visit the Apple WWDC website to see the live stream. This will allow you to start streaming live on your iPhone or iPad.
Use WiFi for the best results and to avoid using a lot of mobile data, but it is not required.
How to Watch the June Apple Event Live on Mac or Windows 10
If you are on a Mac running OS X 10.8.5 or higher or on a PC with Windows 10 it is easy to watch the event.
On Mac, use Safari to visit the WWDC 2016 page. On PC use the Edge browser to visit the WWDC home page.
Once there you will see an option to watch the June Apple Event live stream on your desktop or laptop.
How to Watch the June Apple Event Live on Windows & Android
It is slightly more complicated to watch the WWC 2016 keynote live on Windows or Android, but not impossible. If you are on Windows 7, Windows 8 or Windows 8.1 you will want to use VLC. Android users need to download the VLC app to watch live.
You need to do is download VLC Player for Windows and install it on your PC. On Android use this link to download the VLC Player.
Open VLC Player.
Click on Media in the Task Bar at the top of your screen.
Click on Open Network Stream.
Paste the URL below in the box.
Click Play.
Watch the iPhone 6s event live stream on Windows.
You will need to paste the url below into the box when prompted. You use the same link in the Android app, but to get to the right place you need to tap on the triangle with waves.
https://p.events-delivery.apple.com.edgesuite.net/15pijbnaefvpoijbaefvpihb06/m3u8/atv_mvp.m3u8
This could change, and if it does we will update the link above so you can use it to watch Apple announce iOS 10 and other items.
iOS 10 Release Date Details & Compatibility
iOS 10 Release Date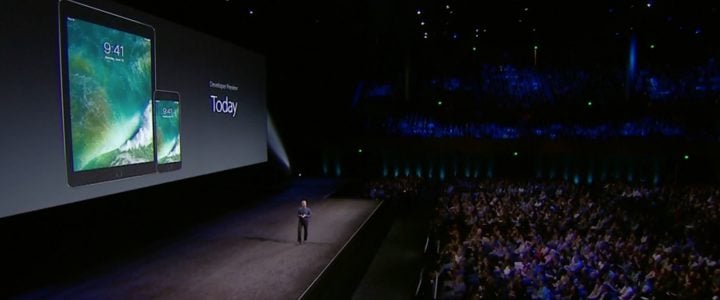 Apple announced the iOS 10 release date at WWDC 2016, sharing three very important dates for users.
The iOS 10 release date is in the fall. Apple did not announce a specific date, but you can expect it within a few days of the iPhone 7 release date.
There is a developer iOS 10 beta release date that arrived today, allowing users to try out the new iOS 10 features if they install a special profile or register as a developer. Most users will be better off waiting until July.
Apple confirmed an public iOS 10 beta release date for July, when you will be able to install an early version on your iPhone or iPad without any hoops to jump through.