How Watching YouTube on Xbox One Just Got Easier
Microsoft's Xbox One video console does a lot of things well, but one thing it hasn't yet delivered on is a decent experience for users who love Google's YouTube video streaming service. That is changing though, today Google revealed an upgraded YouTube experience for the Xbox One, set-top boxes and video game consoles.
According to a blog post from YouTube on the subject, this next-generation YouTube TV experience is less about convincing users to watch the service's videos on their television set with new features and more about making the YouTube experience for everyone match the service's apps for iPhone, iPad and Android devices.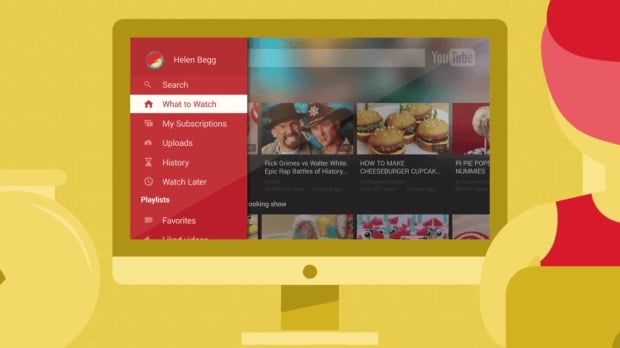 A guide now sits on the left side of users screens, making it easier for users to browse videos they haven't seen and keep up with all of the things that the service makes available to them. Going forward, Watch Later, My Subscriptions, Updates, History and Search will all live in this new Guide side bar. When users sign in they'll find their favorite playlists and subscriptions running along that side bar.
Beyond the Guide, YouTube is putting more emphasis on each channel and subscriptions. Each has been revamped and now includes a nice banner, option to watch a specific channel's trailer – just like it is on the web – and a Subscribe button. Xbox One owners use the left joystick on their controller to move through each category of video posts.
https://www.youtube.com/watch?v=KbnbDmC4F10
YouTube has plans to roll out the new design to any device with a YouTube app it maintains over the coming weeks. Presumably, that includes most of the big name set-top boxes and consoles. For example, Sony's PS4 video game console, Google's own Android TV boxes should get the updated interface in due time. The same can be assumed for Apple TV, the set-top box that allows iPhone, iPad and Macs owners to watch their favorite content on their television for $99. Today, Microsoft's Xbox One console is the only device YouTube watchers can find this updated interface on and that's a big deal.
First, the uselessness of the YouTube app on Microsoft's Xbox One console can't be overstated. Not only was the old app slow, navigating it was way too complicated. Even searching YouTube's video archive was buried under a button press. Navigating the YouTube on Xbox One app with hand gestures was even more of pain then searching with a controller and the on-screen keyboard.
This new YouTube on Xbox One app still isn't visually appealing. However, it does makes some moves in the right direction. Users can use hand gestures to open the YouTube guide on the right side of their screen. Because there are options, users probably won't waste as much time as they did trying to select the small icons of things they'd already subscribed to. Users are finally able to quickly and easily access their own uploaded videos from the Xbox One app too.
Second, it's worth noting that YouTube on Xbox One is the only app that Microsoft and the Google-owned video service have been able to get out to users. Google seems to have some standing policy against making its apps and services available on Microsoft's platforms. Even today, Windows 8 tablets, desktops and laptops rely on third-party YouTube apps that are made by hobbyists. Late last year Microsoft released its own YouTube app for Windows Phone 8 users, in-turn Google forced the company to remove the app from the Windows Phone Store after pledging to work together.
Users who haven't disabled the Xbox One's low-power mode will find this updated YouTube experience waiting for them when they get home without any extra updated. Users who don't have the Xbox One's low-power mode enabled will be prompted to download the update the next time they open the Xbox One's YouTube app.

This article may contain affiliate links. Click here for more details.