How We Killed Email: To Save Time and Sanity
Email sucks.
For a time email served an important role in helping us communicate efficiently with teams of co-workers, especially those spread out over large distances, but too many people don't know how to use email correctly and the sea of spam and bacon have made inboxes better breakfast menus than tools for working.
Fed up with the inefficiencies and annoyances of email, at least one tech firm has banned internal emails with a new "Zero Email" policy. The idea is to control overload of information and reduce the use of internal emails to zero in 18 months.
Here at Notebooks and GottaBeMobile, we may not be a 74,000 employee company, but in the past year we have killed off email as an internal communication tool.
This isn't just a 20% drop but a cutback so big I was shocked to see an email from a co-worker last week. Even then it was a forward from a reader who needed advice.
How We Killed Email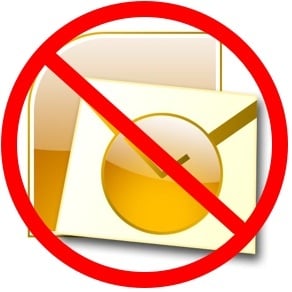 There are four tools that make it possible for us to stop using email as an internal communication tool and take things to the next level. You don't need to be in the same office to get rid of email, you just need to the right tools for your employees. Here are the tools that help us eradicate email.
Yammer
Yammer is essentially a social network for your company, similar to Facebook or Twitter. We use this as our primary means of communication on a day to day basis. This tool is our primary way of beating email overload.
Yammer lets us send messages to specific users, the entire team or as a private message to multiple recipients. We don't end up with needless Yammer posts though, and it is much easier to find a Yammer message than an email message these days.
There is no limit on the length of the message, and you can include attachments if needed.
The only downside so far is that Yammer will occasionally not update in real time, which is why we use other tools to communicate as well.
Yammer offers free services, as well as paid for larger corporations with greater needs.
Google Docs
When it comes to working on documents together, such as team reviews, gift guides, best of awards and anything that we need to spend a good amount of time organizing on the backend, we go to Google Docs. While Yammer offers collaboration on pages, Google Docs offers a better solution for bigger projects.
Here, we normally share Text and Spreadsheets, which we can edit in real-time at the same time. Using this tool, I have cut the working time on several projects in half, and we have been able to get more people working on the same document.
Google Talk
Every day you'll find us signed into Google Talk to keep in touch with the team for short one on one conversations. When big events hit, we get a group chat going to organize things.
For groups, Google Talk is a much better solution than a conference call, because there are no awkward interruptions of other users. You just type what you want to say, even if someone else is already typing.
Day to day, this is one of the ways we assign stories, check in on the status of larger items and deliver a virtual water cooler where we can catch up with each other for a closer team.
Not everyone uses Google Talk on a daily basis, but at least half of the team is signed in at a given time. On Android Google Talk is built in, and on the iPhone and iPad many of us use IM+ to chat.
Google Voice
Another essential tool is Google Voice, but any phone that can text will suffice. We use Google Voice because it allows us to answer text messages on our computer as well as on any phone we have with us.
When Yammer isn't fast enough, or if something is very important, a text is a sure-fire way to get the attention of our team. We also use Google Voice to route phone calls on a regular basis. Now that we have killed off email, we do rely on the phone a bit more, and Google Voice allows us to record calls for later reference.
Why We Stopped Emailing
The primary reasons we stopped sending emails are the amount of junk and the lack of speed.
Even with Priority Inbox sorting out the less important emails, we are still inundated by email on a daily basis. This makes finding important emails from co-workers difficult.
Often times, when we did find the emails, it was too late. Either we missed a question, or worse — employees duplicated efforts, which wasted time.
Aside from Google Docs, all of these tools have mobile components and are easily accessible from any device we have at hand. Yammer does a good job of delivery notifications on iOS and Android. While it isn't yet perfect, it beats email notifications.
—
Have you tried to kill email at your organization? If so, what has worked best? What hasn't worked?

As an Amazon Associate I earn from qualifying purchases.