How Windows 8 Gets More Apps: Microsoft's Project Siena
Debuting with Windows 8, the Windows Store is the only way that Windows 8, Windows 8.1 and Windows RT users can download apps designed for the new Windows Start Screen and app platform. That's why Microsoft's newly released Project Siena is such a big deal. In theory, Windows 8 users should see a serious uptick in available apps thanks to the new software development app.
Though Microsoft hasn't officially detailed the project in any blog post, Project Siena's Windows Store page shares all the details the company has yet to deliver.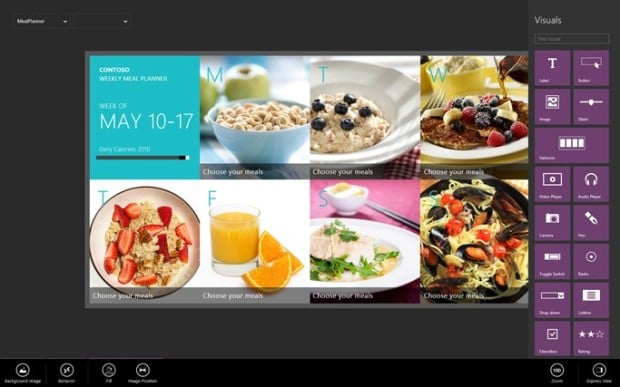 Currently in a beta, Project Siena allows users to design and create their own Windows Store applications and then publish them to the Windows Store. While users can do that through Microsoft's Visual Studio application, Microsoft is billing Project Siena as the only tool casual developers need to "conceptualize, validate and build." Effectively, Microsoft is reaching out to users who don't have coding skills but do want to create something to run on Microsoft's Windows 8.1 and Windows RT platforms.
Read: 11 Essential Apps in the Windows Store
The app's entire interface may have been tailored for users who aren't familiar with code, but Project Siena isn't just some template. Hobbyists and businesses can create applications that capture data from the web or corporate networks. That isn't to say that Microsoft isn't giving would-be developers a few sample app ideas to play with. The Project Siena's Windows Store page says that users can create everything from "media-rich product catalogs" to apps that include support for photos, videos, pen input, voice nuts and database interactions.
When an app is finished or ready for testing, creators using Project Siena can create a simple installer to share with other users. They can also publish the app in the Windows Store for everyone to use.
All told, the Project Siena seems like a great way to get the next-generation of developers to create a Windows Store app. It's also perfect for small business and design agencies who have clients that need a Windows Store app but don't have anyone with expertise in creating apps for Microsoft's latest platforms. Should the initiative be successful, Windows users could see a large influx of unique apps. Though it's made progress in attracting more big-time apps, more apps from enthusiasts and small businesses certainly wouldn't hurt. Microsoft released a similar solution, called App Studio, to attract independent developers to Windows Phone earlier this year
Project Siena is available in the Windows Store free. The app runs on Windows 8.1 and Windows RT devices like the Surface 2.