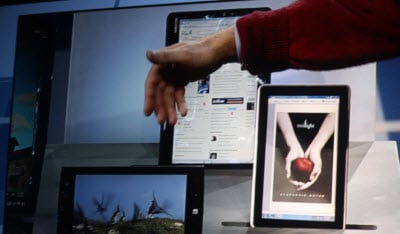 Interesting. James Kendrick in a good rundown of his Tablet/Slate impressions at CES reported that HP didn't even have a booth this year which I find to be surprising news. Especially since this is the year of the Tablet, and HP has some genuine well earned cred in the Tablet/Slate arena. But then what do I know?
Even without a booth, HP got plenty of attention about slates and Tablets thanks to the Ballmer keynote. Probably a bit more than the want right now.  Nick Bilton of the NYTimes Bits Blog did some digging and is reporting that HP has
numerous tablet devices that will come in a variety of sizes, shapes and operating systems, including Windows 7, Google's Android, and possibly the open-source operating system Linux.

The company has so many different tablet-related projects in the works that a variety of upcoming publishing partners were surprised to see a Windows 7 version of the Hewlett-Packard slate announced at the 2010 Consumer Electronics Show.
Interesting indeed. At the moment the world is dizzy with Tablet/Slate mania. I noticed on the CNN app on my iPhone this morning that the one of the lead stories was titled "What's a Tablet Anyway?" Both on the iPhone and the web versions the accompanying pictures featured pictures that weren't Tablets, although the article contains a decent video of the U1 Hybrid from Lenovo. So, some confusion abounds as folks try to come to grips with Tablets and slates and everything in between and surrounding them. I don't look for that to get squared away anytime soon.
Fascinating.
Intriguing side note on this, someone noticed and remarked that of all the titles and book covers that Microsoft could have chosen to display on that HP Tablet, they believe there was an intentional dig at Apple by choosing the apple in hand cover of Twilight to display. (I apologize profusely that I can't find the link to that to the blogger who came up with that. If I do, I'll update.)

As an Amazon Associate I earn from qualifying purchases.