HP Announces the TouchSmart tx2 Multi-Touch Tablet PC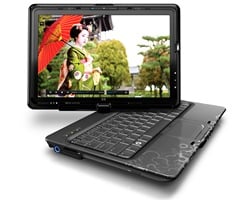 We now have two multi-touch tablet pcs on the market, with HP bringing the first consumer-focused multi-touch tablet pc, the TouchSmart tx2. The tx2 sports an N-Trig capacitive touch digitizer.
Complete specs, pictures, press release, tx2 spec datasheet, picture of the notebook stand, and a description of supported gestures are all after the break. Be sure to check out this video demo, too. You can buy it from Amazon or direct from HP with a starting price of $1149. Once we get a review unit, you can be sure we'll be testing Windows 7 on this baby.
Multi-Touch Gestures:
• SINGLE, DOUBLE TAP: Select objects by touching them once (single tap), or double tap to open objects/programs.
• FLICK: Scroll or pan within an application either horizontally or vertically. For example,
in MediaSmart Photo, flick your finger to the left on the display and the inertia from your flick will move the photos leftward, just as if you pushed a piece of paper to the left on a table.
• PRESS & DRAG: Touch an object on the display and hold and drag it to the desired
destination.
• ARC: Allows you to move tracks to/from playlists without having to make a straight line.
• PINCH: Touch an object on the display once to select the item then place 2 fingers on opposite corners of the object, then move them closer together to decrease the object's size or to zoom out. Move fingers away from one another to enlarge the object or to zoom in.
• ROTATE: Rotate photos by touching the object once to select the item then use 2 fingers on opposite corners of the image and rotate the image either clockwise or counter-clockwise.
• LAUNCH MEDIASMART: Touch the screen with two fingers together and write the letter m on the display to launch the MediaSmart Smart Menu.
Specs:
• AMD Athlonâ"¢ X2 Dual-Core Processor QL-64 (2.0 — 2.4 GHz, 1MB — 2 MB L2 Cache)
• Genuine Windows Vista ® Ultimate, Business, or Home Premium
• 12.1-inch diagonal WXGA (1280 x 800), Integrated touch-screen, Convertible display
• ATI Radeon™ HD 3200(9) available
• Up to 8GB DDR2 SDRAM System Memory (2 SODIMM; 64-bit OS)
• 160/250/320/400G/500B(8) 5400 rpm SATA
• SuperMulti 8X DVD ±R/RW with Double Layer Support OR,
LightScribe SuperMulti 8X DVD ±RW with Double Layer Support
• 802.11b/g WLAN OR, 802.11b/g WLAN and Bluetooth OR, Wireless 802.11a/b/g/n WLAN OR,Wireless 802.11a/b/g/n with Bluetooth
• Ports: 3 USB 2.0, 1 VGA, 1 RJ-11, 1 RJ-45, 2 headphone out ( 1 with SPDIF & 1 Stereo), 1 mic, 1 expansion port 3, 1 IR, 1 digital pen, 1 ExpressCard 34 slot
• Weight: starts at 4.33 lbs with touchscreen, digitizer, weightsaver, 4 cell battery)
• Dimensions: 12.05 in (L) x 8.82 in (W) x 1.23 in ( min H / 1.52 in (max H) ( with 4-cell battery)
• Battery: 4-cell (37 WHr), 6-cell (55 WHr), 8-cell (73 WHr)
Pictures
Click to view higher res shots.
| | |
| --- | --- |
| | |
| | |
| | |
| | |
| | |
| | |
| | tx series notebook stand, $49 |
Press release:
PALO ALTO, Calif., Nov. 19, 2008 — HP today announced the industry's first convertible notebook PC with multi-touch technology designed specifically for consumers.Building upon the touch innovation HP developed for its

TouchSmart desktop PCs

, the HP TouchSmart tx2 Notebook PC was developed for people on the go who value having their digital content at their fingertips — literally. The enhanced HP MediaSmart digital entertainment software suite on the tx2 allows users to more naturally select, organize and manipulate digital files such as photos, music, video and web content by simply touching the screen.
""Breezing through websites and enjoying photos or video at the tap, whisk or flick of a finger is an entirely new way to enjoy digital content on a notebook PC," said Ted Clark, senior vice president and general manager, Notebook Global Business Unit, Personal Systems Group, HP. ""With the introduction of the TouchSmart tx2, HP is providing users an easier, more natural way to interact with their PCs, and furthering touch innovation."
The tx2 notebook's HP MediaSmart software lets customers enjoy photos, listen to music and watch Internet(1) TV or movies in high-definition.(2) The software is optimized for multi-touch input while also making it simple to search digital content.
In an effort to provide consumers with rich content through the Internet, HP has expanded its partnership with MTV Networks (MTVN) by offering video content from 10 television channels and online brands within MediaSmart's TV module.
Beginning in December, users can enjoy all the best content from Nickelodeon, the No. 1 entertainment brand for kids; MTV, the premier destination for music and youth culture programming; and COMEDY CENTRAL, the only all-comedy network and the No. 1 network in primetime for men ages 18 to 24. MTVN also plans to make content from Atom, CMT, GameTrailers, Logo, Spike, The N and VH1 available within MediaSmart's TV module.
The MediaSmart software was first brought to HP HDX notebook PCs in September, using the interface first popularized on HP TouchSmart PCs. HP plans to include the software in the tx2 and all future HP consumer notebook PCs.
Powered by the AMD Turionâ"¢ X2 Ultra Dual-Core Mobile Processor or AMD Turion X2 Dual-Core Mobile Processor(3) and built on Windows ® Vista Home Premium, the tx2 will be made available worldwide in an array of configure-to-order options.
Additional features, accessories and service
The HP TouchSmart tx2 series is ENERGY STAR ® qualified and EPEATâ"¢ Silver registered. Mercury-free LED display panels are included on the tx2 as part of HP's ongoing commitment to reduce its impact on the environment.
The HP tx Series Notebook Stand elevates the tx2, enhancing its usability while stationary, including making it possible to put the PC in an upright position for full interactivity with the touch screen.
HP Webcam with Integrated Microphones allows users to see brighter, cleaner images when chatting over an Internet(1) connection.
The tx2 offers access to a variety of self-help tools built in and online. It also is supported by HP Total Care, which enables consumers to reach support agents 24/7 by phone, email or real-time chat.
Pricing and availability
The HP TouchSmart tx2 is available for ordering today in the United States at www.hpdirect.com with a starting U.S. price of $1,149. (4) More information about the tx2 is available at www.hp.com/go/touchsmarttx2.
About HP
HP, the world's largest technology company, provides printing and personal computing products and IT services, software and solutions that simplify the technology experience for consumers and businesses. HP completed its acquisition of EDS on Aug. 26, 2008. More information about HP (NYSE: HPQ) is available at https://www.hp.com/.
Note to editors: More news from HP, including links to RSS feeds, is available at https://www.hp.com/hpinfo/newsroom/.
(1) Internet access is required and sold separately.
(2) HD content required to view HD images.
(3) AMD's numbering is not a measurement of clock speed. This system requires a separately purchased 64-bit operating system and 64-bit software products to take advantage of the 64-bit processing capabilities of AMD technology. Dual/quad/triple-core processing available with AMD technology is designed to improve performance of this system. Given the wide range of software applications available, performance of a system including a 64-bit operating system and a dual-core processor will vary.
(4) Estimated U.S. starting price. Actual price may vary.
AMD and AMD Turion are trademarks or registered trademarks of Advanced Micro Devices, Inc. in the United States and/or other jurisdictions. Windows Vista is either a registered trademark or trademark of Microsoft Corp. in the United States and/or other countries. ENERGY STAR is a U.S. registered mark of the United States Environmental Protection Agency.

As an Amazon Associate I earn from qualifying purchases.