HP Chromebook 14 Launching Before Holiday for $299
HP's recently-announced Chromebook 14 laptop will be launching sometime before the holiday shopping season begins and will be priced at $299. Both Google and Intel announced new Chromebooks yesterday, from various hardware partners, like Acer, HP, Toshiba and Asus. The Chromebook 14 is the most powerful Chromebook that has been built so far, and it'll be the first Haswell-equipped Chromebook to hit the market.
That's right; the device is packing in an Intel Haswell processor, although HP isn't saying what exact chip it is and how fast it will be. The laptop will also have 16GB of solid-state storage on board, with 100GB of free Google Drive storage for two years. The Chromebook 14 also packs a 14-inch display, and sports an HDMI port, one USB 2.0 port, and one USB 3.0 port on the sides.
A lot of details are still scarce, but we do know that the notebook will weigh in at 4.08 lbs., and measure in at just 0.81 inches thin. Battery life is claimed to hit 9.5 hours on average, which seems pretty good for a full-size laptop like this. Another welcomed change is the new colors, with the HP Chromebook 14 coming in snow white, ocean turquoise or coral peach.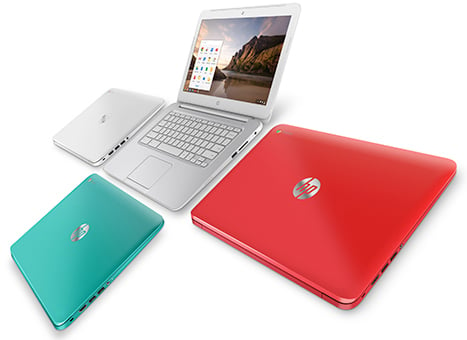 HP is also tossing in 200MB of T-Mobile 4G data per month for two years for free. That's certainly not a bad deal, and you'll be able to use that free data to work away when you can't get a WiFi signal while you're out and about.
Toshiba, Acer and Asus also announced new Chrome hardware, but Acer was the only other laptop to get any more details. That model will sports an 11.6-inch display, and weighs in at 2.76 lbs. It's also thinner than the HP model, measuring in at 0.75 inches thin. However, the battery life is a little less, with just 8.5 hours of usage before you'll have to plug it in, but that's still better than most laptops these days.
Of course, while these new Chromebooks may not outdo their more expensive and more powerful counterparts, they're finally getting to a point where they can deliver some impressive performance. The cloud-based Chrome OS is certainly a deterrent to some users, as it's essentially a minimalist operating system with very little to be offered for power users, but everyday consumers should be able to browse more quickly and share photos and videos at lightning speeds now.

As an Amazon Associate I earn from qualifying purchases.