HP Declares Windows 7 to be Back, Gives Buyers $150 Off
Windows 7, the previous version of Microsoft's flagship Windows operating system that came pre-installed on desktops and laptops, is back according to computer maker HP. To celebrate, the company is knocking off $150 on PCs equipped with the operating system.
HP formally announced the promotion in emails sent out to potential customers this past weekend. Indicating that the company brought PCs with the operating system because of "popular demand," the emails and HP's website invite all users to create systems and receive $150 off without the need of any coupon codes.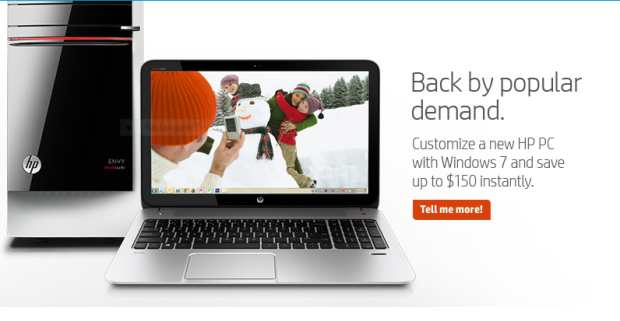 Of course, HP declaring that inquiries from customers are the reason it brought Windows 7 PCs have started a sort of fire storm in the PC industry. To be clear, Windows 7 PCs never left. Buyers have had the option to purchase PCs with Windows 7 from other makers like Dell since the introduction of Windows 8. The difference is that other PC makers have kept these offerings low-key. It's HP's decision to actively market these PCs that's drawing raised eyebrows.
It also doesn't help Microsoft that HP began offering this promotion over the same weekend that reports on how Microsoft internally sees Windows 8 also began to surface. According to Microsoft watcher Paul Thurrott, Microsoft's internals teams have compared Windows 8 to Windows Vista, Windows 7's immediate predecessor. Windows Vista was often chastised for making things more difficult to use and more. Unfortunately, that characterization isn't entirely accurate.
Read: Even Microsoft is Labeling Windows 8 as the New Vista
Windows Vista was actually plagued by issues not directly caused by Microsoft itself. For example, PC vendors often shipped the operating system on low-end hardware that sometimes couldn't keep up. PC hardware makers also waited until the last-minute to update drivers and software for Windows Vista, leaving many users with hardware that simply didn't function with their Windows Vista PC at launch.
Ironically, it's Windows Vista that set the stage for Windows 7. Its Windows 7 that most industry insiders and users agree is Windows' sort-of sweet spot.
HP's special Windows 7 promotion includes three desktop PCs starting at $479. The offer also includes two HP laptops starting at $599.99. Those prices include the $150 off.
Windows 8 introduces a lot of new modern elements that are designed to work with a laptop, desktop, tablet and new 2-in-1s. Unfortunately, Windows has millions of users with their own specific use cases, who often don't take too kind to being asked to learn how to do something new following a PC upgrade.

As an Amazon Associate I earn from qualifying purchases.