HP Elitebook 2760p Review: As a Tablet
As a convertible notebook, the HP Elitebook 2760p faces the challenge of balancing its laptop and tablet functionality. At first glance, it appears to be a notebook first, tablet second. But upon closer inspection, I've found much attention was paid to the tablet experience.
This post is one in a multi-post review of the HP Elitebook 2760p. Please click here for more.
Display
The chemically-strengthened glass screen extends about a quarter inch beyond the display area (1280×800, 12.1″ diagonal) all around with capacitive touch recognition throughout. This makes it easy to touch on-screen items located near the edge of the screen.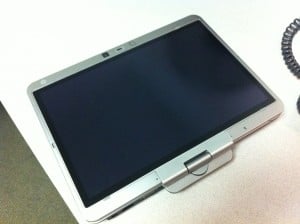 The display features an ultra-wide viewing angle as a standard feature, which worked well from all screen orientations. Outdoor view is offered. An anti-glare option is also available, though this limits screen input to pen, no touch. The model I evaluated had the standard pen + touch display with no other special features. A Shortcut video demonstrating its outdoor visibility has already been posted.
Pen and Touch
A dual pen + touch digitizer is standard on the 2760p. It is the Wacom digitizer model with two-finger input. Responsiveness is excellent, as is typical of the brand. As previously stated, touch works well up to and at the edges of the display.
Pen input, however, loses precision near the edges. This normal for Wacom digitizers, as I've seen this on every one I've used. It's fine for tapping buttons, but you'll see wobbliness while jotting notes in the margins. Of course, between zoom and infinite virtual pages, it's not like you'll be squeezed for writing space. Away from the edges, both pen and touch work fine. The strengthened glass screen provides a no-flex writing area.
Inking experience
The sturdy glass display on the 2760p offers a solid writing area. The finish of the screen offers some drag, but this is felt primarily by the hand. The pen tip glides with no hint of resistance. My penmanship becomes sloppier as a result. Closer to a grease pen on glass than pencil on paper.
Screen space is 6-1/2″ 10-1/4″ with writing area bordered by scroll bar and toolbars. Too tight for me in portrait but I could live with it in landscape. Pen design is not my favorite. The side button is flush with the shaft, making it hard to find by touch and easy to accidentally slide under my thumb. Bit on the short side but not problematic.
Tablet controls
The front of the bezel features the webcam, dual microphones, ambient light sensor, and keyboard light (this last one works fine in tablet mode though not for its intended purpose), but is free of the customary tablet controls. Those are instead located at the bottom edge of the display to the left and right of the hinge.
In standard portrait mode, there are a jog dial and ESC button at the top end and manual screen rotation and Ctrl-Alt-Del buttons at the bottom. The Ctrl-Alt-Del button is small and recessed. It is designed to be activated by inserting the tip of the pen to avoid accidental activation.
The side positioning of the controls almost force portrait use of the tablet in order to access them. They work in landscape mode, but are inconvenient, especially in secondary landscape where they face away from the user. The jog dial works, but it's odd to use a physically horizontal control for vertical scrolling.
Screen rotation
Physical display rotation is unidirectional, clockwise to convert from laptop to tablet. The latch switch is slightly recessed to deter accidental release and ridged to make it easier to push. The latch itself is magnetic with no external components to move or break off. Two small rubber nubs on each side of the keyboard help keep the display squarely in place in slate mode. It locks in solidly with no wiggle unless really forced.
There are several options for digital screen rotation. The default settings switch the display to primary landscape (hinge at bottom) in laptop mode and primary portrait  (hinge at right) in slate mode. However, when docked, switching to slate mode puts the screen in secondary landscape. Very clever.
The 2760p also offers accelerometer control, which is off by default and it might be good to leave it off. It's sensitive enough that even a slight sidewards tilt can trigger it. That's a problem when holding the tablet in hand or on lap, especially with the weight of this device.
Both the default settings and accelerometer can be turned on or off through a utility in the control panel (under "all" items – I can't find it in the category view). These are in addition to the previously mentioned manual control button.
Performance
Unless you have a need to process video while walking around, the 2760p has more processing power than required for the usual tablet duties such as note-taking. The model I reviewed has an Intel Core i5 2.6 GHz processor and 4 GB memory, one down from the Intel Core i7 2.7 GHz top end. Chopping the maximum processor state resulted in no hiccups in web surfing or 720p HD video playback, so it can be comfortably tuned down to extend battery life.
In addition, all the hard drive options are 7200 rpm (250/320/500 GB with a self-encrypting option on 320), which provide near SSD-level speed. Sleep and resume are near instant. Upgrading to either of the SSD options (128/160 GB) isn't really necessary unless there are environmental considerations or you expect to shake this thing a lot (or if you really want to shave that extra couple seconds off startup). Graphic card is integrated Intel HD Graphics 3000.
Weight and battery life
Weight and battery life were covered in a separate segment that included a Shortcut video on attaching the slim extended battery. To sum up, with extended battery, it weighs in at 5 pounds but should be able to handle an 8-hour day (depending on usage).
Wireless connectivity
The 2760p features the full array of wireless options: Wi-Fi, Bluetooth, and mobile broadband. Options include:
HP hs2340 HSPA+ Mobile Broadband
HP un2430 EV-DO/HSPA Mobile Broadband
Intel Centrino 802.11a/b/g/n
Broadcom 4322AGN 802.11a/b/g/n WiFi Adapter
Broadcom 802.11b/g/n
HP Integrated Module with Bluetooth 2.1+EDR Wireless Technology
Not specified in the specs is the inclusion of GPS in the mobile broadband cards. In addition, HP is introducing a pay-as-you-go option for buying mobile broadband on a monthly basis. Connectivity is managed by the HP Connection Manager software.
Specs
Below are the specs on the model I evaluated.
| | |
| --- | --- |
| Processor | Intel® Core™ i5-2520M (2.50 GHz, 3 MB L3 cache) |
| Graphics | Intel HD Graphics 3000 |
| Display | 12.1″ diagonal LED-backlit WXGA UWVA -Pen and Touch (1280 x 800) |
| Hard Drive | 320 GB 7200 rpm SATA II |
| Optical Drive | No |
| Memory | 4 GB 1333MHz DDR3 SDRAM |
| Wireless | 802.11a/b/g/n |
| Webcam | HD webcam |
| Bluetooth module | Bluetooth 2.1+EDR |
| Fingerprint Reader | Yes |
| Battery | 6-cell (44 WHr) Li-Ion |
| Adapter | 65W Smart AC adapter; HP Fast Charge |
| Price | $1,599.00 |