HP Elitebook 2760p Review: Weight, Stamina, & Toughness
Like Wolverine from the comic books, the HP Elitebook 2760p convertible tablet packs a lot of power and weight in a relatively small package. Its weight, toughness, and stamina form a triangle of intertwined traits that work with and against each other.
This post is one in a multi-post review of the HP Elitebook 2760p. Please click here for more.
Going the extra mile
The 2760p features a standard 6-cell battery rated at 44 Whr. I also received a 6-cell ultra-slim secondary battery that adds another 46 Whr. It has the same footprint as the notebook and mounts on the bottom as a stackable layer. It includes a pass-through for the docking port, so the full package can be charged on the optional docking station at once. Both have a standard one-year warranty. Loaded with both, HP claims up to 10 hours of activity. I think that's on the money.
In my testing, I let the 2760p run constant with maximum processor state down to 50% and screen set at 40% with no dimming or switching off. Now, you wouldn't want to process video outside in the sun on those settings, but that was more than enough to watch 720p HD video while indoors under fluorescent office lighting. I played such a video clip intermittently and kept Firefox (with Flash enabled) on the whole time with intermittent refreshing and activity. Wi-Fi stayed on the whole time.
Under those conditions, the 2760p ran a total of 7 hours, 20 minutes before dropping to 7% battery life. The second battery was down to 0% after 4 hours, 15 minutes. The battery drain is completely asymmetrical with the secondary battery being fully empty before it pulls from the main one. This means you can start your day with both batteries and put away the second one as soon as it runs out to lighten your load. 10% warning popped up just shy of the 7 hour mark. Warnings are based on combined battery reading. Battery 1 was down to 22% at the 10% total mark, and 15% when the 7% warning came up.
I could have pushed it to empty, but maintaining a small reserve is more practical. Under real world conditions, with screen dimming and regular breaks, I think it can make an 8-hour day and go as long as 10 hours with strict power management. As always, that will vary greatly depending on your usage.
Counting calories
If you'd rather better manage your power usage than lug around an extra battery, the HP Power Assistant utility will be a treat. In addition to the usual battery diagnostics, this application displays actual wattage and power consumption in real-time. Unlike other systems that rely on previously taken power consumption estimates, this system relies on circuitry on the motherboard to provide actual wattage readings. History tracking allows the user to see when power usage is high and low, enabling better determination of which activities drink the most juice.
The Assistant can take this a step further with power management scheduling, so you can set your notebook to tune down overnight or whenever it's typically unused. The scheduling system supports remote access for IT departments. As a final perk, the power management system works with supported HP monitors (typically those from the past year), so you could choose to have your big external monitor stay on while your notebook display turns off (or vice versa).
Weighing in
Of course, power management can only take you so far, and most people would rather not count watts. For a worry-free day, you'll need both 6-cell batteries, which aren't exactly feather light. To get that endurance, you need to have a bit of your own to haul around this brick of a convertible.
I weighed the components myself using a kitchen scale. The notebook with the standard battery and pen in silo weighed in at 4 lbs, 1 oz, a little more than 1.8 kg. The slim battery loads up another 1 lbs, 3 oz, little more than half a kilo. So you're looking at more than five pounds (5 lbs, 4 oz to be precise, or just under 2.4 kg) to achieve a solid day of battery life. And that doesn't include the docking station (1 lb, 11 oz, or .765 kg) that you might carry in your bag.
Strong bones
A major contributor to the heft of the 2760p is the solid metal frame. The exterior features plastic and a rubberized coating around the display and black rubberization on the base, including the secondary battery, but beneath that is a magnesium alloy chassis. In addition, the display is protected by chemically-strengthened glass and the keyboard is spill-resistant. This is a rugged computer that meets MIL-STD-810G.
Upon closer inspection, there are exposed parts of the metal frame at the hinge and the open areas around the trackpad. These have a brushed finish that help give the notebook an industrial look, especially with all the hard edges in the keyboard area. It looks tough and rugged without looking like it's packing five layers of padding.
Trimming the fat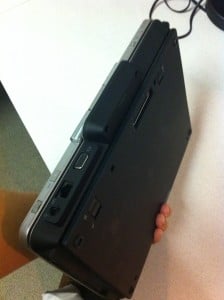 Extended battery life on the 2760p means extra weight. There's no way around that. But there are some ways to ease the load. First, since the second battery drains first, it can be removed as soon as it hits empty without impacting further battery life. That's one less pound you can shed halfway through your day.
Second, though not on sale yet, HP will be offering a slightly smaller 39 Whr battery as an alternative to the standard one. I don't know the weight on this, but presumably it will be a little lighter. Its major draw will be an extended 3-year warranty, making it a good choice for someone looking for longer lifespan vs. longer running time.
Feeling the burn
In addition to all the numbers, I have to say, the 2760p has a very heavy feel to it. From an inch-thick slab of a slate to 14" and 13.3" convertibles, heavy Tablet PCs have been my primary computers for years, so for me to call the 2760p heavy, well, that's not just me crying about it not being as light as an iPad. With or without the second battery, the 2760p with its tight footprint and thick width has a heft that feels greater than its actual weight. Objectively, four to five pounds is not that much, but this thing is definitely not for the faint of arm.
GBM Shortcut: Slim Extended Battery of the HP Elitebook 2760p
Attaching an extended battery to a notebook isn't the most exciting thing I could put in a video, but since it took me a good week to get the technique down (it can get snagged) and since I don't usually get such a full complement of accessories to evaluate, I figured I should share. So here, immortalized in living video, is a demo of how the slim extended battery attaches to the HP Elitebook 2760p, including the pass-through attachment to the docking station.
For iOS-friendly downloadable versions of the video, click here for SD or here for 720p HD.

As an Amazon Associate I earn from qualifying purchases.