The HP Envy x2 is a Windows 8 tablet that includes a well designed dock to take the Envy x2 to full on productivity mode with an extended battery and a full size keyboard.
Despite the lower power Intel Atom processor the Envy x2 runs a full version of Windows 8 with access to the desktop and the ability to run traditional Windows apps.
For all it delivers, the HP Envy x2 is a bargain at $599 — offering a good tablet experience and a good laptop experience to users who want a portable device that can switch from tablet to laptop in seconds.
Pros

Good design
Long battery life
keyboard dock adds ports
Price
Full Windows
Expandable Storage

Cons

Not a performance powerhouse
So-So resolution
No USB 3.0
No Backlit keys
HP Envy x2 | $599 


HP Envy x2 Review Guide

Related HP Envy x2 Review Articles

Buy the HP Envy x2
Hands On Video
We take a look at the HP Envy x2 shortly after launch to get a close up look at the hybrid notebook. HP calls the HP Envy x2 an ultraportable, but doesn't get to call it an Ultrabook or Ultrabook Convertible. We also show off the docking mechanism that connects the tablet to the keyboard dock and battery.
Design
The HP Envy x2 is a well built tablet and notebook that pulls off use as a tablet and as a notebook. Typically devices like this feel better as a tablet or better as a notebook, but the hinge and high-quality of the dock firmly snap together to feel as if it is a single device.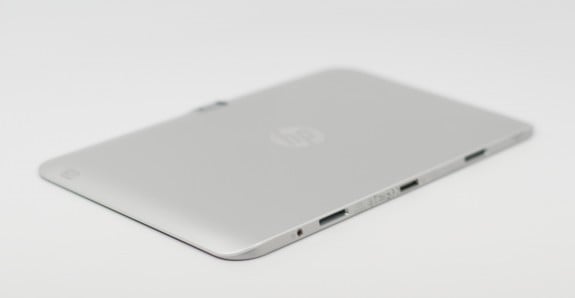 HP designed the Envy x2 with curved edges that offer a good fit when holding the tablet in your hands. The 11.6-inch screen is bigger than the iPad, but the size and weight of the tablet portion are just right for long table tuse sessions. The device is easy to hold in one hand while using the other to control it, and surprisingly works good in portrait and landscape mode.
HP includes a Micro SD card slot in the tablet section of the Envy x2 and a headphone jack. The speakers aim out the bottom of the tablet.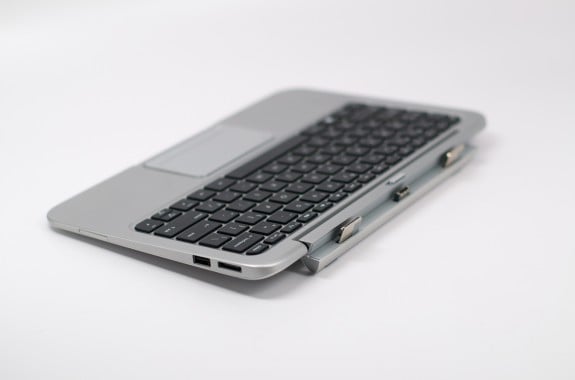 When snapped to the keyboard dock, which is also made of aluminum, the Envy x2 adds a spare battery, full size keyboard and an HP touchpad. The tablet docks and undocks easily with a small snap on the front of the machine. When connected users gain a full size SD card slot, two USB 2.0 ports and an HDMI out as well as a charging port.
The design is sleek and very slim, but opening the device when in notebook mode can be difficult thanks to a very small lip. This will require users pick the device up, rather than lift with one finger.
Envy x2 Display
The HP Envy x2 features an 11.6-inch display, which is a great size for a tablet and laptop hybrid. The 1366 x 768 resolution is low for a tablet, but about average for a notebook. When it comes to use as a notebook, there is little to complain about, but when used in tablet mode the lower resolution can become a factor. This is because we commonly use a tablet closer to our eyes. After using the iPad mini for months this is not a deal breaker, but it would be nice to see a higher resolution panel in the x2.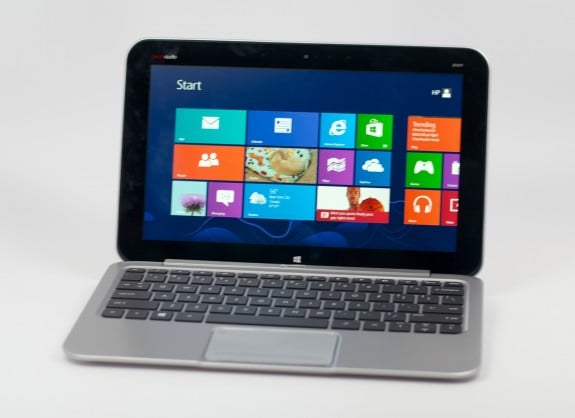 The display, as expected, features touch, so users can quickly reach up and control the device in laptop mode and for full control when in tablet mode. Touch is accurate and the display supports Windows 8 gestures very well.
When in tablet mode the display switches from landscape to portrait quickly, and also offers a lock to keep the display in orientation while reading a book or playing a game from the Windows App Store.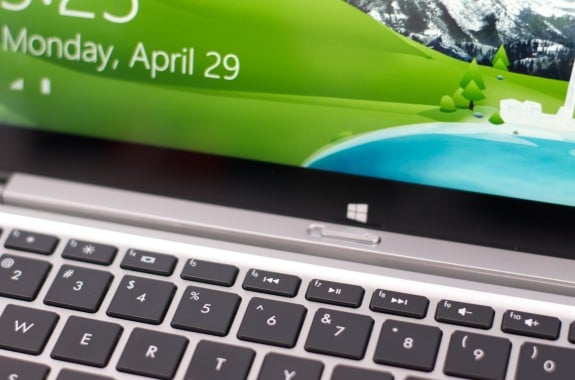 The display is bright enough to use in many settings,but the screen is too glossy to use outdoors. The hinge opens only so far, limiting the angle and amount of adjustment when using the HP Envy x2 in notebook mode.
Envy x2 Performance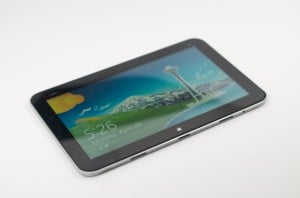 The HP Envy x2 features a 1.8GHz Intel Atom processor, 2GB  of RAM and a 64GB SSD. While the notebook runs a full version of Windows 8 with  access to desktop apps, there is not enough power to handle every app or task.
Performance is where the Envy x2 falters.For many tasks the HP Envy x2 delivers a good experience, but there are issues when it comes to using processor intensive tasks and when using the x2 for long periods.
Using the Envy x2 in the Modern User interface of Windows 8 is fine, and casual games work great. The same goes for watching movies stored on a Micro SD card. Watching a streaming video on YoutTube falters at 1080P, with stuttering that was not related to buffering or connection speeds.
Things start to slow down when we use FireFox and other apps in the Desktop mode. While typing in FireFox the computer will occasionally have trouble keeping up with what we type, which can lead to typing errors and frustration. This issue was not as bad after a restart, but still a problem.
The Envy x2 features Beats Audio and two downward facing speakers. The speakers provide decent sounding music, but turning up a busy song like The Phoenix by Fall Out Boy produced undesirable crackling noises. Dropping the volume down by 25% proved helpful in removing this, so users who want to listen loud should pair this with a good set of headphones, which benefit from the Beats Audio enhancements. When docked the speakers in the tablet still do the work, and sound isn't impeded by the dock. Volume control is conveniently located on the back of the tablet.
Envy x2 Battery Life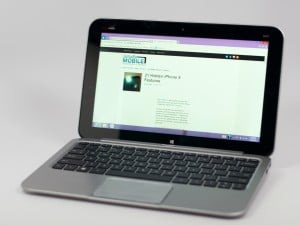 What the HP Envy x2 lacks in performance it makes up in battery life thanks to the dual battery configuration and smart battery management.
The HP Envy x2 tablet battery lasted 8 hours of continuous web browsing in FireFox with the screen at 40% brightness. This is a good indicator of how long the Envy x2 battery will last in tablet mode during average use. Dropping the screen brightness down will push battery life further.
When we performed the same test with the keyboard dock in place the HP Envy x2 battery lasted over 15 hours! That's impressive for a full featured Windows 8 device.
One thing we definitely like is that the keyboard dock battery depletes first, leaving the tablet battery nearly fully charged and ready to go after a long session. There is no way to check the battery life of the keyboard dock without turning the tablet on while docked and switching to desktop mode.
Envy x2 Keyboard and Touchpad
The HP Envy x2 keyboard dock includes a decent keyboard and a better than average touchpad for a Windows machine, but there are some tradeoffs.
Typing on the Envy x2 keyboard is with large keys, fairly normal key placement and no mushy keys in the middle of the keyboard. The keys offer an ok amount of travel, the distance a key moves when pressed, but it won't be as nice as on a full size notebook. For the portability this is an acceptable tradeoff.
The biggest thing missing from the Envy x2 keyboard experience are backlit keys. With portability there is a greater chance of working in poorly lit situations where a backlit keyboard would be worth a bump in price, size or weight. In these situations users may want to go full tablet to use the on-screen keyboard.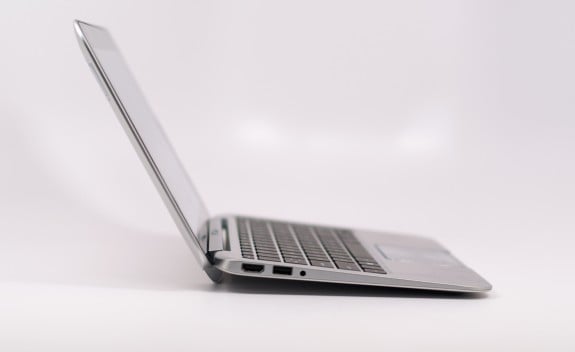 Users who prefer to push the display to an extreme angle while typing will be disappointed as the hinge only opens so far. We show this in the image below. We found that while using the Envy x2 on a lap, we would appreciate a little bigger angle.
The HP Envy x2 touchpad is better than some Windows touchpads, but still exhibits odd behavior now and then such as being non responsive. Undocking the tablet fixed this in most cases. Hopefully HP will deliver a fix in an update. The touchpad is made of a textured material that doesn't impede mousing.
Windows 8 gestures work well on the touchpad. We can tap or click almost anywhere for a left click, and click below the small line on the right side for a right-click.
More often than not we reached up to the screen to scroll and perform other actions, but the touchpad performs OK for this as well.
Envy x2 Cameras
The HP Envy x2 features two cameras. There is a front facing 1080P webcam and a rear-facing 8MP camera.
There is a flash, but the cameras are best served for video conferencing, scanning documents and catching the occasional well lit, no motion photo at home. Don't let the 8MP rating fool you into taking photos at graduation or a wedding with this camera.
For a video call on Skype or a Google Hangout the cameras work great and offer an ok image. Below are photos taken with both cameras in well lit and low light settings.
Software and Apps
The HP Envy x2 runs full Windows 8, which means access to Windows 8 desktop apps and legacy apps, though the processor limits the usefulness of any resource intense applications.
Still users can get going with Office and a plethora of other required work or personal apps. The Modern User Interface also includes access to the Windows App Store with games and many productivity apps for users who want to expand their app selection.
Hp includes a few apps like the HP Pagelift which can use the rear facing camera to take a scan of a document and auto correct angles and lighting for a much better result. HP Also includes Getting Started with Windows 8. This is a huge collection of WIndows 8 guides that answer many of the common questions for users new to Windows 8, and is a nice touch.
Is the HP Envy x2 Worth It?
For $600 the HP Envy x2 is a good buy, even with the less than desirable performance delivered by the Intel Atom processor. Users get a machine that functions as a good tablet and a good notebook with up to 15 hours of combined battery life. HP also includes ports to connect to a bigger monitor, Micro SD card and full size SD card readers and two USB 2.0 ports for accessing portable hard drives and accessories. In all, the Envy x2 is a good deal for users that need a portable notebook and tablet hybrid device, but power users may need to look at something with more power like the Dell XPS 12 Duo or the Lenovo ThinkPad Yoga 13, though neither feature a detachable keyboard dock.
HP Envy x2 Gallery

As an Amazon Associate I earn from qualifying purchases.