HP Exec Discusses Touch Technology Past, Present, Future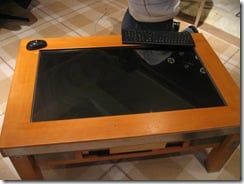 CntrStg has been our base of operations for CES 2009 and is also the site of featured speakers from select tech companies. Today, during a segment dubbed "Touch the Future," HP's VP and Chief Technology Officer of the Personal Systems Group Phil McKinney spoke about the history of HP's research and development in touch technology. An early-prototype Surface-like table independently developed by HP's team in 2002 was shown during this press event along with the current crop of touch and capacitive multi-touch devices to demonstrate HP's ongoing commitment to the touch interface. One of the things that I've never considered were geographical and technological differences in using touch technology. For example, Mr. McKinney explained how using one pointed finger to touch the screen is a faux-pas in some parts of the world, or how the pinching of fingers is counterintuitive to non-iPhone users contribute to engineering challenges for HP due to its world-wide presence. Check out some pictures of the HP MISTO prototype and video clip of the press conference after the jump.

As an Amazon Associate I earn from qualifying purchases.