HP Expanding webOS TouchPad Franchise with More Trademark Filings?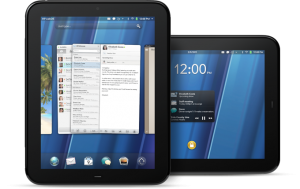 Hewlett-Packard may be looking to expand its webOS-empowered TouchPad tablet line with additional models. A recent trademark filing with the U.S. Patent & Trademark Office reveals additional names of potential products all with the TouchPad mark, including TouchPadFlex, TouchPadPro, TouchPadTwin, TouchPadGeo, TouchPad7, and TouchPadGo.
Though there are no details for what these products may be, potentials could include a 7-inch TouchPad, by name of the TouchPad7, a dual-screen TouchPad by way of the TouchPadTwin, and perhaps a model with keyboard similar to the Asus Eee Pad Transformer as the TouchPadPro name could suggest.
Via: Unwired View

As an Amazon Associate I earn from qualifying purchases.