HP goes deep with 60 degree tilt on new TouchSmart all-in-ones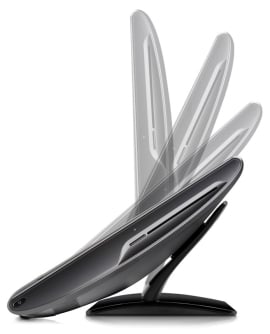 When it comes to touchscreen all-in-ones, one thing all of us seem to agree on is that they need to be tilt-adjustable. Upright is great for watching video and standard desktop operation, but for extensive touchscreen operation, most people prefer a leaned-back screen. Well, HP's got that well-covered with their new TouchSmart610 and TouchSmart 9300 Elite.
Spec-wise, the TouchSmart610 and TouchSmart 9300 Elite are pretty straightforward upgrades to the TouchSmart all-in-one line. Where they stand out is the increased level of tilt adjustment. Whereas previous models could recline about 40 degrees, these two can tilt back up to 60 degrees. They can even tilt forward up to 5 degrees, in case you're the one leaning back to watch a movie. Wide-viewing angle on the 23″ LED-backlit screen allows for comfortable viewing in either direction.
The TouchSmart610 is a consumer-level PC complete with the TouchSmart suite of apps and Beats audio due Feb 9 for around $900, while the TouchSmart 9300 Elite is a business PC due in May. Press release below. Via TechCrunch.
HP Redesigns the TouchSmart PC Experience

HP TouchSmart PCs offer high style and performance with reclining display for exceptional comfort

PALO ALTO, Calif., Feb. 7, 2011

---

HP today unveiled its first touchscreen desktop PCs to feature a 60-degree reclining display, enabling users to adjust the display's position for a comfortable user experience.

With a sleek, clean appearance, the new HP TouchSmart610 Consumer PC and HP TouchSmart 9300 Elite Business PC recline from upright to almost flat, providing consumers and business users increased comfort for longer-term use and making it easier for businesses to engage customers.

"As a leader in touch computing, HP has made each iteration of the TouchSmart PC more intuitive, resourceful and fun for users," said James Mouton, senior vice president, Desktop Organization, Personal Systems Group, HP. "The latest generation is no exception with a new design that makes it easier and more comfortable to use, and it allows businesses to integrate the TouchSmart where convenience, space constraints and appearance matter."

Ergonomic design enables users to do more and share more

From creating art projects, to playing games, to enabling natural front-desk interaction where eye contact is important, the new HP TouchSmart PCs offer consumers and businesses increased range of motion, superior viewing and an intuitive touch experience.

Both the TouchSmart610 Consumer PC and TouchSmart 9300 Elite Business PC feature a 23-inch diagonal high-definition (HD) display(1) that reclines up to 60 degrees and tilts forward up to five degrees.

The wide-angle, LED backlit LCD screen provides optimal viewing angles, even when reclined, while advanced multitouch technology allows for an accurate response.

The TouchSmart PCs' simple one-cord setup and slim, all-in-one design save space and allow them to fit into any room or business environment. For a clean and uncluttered appearance, control features are conveniently located to the right and left sides of the display.

Intuitive software, Beats Audio for immersive, personalized entertainment

With its refined industrial design and the latest version of HP TouchSmart software, the TouchSmart610 consumer PC makes it easier and more comfortable than ever to surf the web, edit photos or access social networks.(2)

In addition to touch-optimized applications from Hulu, Netflix, Rhapsody® and Twitter, as well as HP's exclusive RecipeBox and webcam applications, users can add new applications via the TouchSmart Apps Center.(2) The TouchSmart610 also features Beats Audio™. A high-performance technology developed by HP and Beats by Dr. Dre™, Beats Audio allows listeners to hear music the way the artist intended it – just as it sounds in the studio.

For the gaming enthusiast, select models of the TouchSmart610 are available with Ubisoft®'s real-time strategy game, R.U.S.E.™ – a $49.99 value. Users will enjoy using multitouch navigation to deceive and manipulate enemies as they lead their nation to victory.

The TouchSmart610 also features the new HP LinkUp application, which allows users to wirelessly link a notebook PC to the TouchSmart using a home network.(3) Accessing and viewing applications, files and content from a notebook on the TouchSmart's large HD screen creates a more comfortable and productive experience.(1) Changes are saved directly to the notebook so there are no file transfer hassles.

Innovative touchscreen PC technology for businesses

Ideal for customer-facing environments in hospitality, retail and healthcare, the HP TouchSmart 9300 Elite Business PC combines HP's powerful touchscreen technology with essential business benefits. Businesses can configure the TouchSmart 9300 to meet a variety of workplace preferences, including desk or counter positioning, wall mount(4) or kiosk placement.

The TouchSmart 9300 delivers superb computing performance with second-generation Intel® Core™ processors and a choice of Windows® 7 operating systems. It also offers up to 16 gigabytes (GB)(5) of memory and an optional 160 GB(5) solid-state drive to enhance productivity and interaction with touchscreen applications. In addition, employees can log in using the HP TouchSmart Elite 9300 Business PC's high-resolution, adjustable webcam(2) with facial recognition software for enhanced security.

The HP Interactive Solutions Partner Program for independent software vendors (ISVs) delivers touch-based customer solutions to businesses. Tikatok, a division of Barnes & Noble, has piloted several interactive kiosks as part of Barnes & Noble's new Educational Toys & Games department. The kiosk, designed as a life-size book, features an interactive demo of Tikatok's proprietary online application. The demo is hosted on HP TouchSmart PCs and allows children to try out the book creation module or read books that other children have created at Tikatok.com.

Chico's FAS, which offers women's clothing and accessories through Chico's, White House|Black Market and Soma Intimates stores, has rolled out HP Business TouchSmart PCs in almost 1,100 stores. The PCs provide one-touch application access, enhanced employee training sessions with full-motion video and a technology platform for management packages.

Pricing and availability(6)

The HP TouchSmart610 Consumer PC is expected to be available on Feb. 9 in the United States at a starting price of $899.99. The HP TouchSmart 9300 Business PC is expected to be available in May in the United States; pricing will be provided closer to availability.

Additional information is available at www.hp.com/personal.