HP Introduces Pavilion 14 Chromebook for $330
Today HP announced the Pavilion 14 Chromebook, its first entry into the growing Chrome OS laptop market.
The new Pavilion 14 Chromebook has specs similar to the Acer C7, with a 1.1 GHz Intel Celeron CPU and 2GB of RAM. Like the Samsung Chromebook, the Pavilion 14 only has 16GB of SSD storage space. Users do get 100GB of storage on Google Drive to go along with the Chromebook, however, which theoretically makes up for the lack of local storage space.
The Pavilion 14 has the largest screen of all the recent Chromebook with a 14-inch display. The Samsung Chromebook and Acer C7 both have 11.6-inch screens. The HP Chromebook still has the same 1366×768 resolution, however, which means it has a smaller pixel density than other Chromebooks.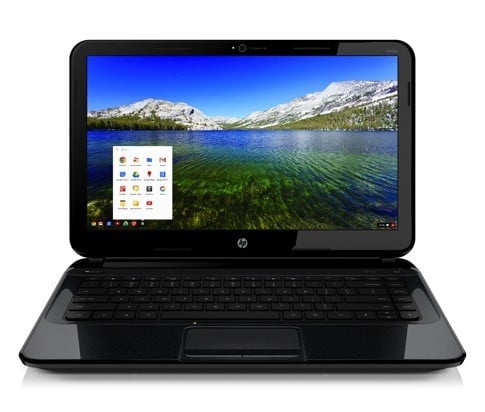 The HP Pavilion 14 Chromebook is also the heaviest Chromebook on the market, weighing in at about four and a quarter pounds, which makes it about 1.5 pounds heavier than the Samsung Chromebook and a quarter of a pound lighter than a 15-inch MacBook Pro with Retina Display. It's also 0.8-inches thicker than the Samsung Chromebook.
The extra thickness let HP put an Ethernet port into the Pavilion 14 Chromebook, which the Samsung Chromebook lacks. The Pavilion 14 also includes three USB 2.0 ports, a HDMI port and an SD card reader.
Unfortunately, the size of the Pavilion 14 Chromebook doesn't equal more battery life. HP claims the laptop can only last 4 hours and 15 minutes from a single charge, which is about two hours less than Samsung claims for its smaller Chromebook.
The HP Pavilion 14 Chromebook is available now from HP for $329.99. That's $80 more than the Samsung Chromebook, and $130 more than the Acer C7. The other two laptops are difficult to find in stores, however, so the price and the lack of battery life might not scare away used who really want a Chromebook.