HP Mini 1100 Will Have an ExpressCard/54 Slot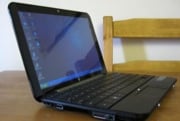 HP is pushing the Netbook/mini hard, which I'm assuming speaks to consumer demand. There are variants of the current HP Mini 1000 coming down the road with a designator of the HP Mini 1100. Most of the differences seem minor in the 1133CL, 1135NR, 1140NR, and 1141NR, but it looks like and ExpressCard/54 will be included and the 1135NR and the 1140NR come with Bluetooth. I just hope this is easy for the consumer to figure out.
Check out Thomasin's first look at the HP Mini 1000.
via Engadget