HP Refreshing the tx Series Tablet PC?
Although more of a media machine than a real Tablet PC, it looks like HP is refreshing its tx Series convertible Tablet PCs, along with a number of other announcments. The tx1000 captured a lot of attention on its release, so it will be interesting to see if the new tx1400 will do the same. Again, more of a touch enabled media computer than a real Tablet PC, the tx1400 is powered by a 2.2GHz AMD Turion 64 X2 TL-64 processor and 2GB of RAM. The tx1400 also comes with 802.11n built in.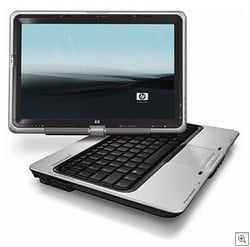 JR.com already has this up for sale on their site priced at $1199. I'm not finding anything on HP's site on this at the moment, but we'll update the post when we do.
Via Engadget

This article may contain affiliate links. Click here for more details.