HP Slate 21 Pro All-In-One Is Android for Businesses
Android-powered desktop computers are quite popular this week at CES in Las Vegas, and today HP just took the covers off of its latest commercial grade all-in-one desktop PC running Google's Android OS.
HP announced all types of new devices during this years CES, including one full-size Android-powered desktop called the HP Slate 21 Pro. Following on the success of last years model, the new Slate 21 Pro has received an upgrade across the board, and is reportedly the first commercial all-in-one for business users. Offering an impressive 21.5-inch 1080p HD display running on Android 4.3 Jelly Bean.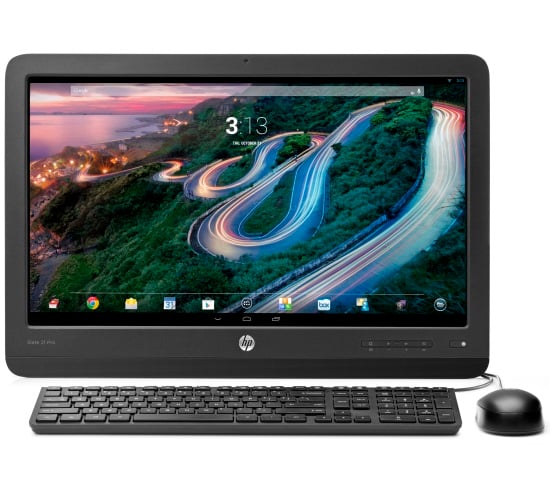 This follows a Slate 21 from last year, only the new Pro is aimed primarily at the commercial market and businesses. Think kiosk situations and for business users. Coming preloaded with plenty of Google Docs and Office applications running on Android, it's certainly geared for a specific segment.
Being quite the upgrade over the original users can expect Android 4.3 Jelly Bean to be powered by an improved quad-core NVIDIA Tegra 4 processor with 2GB of RAM and 16GB of storage, then of course a micro-SD slot adds additional storage options, along with 3 USB 2.0 ports, HDMI, ethernet and more. Citrix XenMobile is included for ultimate security, and all of this comes in quite cheap given the size and specs.
Then you'll also enjoy a 720p HD camera for video and conference calls, as well as a 3-point tilt stand for optimal viewing angles. Of course the HDMI-input will allow the device to be used as a monitor, for those looking to boot another OS or use it with a windows laptop.
HP is offering the all-new commercial grade Slate 21 Pro all-in-one for just $399, which comes with both the keyboard and mouse. The company states it is available starting today, but we've yet to see it officially arrive on the HP Store.