HP Slate 500 getting attention from health industry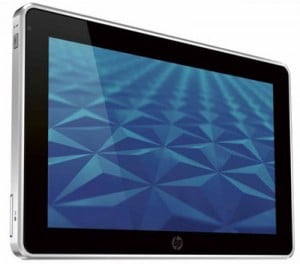 Any hopes that the HP Slate 500 might swing back to being a consumer gadget after being rebranded as an enterprise device got a little slimmer this week as HP announced a couple of health care applications for the tablet, taking it back to a key vertical market of the Tablet PC.
In an announcement that combines the futurism of remote medicine and the urgency of emergency care, the HP Slate 500 is being deployed by Lifebot for Disaster Relief and Emergency Medical Services (DREAMS™). Press release excerpt from Media-Newswire.com:
Telehealth in emergency situations

HP is working with Lifebot to provide a complete EMS telemedicine solution delivered through the HP Slate 500 tablet PC and HP TouchSmart 9100 all-in-one PC. The solution revolutionizes the speed of care in emergency health situations by combining HP products with Lifebot's exclusive Disaster Relief and Emergency Medical Services ( DREAMS™ ) ambulance teletriage and disaster management system to allow for live transmission of critical patient physiological data.

Starting at only 1.5 pounds, the HP Slate 500 with the Lifebot DREAMS system enables unprecedented portability and functionality for mobile healthcare. The system's high-definition interactive voice and video communication features facilitate access and remote management of patients in more locations, including remote emergency rooms, ambulances, satellite facilities or intensive care units. The system may be used to connect remotely to other LifeBot DREAMS systems and create a live link to medical expertise at a trauma center or other ambulances
In slightly less exciting news, it's also being used for a dermatology solution from ELLKAY called LKDermConnect. Press release excerpt from RedOrbit:
HP's release of the new Slate 500 tablet on October 22, 2010 opened the door for Windows 7 applications for businesses. A laboratory now can offer ELLKAY's requisition solutions to dermatologists, who may utilize the many innovative features of the HP Slate 500. Dermatologists may use LKDermConnect's 'point-and-click anatomical body imaging' software utilizing the touch digitizing layer that works both with fingers and pen to identify biopsy sites, enter hand-written diagnoses, or take photo snapshots using the Slate's integrated high-resolution camera to store the images and photographs either locally on the tablet, or in a Web-based integrated repository accessed via a wireless connection (WiFi/WLAN).
Of course, Windows-based tablets have been around for years, so the Slate 500 hardly "opened the door" last year. In fact, I find it a bit odious that the 500 is being shoehorned into these applications when there are tablets designed for health care conditions, such as the Motion Computing C5. I'm sure the HP can more than handle the computing tasks, but I don't think it was designed to be easily and completely sterilized.

This article may contain affiliate links. Click here for more details.