HP Slate 7 Android Tablet Now Available for $169
The HP Slate 7, HP's answer to the Nexus 7 is now available for those looking for a 7-inch Android tablet for less than $200.
HP's new 7-inch tablet is made for users that want a cheap tablet that looks a lot like the Nexus 7, but with a few trade-offs. Both tablets have similar designs, but HP's tablet uses a metal case instead of a plastic shell, and has both front-facing and rear-facing cameras.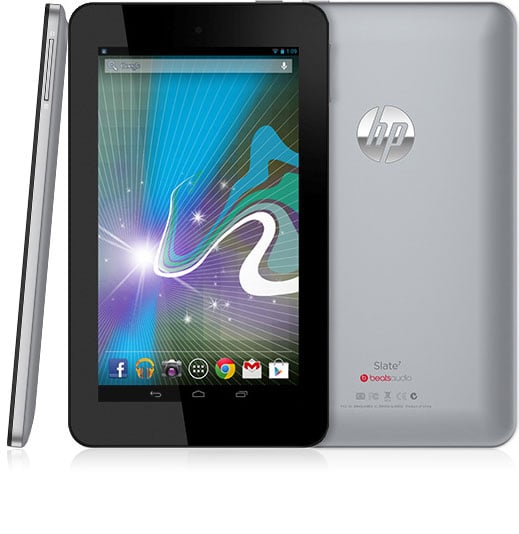 There are a few trade-offs for HP's new tablet, however. The 7-inch screen of the HP Slate 7 has a resolution of 1024×600, which is lower than the 1280×800 resolution on the Nexus 7. HP's tablet also ships with the outdated Android 4.1 Jelly Bean instead of the latest version. The good news is it appears HP decided not to put a heavy skin on top of Android, it looks very close to stock Android if isn't actually stock.
The HP Slate 7 uses a dual-core 1.6GHz processor and comes with 1GB of RAM and just 8GB of storage space. There is a microSD card slot, however, for when users exhaust the relatively small amount of storage space.
HP claims the battery inside the Slate 7 will last for five hours, which isn't very long for a tablet of any size.
Like many of HP's laptops, the Slate 7 supports Beats audio for boosted sound. Beats audio will give users more bass in sound that come out of the stereo speakers on the tablet or headphone connected to it.
With its relatively low-end specs and it's $169.99 price tag the HP Slate 7 is more of a competitor to the Asus MeMO Pad than the Nexus 7. The Slate 7's features compare more favorably to Asus' cheaper Android tablet.
The HP Slate 7 Android tablet is now available from HP's website, and should ship sometime within 24 hours of ordering.

As an Amazon Associate I earn from qualifying purchases.